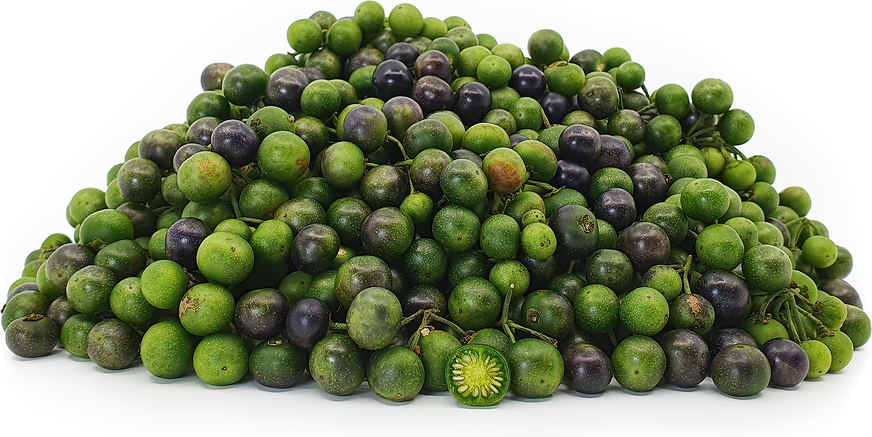 Leunca Nightshade Berries
Inventory, lb : 0
Description/Taste
Leunca berries form on a low-growing, wide-spreading shrub that extends slender, vine-like branches across the ground. The plant produces small berries that grow in clusters, averaging 5 to 10 millimeters in diameter, and are around the size of a blueberry or cherry tomato. The round berries are initially green, transitioning into a dark purple, almost black hue. Leunca berries have smooth, taut, and somewhat tough skins with a dull, matte appearance. Underneath the surface, the green to purple flesh is aqueous, soft, and succulent, riddled with tiny tear-drop-shaped ivory seeds around the edges of the berry. Leunca berries have a sweet and savory flavor with musky, subtly sweet, herbal undertones reminiscent of a combination of blueberries, tomatoes, and peppers. In addition to the berries, the plant develops small to medium-sized leaves with an ovate, oval, to lanceolate shape, and each leaf generally has wavy or serrated edges with prominent veining across the surface. The dark green leaves are pliable and thin, sometimes smooth or hairy, depending on the variety, and are often covered in holes left by bugs. The young leaves are edible when cooked and have an herbal, grassy flavor.
Seasons/Availability
Leunca is available year-round in tropical climates.
Current Facts
Leunca, botanically a part of the Solanum genus, is a Sudanese term used for nightshade berries belonging to the Solanaceae family. Several species of nightshade berries are grown worldwide, and each contains many varieties that readily hybridize, making it challenging to categorize. Leunca is a term primarily used in Indonesia for the berries, and the two main species found in Indonesia include Solanum americanum and Solanum nigrum. Within Indonesia, there are also numerous varieties of the berries known as Leunca biasa, Leunca bonglot, Leunca komir, Leunca manuk, Leunca badak, Leunca monyet, Leunca hayam, and Leunca beureum. The berries grow on herbaceous plants that are wider than they are tall and sprawling, extending up to 1.2 meters in length. Leunca is consumed as a food source throughout Indonesia, and the berries are valued for their complex, sweet, and savory flavoring for culinary preparations. The berries are sometimes labeled in Indonesian markets as Ranti, a Javanese name, and Leuntja, another local name, and are sold in large, loose piles, where consumers can select personalized quantities of green and purple berries for raw and cooked preparations. While Leunca is widely consumed in Indonesia, care should be taken to research the species further to see if it is suitable for personal dietary needs. Do not forage for Leunca unless accompanied by a professional, and always seek medical expertise before consuming unfamiliar foods, as each individual may have varying reactions to nightshade berries.
Nutritional Value
Leunca berries have not been extensively studied for their nutritional properties. Like other nightshade berries, they may be a source of vitamin C to strengthen the immune system while reducing inflammation, vitamin A to maintain healthy organ functioning, calcium to build strong bones and teeth, and iron to develop the protein hemoglobin for oxygen transport through the bloodstream. The berries also provide anthocyanins, natural compounds in the pigmented flesh that have antioxidant-like properties to protect the cells against the damage caused by free radicals, and other nutrients, including phosphorus, riboflavin, and niacin. In addition to vitamins and minerals, Leunca contains a chemical known as solanine, which is poisonous to humans in large quantities. Everyone has different tolerance levels, and it is important to discuss consuming Leunca berries with a medical professional before eating.
Applications
Leunca has a sweet, savory, and musky taste suited for fresh or cooked preparations. In Indonesia, the berries are consumed both in their green and purple stages, but they are most popularly sold in markets in their green state. It is important to note that many varieties of Leunca berries and other nightshade berries are found worldwide. Caution should be taken to research the fruits before consuming as not every nightshade berry is edible in its green stage, but many are similar in appearance. Consuming nightshade from the wild is not recommended unless working closely with an expert. In Indonesia, especially in West Java, Leunca is traditionally incorporated into ulukutek Leunca, a dish comprised of oncom and aromatics such as lemongrass, galangal, chile peppers, and green onions. The aromatics are sauteed, and then the oncom and Leunca are simmered in water until the liquid is absorbed. Leunca is also used in lalap, a Sudanese dish of blanched vegetables served with sambal terasi, sapi tumis Leunca, which is a beef and Leunca stir-fry, and karedok Leunca, a spicy mixture of aromatics, herbs, chile peppers, and Leunca served as an accompaniment to lunches. The berries complement the flavors found in various sambals and are often served with anchovies, shrimp, or other fish. Try adding Leunca to soups, salads, or legumes, or mix the cooked berries into rice with fried main dishes. Beyond savory dishes, Leunca can be simmered into jams and jellies, added to pies, or combined into other desserts. The young leaves and shoots are also consumed in Indonesia, served with banana leaf-wrapped fish and steamed vegetables. The greens are primarily cooked and are mixed with cornmeal or coconut milk for added flavoring. Leunca pairs well with aromatics including lemongrass, garlic, ginger, chile peppers, and galangal, spices such as cumin, cardamom, and curry powder, fruits including citrus, apricots, blackberries, strawberries, and raspberries, and meats such as beef, lamb, pork, or seafood. The berries are highly perishable and should be immediately consumed for the best quality and flavor. Cooked preparations will keep for a few days when stored in a sealed container in the refrigerator.
Ethnic/Cultural Info
Leunca is utilized in natural medicines throughout West Java to reduce joint and back pain, cramps, and stomach issues. The berries and leaves are incorporated into remedies to remove heat from the body, thus lessening fevers, and they are also ingested to boost immunity and lower inflammation. One of the more unique uses of Leunca is as a sleep aid and topical salve. The seeds from the fruits are dried in the sun and ground into a powder. Once pulverized, the powder is combined with liquids such as milk and is consumed at night to relax the body to sleep. The leaves are also made into a paste and rubbed on the skin to heal acne, hydrate scarring, and soothe burns and rashes.
Geography/History
Leunca is a descriptor used for nightshade species found in Indonesia. Much of the plant's origins are unknown, as researchers are unsure if there was a single site of origin for nightshade berries as a whole or if the plants were naturally found worldwide in different regions. Leunca grows wild in disturbed areas, including rice paddy fields, pastures, vineyards, orchards, gardens, sidewalks, and along roadways. The berries were recorded by botanists during the colonial period as a common vegetable of West Java, and the use of the berries and young leaves can be traced back to ancient times. Today Leunca berries are mainly foraged and are consumed as a culinary ingredient. Besides picking from the wild, the berries are also sometimes grown on a small scale and sold through local markets and specialty distributors in Indonesia.
Recipe Ideas
Recipes that include Leunca Nightshade Berries. One

is easiest, three is harder.