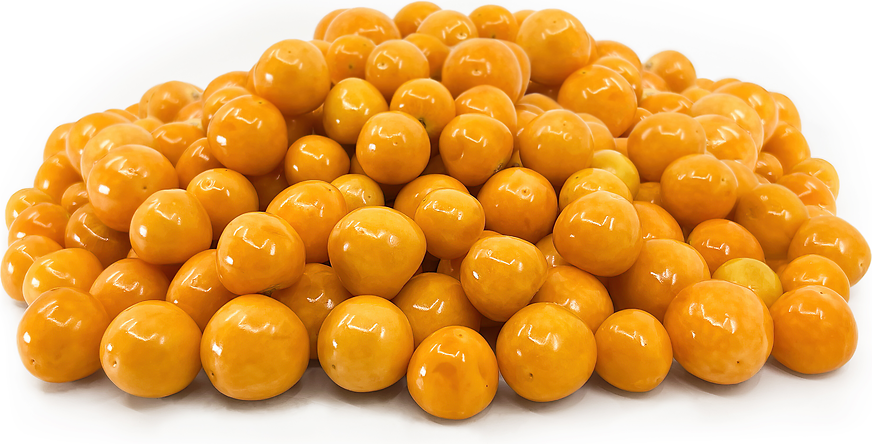 Golden Berries
Inventory, bskt : 0
This item was last sold on : 04/26/22
Description/Taste
Golden berries are small fruits, averaging 1.25 to 3 centimeters in diameter and 4 to 10 grams in weight, and have a round to oval shape with curved, relatively uniform edges. The berry's skin is smooth, glossy, taut, and thin, exhibiting a slight give to the surface when ripe. Golden berries showcase a bright orange and golden yellow coloring, and the skin has a thin, sticky layer that is edible and natural. In commercial markets, Golden berries can be sold with or without their husks. The husks are green and soft when unripe, drying and turning a translucent brown when ripe. The husks also have an inflated nature with multiple ribs, dividing parts of the protective husk into tapered, petal-like sections. Underneath the husk and skin, Golden berries have yellow-orange flesh dotted with tiny, edible seeds. These seeds add a crunchy nature to the berry, and the flesh is also aqueous, succulent, and soft. Golden berries release a sweet, subtly acidic, and fruity scent when ripe, and only mature berries should be eaten, as unripe berries may be poisonous. Look for berries with a solid golden coloring. There should be no green on the fruit's surface. Golden berries have a sweet, tart, fruity, and tropical flavor with tangy nuances reminiscent of mango, pineapple, strawberry, vanilla, tomato, and grape.
Seasons/Availability
Golden berries are available year-round as they are commercially grown in both hemispheres and have a peak season in the mid-spring to late summer.
Current Facts
Golden berries, botanically classified as Physalis peruviana, are a South American species belonging to the Solanaceae or nightshade family. The small fruits develop on spreading herbaceous shrubs reaching one meter in height and thrive in temperate to tropical climates. Golden berries have been nicknamed the "lost fruit of the Incas" and are known by many regional names worldwide. In Spanish, the species is called Uchuva, Uvilla, and Aguaymanto, and in Quechua, an ancient language spoken by indigenous populations of South America, the berries are known as Topotopo. They are also referred to as Peruvian groundcherries, Inca berries, Aztec berries, Husk cherries, and Cape gooseberries in English, Ras Bhari in India, Amour En Cage meaning "Love in a cage" in French, Harankash in Egypt, and Poha in Hawaii. Golden berry plants can produce over 1,000 berries in warmer, lower elevations in a single season and approximately 300 fruits in higher elevations. The berries are handpicked when ripe, and growers wait until the husk has dried and the berries have changed colors before they are harvested. In the modern day, Golden berries have expanded beyond South America and are cultivated worldwide as a culinary ingredient. The berries can be consumed fresh, cooked, or dried.
Nutritional Value
Golden berries are a source of fiber to regulate the digestive tract, vitamin C to strengthen the immune system, niacin to help turn food into energy in the body, antioxidants to protect the cells against the damage caused by free radicals, and potassium to balance fluid levels. The berries also provide magnesium to regulate nerve functioning, vitamin A to maintain healthy organs, iron to develop the protein hemoglobin for oxygen transport through the bloodstream, calcium to build strong bones and teeth, and other nutrients, including vitamin K, riboflavin, phosphorus, thiamine, and manganese. It is important to note that unripe berries may contain solanine, a natural toxin found in young fruits that may cause digestive issues and poisoning. Only ripe Golden berries should be consumed.
Applications
Golden berries have a sweet-tart, tropical flavor suited for fresh, cooked, and dried preparations. Ripe berries should be husked and washed before consumption, and the husks are inedible and should be discarded. Golden berries are popularly eaten raw as a snack, which can be popped into the mouth and consumed whole. The fresh berries can be sprinkled into yogurt, used as an edible topping over waffles, cereal, and other breakfast dishes, sliced into fruit medleys, or tossed into salads. Golden berries can also be dipped whole into chocolate as an appetizer, chopped into salsas, or displayed on charcuterie boards as a sweet and tangy addition. Beyond fresh preparations, Golden berries can be blended and frozen into sorbets and ice cream, simmered into chutney, syrups, and preserves, infused into dressings, or cooked into sauces for meat and fish. The berries complement sweet and savory dishes and are often used as a decorative garnish on desserts, including pies, cakes, parfaits, and puddings. They can also be incorporated into fudge for a tangy, sweet, and tart twist, used in smoothies and juices, or dried for extended use in place of raisins. Golden berries pair well with fruits such as pomegranates, mangoes, grapes, and citrus, goji berries, spices including cinnamon, cardamom, and ginger, tomatoes, chocolate, walnuts, honey, and cilantro. Whole, unwashed Golden berries should be left in their husks for storage. Depending on where the berries are purchased and how long they have been transported, Golden berries can be stored in the refrigerator for 5 to 7 days. Freshly harvested Golden berries can be stored in their husks for 30 to 45 days at room temperature, away from direct sunlight, and frozen for up to one year.
Ethnic/Cultural Info
Physalis, the botanical genus of Golden berries, is a descriptor derived from an Ancient Greek word that roughly translates to mean "bladder," "to blow up," or "puff up." The term bladder was used more in reference to an object that could be inflated versus the anatomical organ. Physalis was named by botanist and taxonomist Carl Linnaeus and was labeled in honor of the papery, dry husk that surrounds the golden-yellow fruits, a structure said to resemble an inflated bladder. These inflated husks are also often referred to as lanterns. The root of the Ancient Greek word used to name Physalis sounded like blowing out a candle when pronounced, a reference similar to the golden fruits resembling a candlelit flame in a lantern.
Geography/History
Golden berries are native to South America, specifically the Andes mountains of Peru, Chile, Ecuador, and Colombia. The species has been growing wild since ancient times and was used as a food source among the Incas. Golden berries thrive in forests, highlands, and low-elevation locations, and in some regions, the species can become so aggressive that it is labeled an invasive species. Golden berries were introduced to England in the 18th century, and, over time, they were planted in South Africa, New Zealand, Australia, the Pacific Islands, the United States, Mexico, and Southeast Asia. Today Golden berries are commercially grown in both hemispheres, but the species has remained a relatively unknown fruit, sold and promoted as a specialty item. Many producers are attempting to popularize Golden berries as a new favored snack fruit, and the sweet and tangy berries are sold through fresh markets, select grocers, and distributors worldwide.
Recipe Ideas
Recipes that include Golden Berries. One

is easiest, three is harder.