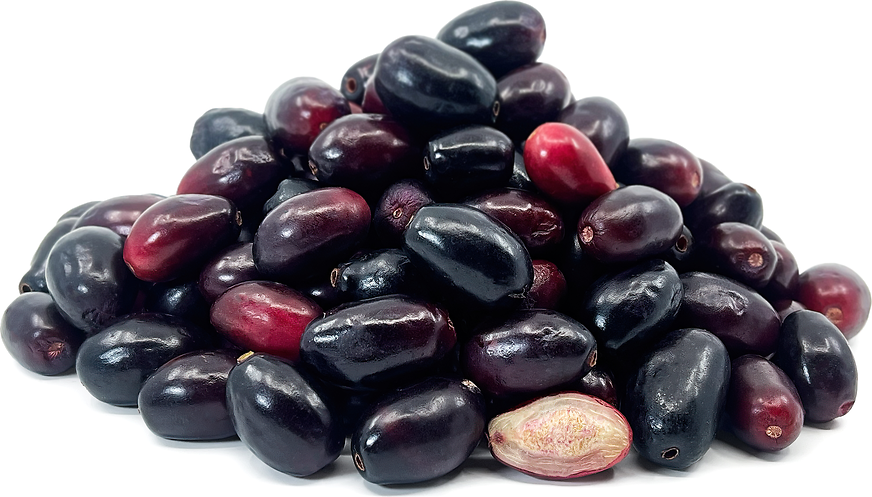 Jamun
Inventory, lb : 0
Description/Taste
Jamun fruits are small, averaging 1 to 5 centimeters in length, and bear an oblong to ovoid shape with curved, blunt ends. The fruit's skin is thin, smooth, glossy, and taut, appearing in several shades depending on maturity. Jamun fruits are green when young, transitioning to variegated hues of green, pink, red, and finally, to a dark purple, almost black hue when ripe. Underneath the surface, the flesh ranges in color from pink to white and is aqueous, tender, and succulent, encasing a hard and rough, green-purple seed that should be discarded before consumption. Jamun fruits have a subtly sweet, tart, and sour flavor followed by an astringent aftertaste. The sweetness will vary per fruit, and it is important to note that when consumed, the juice of the fruit will stain the lips and mouth, sometimes lasting for several hours.
Seasons/Availability
Jamun fruit is produced almost year-round in tropical and sub-tropical climates, with a peak season in the summer.
Current Facts
Jamun, botanically classified as Syzygium cumini, are small tropical fruits belonging to the Myrtaceae family. The pigmented, saturated berries grow on evergreen trees that can reach up to 30 meters in height and are native to the Indian subcontinent, where the trees have been utilized for their wood, fruit, and shaded canopy since ancient times. Jamun fruits are also known as Jaam, Jambul, Java plum, Jambolan, Nerale, and Mahaphala and are often planted throughout neighborhoods, in home landscapes, and along city streets. The trees are highly productive, each bearing 50 to 60 kilograms of fruit per season, and are long-lasting, surviving for over 100 years. Jamun fruits are harvested when ripe and do not continue to mature once picked. The fruits are picked and sold fresh daily, utilized for a wide array of raw and cooked preparations.
Nutritional Value
Jamun is a good source of vitamin C to strengthen the immune system while reducing inflammation and vitamin A to maintain healthy organ functioning. The fruits are also a source of fiber to regulate the digestive tract and contain potassium, iron, calcium, phosphorus, magnesium, and vitamin B6. In Ayurvedic medicine, the fruits and other parts of the Jamun tree are used to treat anemia, act as a blood purifier, soothe digestive issues and sore throats, and assist with respiratory infections.
Applications
Jamun has a tangy, tart, and subtly sweet taste well suited for fresh or cooked preparations. The fruits can be eaten straight, out of hand, removing the seeds, and the pigmented dark purple flesh will stain clothing, fingers, lips, and tongues. Many fruits carry an astringent quality, and it is common for Jamun to be sprinkled with salt before eating to create a more pleasant snack. Jamun can be tossed into green salads, mixed into fruit bowls, blended into smoothies, or juiced and stirred into lemonade, punches, sparkling beverages, cocktails, and mocktails. The fruits can also be pureed and frozen into popsicles or used to flavor sorbet and ice cream. In addition to fresh preparations, Jamun can be simmered into sauces for roasted meats, cooked into syrups and drizzled over desserts and drinks, or used to flavor jams, jellies, and chutney. The fruits can also be incorporated into puddings, panna cotta, mousse, bread, and cakes. Jamun pairs well with yogurt, coconut milk, honey, vanilla, cacao nibs, cinnamon, mint, fruits such as grapes, strawberries, and mangoes, ginger, and cucumber. Whole, unwashed fruits are harvested and sold the same day and should be consumed immediately for the best quality and flavor.
Ethnic/Cultural Info
Jamun trees are deeply intertwined into Indian folklore, especially in Hindu cosmology. The fruits are often regarded as the "Fruit of the Gods," and legend has it that Lord Rama, the seventh incarnation of Vishnu, survived off Jamun during his 14-year exile in the forest. Temples dedicated to Lord Rama often feature Jamun trees, and the leaves and fruits are utilized as offerings and altar decorations. In Kerala, Jamun fruits symbolize prosperity and are incorporated into k?lam, an ancient art form using rice flour, chalk, or other types of powder to create designs in entryways. Tamil women practice this art form for many years and keep sketchbooks with different designs to use according to religious holidays, seasons, and special occasions. Each morning the intricate k?lam patterns are designed and displayed in thresholds to houses, offices, businesses, and temples. Thresholds are meant to be the gateway between external and internal beliefs, and the designs are intended to represent a fleeting and transitory experience and practice.
Geography/History
Jamun is native to the Indian subcontinent, specifically India, Nepal, Pakistan, and Sri Lanka, growing wild since ancient times. The prolific trees were also spread to Southeast Asia in the Early Ages and were introduced through Portuguese colonists and explorers into South America, the Caribbean, and Australia. In 1911, Jamun was planted in Florida. Today Jamun can be found worldwide in tropical to subtropical climates and is a fast-growing, aggressive tree. The cultivar is sometimes considered invasive in parts of Oceania, the Caribbean, Hawaii, and South Africa. When in season, Jamun fruits are harvested daily and are sold through local markets and roadside stands, foraged from wild and cultivated trees.
Recipe Ideas
Recipes that include Jamun. One

is easiest, three is harder.