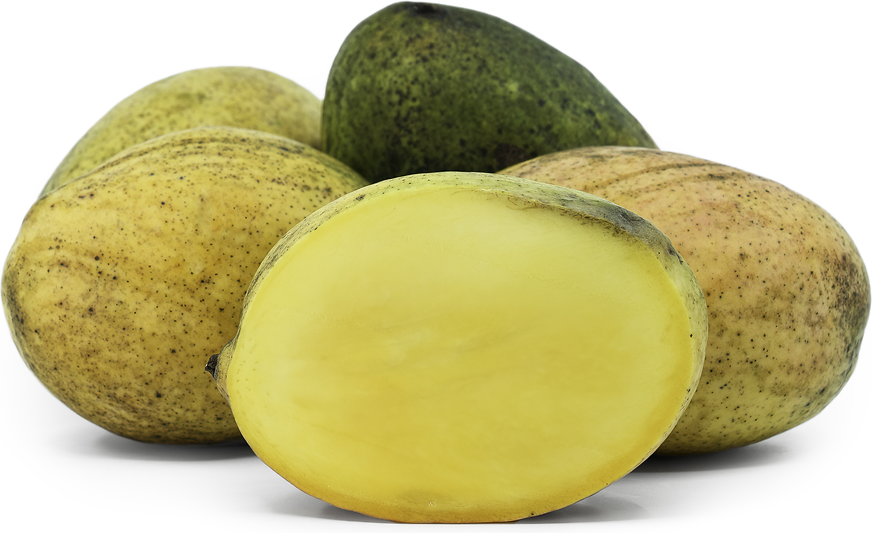 Coconut Cream Mangoes
Inventory, lb : 0
Description/Taste

Coconut Cream mangoes are a small to medium-sized varietal, averaging 8 to 9.5 centimeters in diameter and 10 to 15 centimeters in length, and have an oval to oblong shape. The fruits range from 330 to 600 grams in weight, typically reaching around 454 grams, and display a bluntly pointed apex with a large, curved beak. The fruits are bulbous, heavy for their size, and sometimes display a portion of a brown to grey stem. Coconut Cream mangoes have thin and tender skin. The skin is somewhat bumpy when green, eventually smoothening when ripe to shallow undulations. The skin also matures from dark green to shades of bright yellow with a muted pink-orange or crimson blush. The skin is tightly adhered to the flesh and exhibits prominent lenticels and black spots, depending on cultivation. These markings on the skin are typically superficial and do not affect the quality of the flesh. The golden yellow-orange flesh has a soft, aqueous, and creamy texture when ripe, often described as fibreless and melting. The flesh also encases an inedible, oblong seed around 1 to 2 cm thick and 8 to 9 centimeters in length. Coconut Cream mangoes turn yellow around the fruit stem when maturing, indicating when the mangoes should be picked. The fruits will also showcase beads of sap, soften slightly, and release a fragrant, tropical, fruity, and subtly citrusy scent reminiscent of a pina colada. When ripe, Coconut Cream mangoes have a rich, fruity, and exceptionally sweet taste, averaging around 21 Brix. The variety is also known for its mild acidity and coconut-like essence. Depending on the fruit and region the variety was grown in, Coconut Cream mangoes are said to have a pronounced coconut taste, while other consumers comment that the coconut notes are more subtle nuances found in the aftertaste.


Seasons/Availability

Coconut Cream mangoes are available from mid-June through July.


Current Facts

Coconut Cream mangoes, botanically classified as Mangifera indica, are an American mango variety belonging to the Anacardiaceae family. The mid-season cultivar was developed in South Florida in the late 20th century and was selectively bred for improved flavor, aroma, and texture. Coconut Cream mangoes are one of the most popular varieties in Florida and are revered as a dessert mango, meaning the fruits are enjoyed fresh for optimal flavor. The fruits grow on semi-dwarf, spreading trees reaching 3 to 4 meters in height and are favored by mango enthusiasts for their flesh-to-seed ratio. Coconut Cream mango trees provide consistent and heavy yields, are relatively disease resistant, and are small in size, making them suitable for backyards and smaller farms. The fruits are admired for their tropical flavor, melting flesh, and fast-ripening nature. Since their release, Coconut Cream mangoes are sometimes labeled as Coconut Creme, or C-20 mangoes in markets and are primarily grown and sold in South Florida.


Nutritional Value

Coconut Cream mangoes have not been extensively studied for their nutritional properties. Mangoes, in general, are a source of fiber to regulate the digestive tract, vitamin C to strengthen the immune system, and potassium to balance fluid levels within the body. Mangoes also provide vitamin A to maintain healthy organ functioning, copper to develop connective tissues, folate to build genetic material such as DNA, and vitamin B6 to regulate the nervous system.


Applications

Coconut Cream mangoes have a sweet, tropical, and fruity flavor suited for fresh and cooked preparations. All mangoes should be washed before consumption to remove lingering sap residue. Mango tree sap may irritate the skin and cause topical poison-ivy-like rashes. Once cleaned, the fruits can be sliced in half to the stone, and the two halves twisted in opposite directions to separate the halves. The mango flesh can also be sliced from the seed in large pieces, often known as the "cheeks" of the fruit. Coconut Cream mangoes are prized for their flavor and are mainly eaten straight out of hand. The variety can also be sliced and added to fruit salads, used as an edible garnish over meat and seafood dishes, or chopped into salsa. Try pureeing Coconut Cream mangoes and incorporating the puree into cocktails, yogurt, custards, and puddings. Blended flesh can also be frozen into popsicles, added to smoothies, or used to flavor cheesecakes and bread pudding. In addition to desserts, Coconut Cream mangoes are occasionally cooked into syrups, jams, marmalades, and chutney. Coconut Cream mangoes pair well with vanilla, chocolate, maple syrup, fruits such as bananas, strawberries, citrus, and pineapples, ginger, herbs including parsley, cilantro, basil, and mint. The variety can be picked before it has reached maturity and is fast ripening, softening in approximately 3 to 10 days. It is important to frequently check the ripening fruit as the variety can overripen quickly, affecting quality and flavor. Once ripe, whole mangoes can be kept in the refrigerator for 4 to 5 days, and sliced mangoes for 3 to 4 days.


Ethnic/Cultural Info

Coconut Cream mangoes are one of the only varieties patented from Gary Zill's famed mango collection. Gary Zill is a nurseryman in South Florida who is passionate about mango breeding. Zill was inspired by his father's propagation of mangoes, and in the late 19th century, Zill attended a mango symposium in Miami, where he learned about Australian breeders using the seedling's sap to determine the aroma of the fruits. Zill felt that too many of the mango varieties available in Florida had a similar aroma and taste. He germinated 10,000 seeds and planted 1,000 seedlings on his five-acre property and spent over three years testing, evaluating, and selecting new varieties. One of the unique ways he would determine whether he would continue growing select trees was by their leaf and sap aroma. Gary Zill eventually chose over 20 new mango varieties from the 1,000 seedlings, including Coconut Cream, which was initially labeled as C-20. The original name was given from the tree's location on the grid that Zill laid out on his property to track the mango varieties. C-20 was eventually named Coconut Cream for increased commercial value, and Zill applied for a patent on February 17, 2011. The variety was granted a patent on August 28th, 2012, under US PP 22,989 P2.


Geography/History

Coconut Cream mangoes were bred in South Florida in the late 20th century. Nurseryman and breeder Gary Edward Zills selected an Edward mango seedling and pollinated it with a Gary mango in 2000 on his property in Boynton Beach, Florida. The product of the cross was initially known as C-20 and was chosen for possible commercial propagation in 2008. Coconut Cream mangoes were valued for their flavor, texture, and aroma, and growers favored the trees for their small size, consistent yields, and disease tolerance. After their release in the early 21st century, Coconut Cream mangoes became an in-demand, successful commercial cultivar and are regarded as one of the most popular varieties of South Florida. Today Coconut Cream mangoes are grown throughout South Florida, and the fruits are seasonally sold through local growers and farmer's markets. The Coconut Cream mangoes featured in the photograph above were sourced through Fruits N' Cahoots Farm Stand in Davie, Florida.