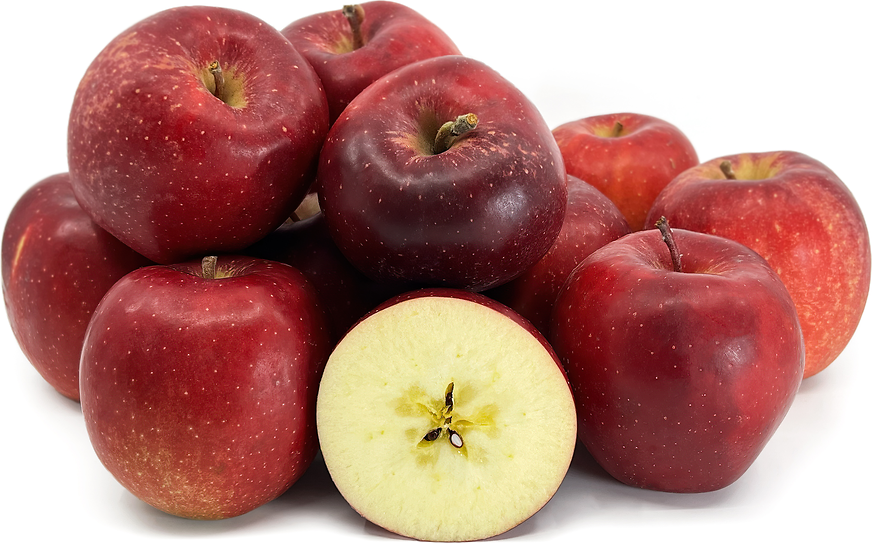 Oirase Apples
Inventory, lb : 0
Description/Taste

Oirase apples are a medium to large varietal, averaging 350 to 450 grams in weight, and have a round to oblate shape with sloping, curved shoulders tapering to a narrow, flat base. The variety features a short, thick, and woody dark brown stem set in a small cavity and has a fairly uniform appearance. The apple's skin is semi-thick, smooth, taut, and firm, speckled with pale lenticels. When ripe, the skin also has a golden yellow base, covered in a dark red to red-purple blush. Depending on sun exposure, the blush is saturated and can vary in hue. Underneath the surface, the ivory to pale yellow flesh is moderately grained, textured, aqueous, succulent, and soft, marbled with sugary, nectar-like liquid pockets. These pockets will have a slightly darker hue and are considered a valuable trait in the variety. The flesh also encases a small central core filled with tiny black-brown seeds. Oirase apples are aromatic and should feel heavy for their size when ripe, an indication of juice content. The flesh is high in sugar and low in acidity, creating a sweet, honeyed, and subtly fruity taste.


Seasons/Availability

Oirase apples are harvested in the late fall through early winter, mainly mid-October through mid-November.


Current Facts

Oirase apples, botanically classified as Malus domestica, are a rare Japanese variety belonging to the Rosaceae family. The mid to late-season apples are only grown on a small scale in the Aomori Prefecture in Japan and are a seasonal variety valued for their pigmented skin and honey-sweet, juicy flesh. Since their creation in the 20th century, Oirase apples have remained relatively unknown due to their inability to be easily grafted onto various rootstocks. The variety is challenging to propagate, and it took breeders several years to select suitable growing materials for commercial production. Oirase apples are famous for their marbled flesh, dotted with pockets of "honey." These pockets are created when a carbohydrate in the flesh known as sorbitol collects moisture, eventually creating fructose, a type of sugar. The more marbled the flesh, the sweeter and more valuable Oirase apples are considered to be. Throughout Japan, Oirase apples are increasing in popularity, but they are still grown in limited quantities due to their short shelf life, leading them to be sold as a premium, fresh-eating cultivar.


Nutritional Value

Oirase apples have not been studied for their nutritional properties. Like other apple cultivars, the variety is a source of fiber to regulate the digestive tract, potassium to balance fluid levels within the body, copper to develop connective tissues, and calcium to build strong bones and teeth. The apples also provide vitamin C to boost the immune system, vitamin E to reduce inflammation, vitamin A to maintain healthy organ functioning, and other nutrients, including zinc, iron, vitamin K, magnesium, and boron. The apple's pigmented skin contains antioxidants to protect the cells against the damage caused by free radicals.


Applications

Oirase apples have a sugary-sweet flavor suited for fresh preparations. The variety is typically eaten straight out of hand and is savored for its marbled flesh with pockets of sugar liquid known as "honey." Oirase apples are only harvested once ripe, giving the fruits a softer texture enjoyed relatively quickly after picking. The flesh can be sliced and served on cheese boards, lightly chopped into salads, or cut and layered on toast. Try slicing Oirase apples into rings and topping the fruit with nut butter, dried fruits, chocolate, or shredded coconut. In addition to fresh preparations, Oirase apples can be utilized in some cooked preparations, but their softer flesh commonly breaks down with heat. Oirase apples can be simmered into jams, jellies, and compotes or cooked into a sauce. They can also be used in daifuku mochi, combined with firmer apple varieties in crisps, or used as a filling for sweet buns. Oirase apples pair well with fruits such as pears, grapes, citrus, and melon, nuts including almonds, walnuts, and pine, raisins, maple syrup, brown sugar, and vanilla. Oirase apples should be immediately consumed after harvest for the best quality and flavor. The variety does not have a long shelf life and will become softer in storage. It is recommended to keep the apples for only a few days in a cool, dry, and dark location such as a cellar or refrigerator crisper drawer.


Ethnic/Cultural Info

Oirase apples are rumored to have been named after a river in the Aomori Prefecture in Japan. The Oirase River is the only river that flows from Lake Towada in Japan and is famous for its many waterfalls and rapids. The winding river also features deciduous forests along its banks, attracting visitors to photograph the color-changing leaves each fall. The Oirase River is a popular scenic site in Japan, and in 1996, the sound of the river's flowing water was chosen by the Ministry of the Environment as one of the 100 Soundscapes of Japan. This collection was promoted by the ministry to combat noise pollution, and the sounds were selected to symbolize a content life in Japan. Oirase is also a town in the Aomori Prefecture named after the Oirase River and is another possible explanation for the apple's commercial name.


Geography/History

Oirase apples are native to Japan and were developed in the Aomori Prefecture. The exact date of origin is unknown, but records indicate Mr. Masanori Fujita was responsible for developing the variety sometime in the mid to late 20th century. Mr. Fujita crossed Star King Delicious apples with Tsugaru apples in Onizawa, a small village in Hirosaki City in the Aomori Prefecture. The seedling was grated onto Star King Delicious rootstock, and the tree bore sweet, honey-filled fruits. Despite the new variety's promising cultivation traits, the cultivar was challenging to propagate as the branches taken from the original tree would cause the new rootstocks they were grafted on to wither and die. Growers struggled with propagating Oirase apples, leading them to remain a small-scale cultivar grown in limited quantities. Eventually, scientists discovered that branches from the original seedling contained viruses from the Star King Delicious rootstock, preventing propagation. Branches were tested on several rootstocks until it was found that Hokuto rootstock could successfully be grafted and stand up to the viruses, allowing Oirase apples to spread in cultivation. Today, one notable company, Harada Seed Co. in the Aomori Prefecture, is breeding and selling seedlings of the variety for commercial production. Oirase apples are a rare variety, slowly increasing production as a specialty cultivar. The apples are only grown and sold in Japan and are found through select fresh markets and distributors.