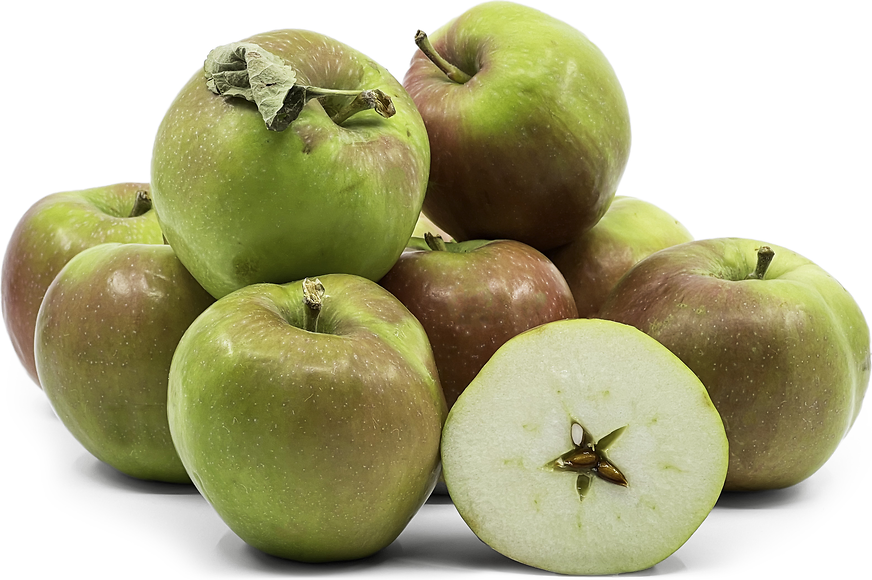 Quinte Apples
Inventory, lb : 0
Description/Taste

Quinte apples are a medium to large varietal, averaging 5 to 8 centimeters in diameter, and have a uniform, round to conical shape tapering from broad shoulders to a narrow base. The variety is generally around 165 to 190 grams in weight, but if the trees are thinned to only a few apples, the fruits can grow larger to 200 or 240 grams. The skin is semi-thin, smooth, and taut, covered in a waxy sheen, and when ripe, the surface exhibits a yellow-green base hue with muted dark red to red-orange blush patches. The blush ranges from a blurred, spotty appearance to subtle striping, and prominent white-grey lenticels are scattered across the surface. Underneath the skin, the ivory to cream-colored flesh is sometimes blushed with green tones and has a dense, aqueous, and coarse texture. This granular mouthfeel creates a crisp and crunchy consistency. The flesh also encases a central fibrous core filled with light brown tear-drop-shaped seeds. Quinte apples release a strong aroma and are known for their refreshing, balanced, sweet, and sour taste.


Seasons/Availability

Quinte apples are available in the summer through fall, typically in season as early as July.


Current Facts

Quinte apples, botanically classified as Malus domestica, are a Canadian variety belonging to the Rosaceae family. The early-season apples were developed in the province of Ontario in the 20th century and were selected as a commercial cultivar for their ability to extend Canada's apple season. Quinte apples arrive in markets before many of the leading commercial varieties, and apple enthusiasts favor the summer fruits for their balanced, sweet-tart flavor. Quinte apples are typically eaten fresh, and the cultivar is also commercially grown for processing into juices and jams. After their Canadian release, Quinte apples were introduced to Europe and Central Asia and succeeded in Russian commercial orchards and home gardens. Growers value Quinte apples for their consistent annual yields, ability to grow in warmer, unfavorable conditions, drought tolerance, and some disease resistance. The fruits grow on trees reaching 4 to 5 meters in height, but they are typically pruned to smaller sizes to make the harvest more manageable. Quinte apples are known worldwide as a short-season dessert variety, and despite their fleeting presence, each tree can produce 110 to 130 kilograms of apples per season.


Nutritional Value

Quinte apples are a source of iron to develop the protein hemoglobin for oxygen transport through the bloodstream, fiber to regulate the digestive tract, calcium to build strong bones and teeth, and potassium to balance fluid levels within the body. The apples also provide vitamin C to strengthen the immune system, magnesium to regulate nerve functioning, vitamin B6 to maintain amino acid levels, and other nutrients, including vitamin K, folate, copper, boron, zinc, and manganese. The red streaking on the skin indicates the presence of antioxidants, which contribute anti-inflammatory properties to protect the cells against free radical damage.


Applications

Quinte apples have a balanced, sweet, and sour flavor suited for fresh and cooked preparations. The variety can be washed and consumed straight out of hand and is favored for its early-season appearance when other apple varieties have not arrived in markets. Quinte apples can be sliced and served on cheese plates, chopped into salads, shredded into slaws, or mixed into fruit medleys. Apple slices can also be served with caramel, nut butter, and chocolate as a snack, blended into smoothies, or pressed into juice. In Kazakhstan, Quinte apples are traditionally consumed fresh, baked into sharlotka, an apple cake, or simmered into jams, compotes, and marmalades. Quinte apples are also processed into juices for commercial sale. In addition to cakes and jams, Quinte apples are popularly fried into fritters, mixed into rice, baked into pies, or used as a fresh topping over oatmeal, parfaits, and porridge. The variety complements both sweet and savory dishes and can also be dried for extended use as a chewy snack. Quinte apples pair well with nuts such as almonds, pecans, and walnuts, spices including cinnamon, ginger, nutmeg, and cloves, herbs such as cilantro, parsley, and mint, and meats including beef, pork, and poultry. Whole, unwashed Quinte apples have a short shelf life and should be immediately consumed for the best quality and flavor. The variety will keep for 10 to 14 days when stored in a cool, dry, and dark location such as a cellar or refrigerator. After the recommended storage, the apples often grow soft and spoil.


Ethnic/Cultural Info

Quinte apples are harvested and promoted with other apple varieties through the annual Apple Harvest Festival in Issyk, a region in Almaty, Kazakhstan. The festival is typically held in October, and the Issyk Valley is known for its picturesque lake, vineyards, orchards, and ecotourism. The annual Apple Harvest Festival was established to promote seasonal crops, and apples specifically were chosen to highlight their rich origins and history within Kazakhstan. During the event, visitors can pick apples from the trees, participate in outdoor activities such as horseback riding, or attend live musical performances. Apple breeders, scientists, growers, and researchers also gather together at the festival to share cultivation techniques and improvements. This networking helps to connect regional growers and increase overall apple production within the country. Beyond research, the festival was designed to be a gastronomic event where attendees can sample regional dishes incorporating apples, such as Quinte, into rice pilaf, apple cakes, pies, jams, and fritters.


Geography/History

Quinte apples were developed in the 20th century at the Federal Agriculture Research Station in Ottawa, a city in the Ontario Province of Canada. Breeder Lloyd P.S. Spangelo crossed Red Melba with Crimson Beauty apples and planted the seedling from this cross at the Smithfield Experimental Farm. Smithfield was an extension of the research station, and over 50,000 seedlings of various cultivars were produced and evaluated at the farm under the direction of multiple breeders, including Spangelo. Quinte apples were selected as a new commercial cultivar and were released in 1964. One of the unique characteristics of Ottawa is that it has a humid climate and is one of the warmest areas of the province. Quinte apples were bred to survive in warmer temperatures, spreading the variety throughout Canada and Europe in the late 1970s. In Europe, Quinte apples were planted in Norway, where they became a successful commercial cultivar and were also established in Russia. In 1986, Quinte apples were registered with the Russian State Register of Breeding Achievements and were given official zoning in Central Black, Nizhenvolzhsky, Lower Volga, and North Caucasian regions. Over time, Quinte apples expanded in production throughout Russia and were grown in temperate regions in Volgograd, Voronezh, Kursk, Astrakhan, Lipetsk, and Rostov. Today Quinte apples are grown commercially on a small scale and are seasonally sold in Russia, Central Asia, Europe, and Canada.