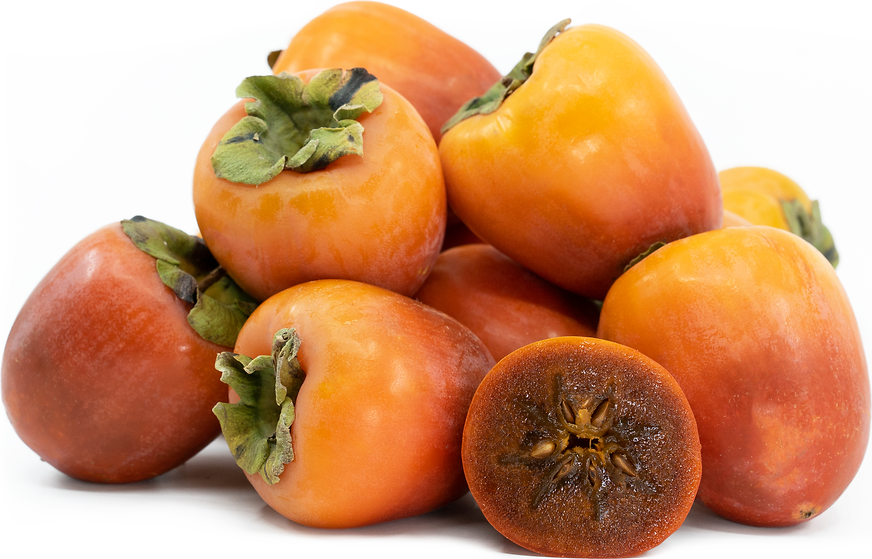 Tsurunoko Persimmons
Inventory, lb : 0
This item was last sold on : 10/31/23
Description/Taste
Tsurunoko persimmons are a small to medium-sized varietal with a conical to oval shape, tapering slightly from the flat, broad shoulders towards the curved, pointed base. The persimmon's skin is smooth, glossy, semi-thin, and taut, showcasing vibrant shades of orange, golden-orange, and dark orange-red hues. It is typical for Tsurunoko persimmons to have darker red-orange shades at the base of the fruit, lightening into a golden yellow-orange hue at the shoulders. The fruit is also capped with 3 to 4 flat green-brown dried leaves, exhibiting a papery and leathery consistency. Underneath the surface, the flesh ranges in texture depending on maturity and treatment, initially firm, dense, and crisp when harvested, softening into a tender and soft granular feel when ripe. The flesh is generally pale orange, sometimes dotted with tiny brown marks if the fruit has been pollinated, and encases several oval light brown seeds. Tsurunoko persimmons will have varying flavors and textures depending on pollination. If the persimmons have been pollinated, they can be eaten in their firm or soft state, but if the fruits are unpollinated, they can only be consumed when soft or after manually treating to remove astringency. The fruits also tend not to ripen uniformly, having edible portions within the flesh mixed with astringent sections, creating high variability that cannot be determined just by looking at the fruits. Ripe Tsurunoko persimmons have a rich, complex, sugar-sweet taste with warm baking spices, cocoa, and honey nuances.
Seasons/Availability
Tsurunoko persimmons are available in the fall through winter.
Current Facts
Tsurunoko persimmons, botanically classified as Diospyros kaki, are a rare variety belonging to the Ebenaceae family. The fruits grow on deciduous, evergreen trees and are a specialty persimmon native to Japan, where it has been cultivated for thousands of years. The name Tsurunoko translates to mean "child of the crane," and the fruits are given this moniker for their egg-like shape. In the modern-day, Tsurunoko persimmons are mainly grown in Japan and California. It is important to note that scientists have heavily debated whether Tsurunoko persimmons grown in California are distinct from Tsurunoko persimmons grown in Japan. Japanese Tsurunoko persimmons are generally classified as an astringent variety mainly used for drying purposes. Many experts believe California persimmons are descendants of the Japanese type and have developed new characteristics through continued breeding and a unique growing environment. Tsurunoko persimmons in California are a pollination-variant non-astringent persimmon, meaning pollination will change the composition of the flesh. When Tsurunoko persimmons are unpollinated, their flesh remains hard and filled with astringent tannins, making it unpalatable. These persimmons must be manually treated to sweeten the flesh or left on the counter for weeks to allow the tannins to break down, developing a sweeter taste and softer flesh. Pollinated Tsurunoko persimmons can be consumed firm or soft, and the fertilized seeds secrete small amounts of alcohol, causing the chemical compounds in the flesh to clump together, sprinkling the flesh with brown spots. These brown spots are what give Tsurunoko persimmons their other well-known label, Chocolate persimmon, a marketing name created to entice consumers into purchasing the variety.
Nutritional Value
Tsurunoko persimmons are an excellent source of fiber to regulate the digestive tract and vitamin A to improve skin complexion, protect against vision loss, and maintain overall organ health. The persimmons are also a good source of vitamin C to strengthen the immune system while reducing inflammation and contain other nutrients, including vitamins B6, E, and K, potassium, manganese, folate, copper, and phosphorus.
Applications
Tsurunoko persimmons have a mildly sweet, sugary, and spice-filled flavor well suited for fresh and cooked preparations. The persimmons can be consumed straight out of hand when left to soften, or they can be eaten firm if the fruits are pollinated. The persimmons can also be sliced and tossed into salads, chopped and stirred into fruit bowls, topped over flatbreads, or blended into seasonal smoothies. In addition to raw preparations, Tsurunoko persimmons can be grilled, intensifying the fruit's sweetness, and mixed into savory and subtly bitter, leafy green salads, or they can be broiled or baked, incorporated into pies, cakes, tarts, cookies, bread, and bars. The fruits can also be simmered into puddings, cooked into jams and jellies, or served in creamy sauces as a condiment for roasted meat and vegetables. Try blending Tsurunoko persimmons into ice cream or sorbet as a healthy dessert. In Japan, Tsurunoko persimmons are mainly left in the sun to dry and are eaten as a chewy dessert or accompaniment to tea. The persimmons are also mixed with tenno persimmons and made into a flavorful juice. Tsurunoko persimmons pair well with fruits such as cranberries, pomegranates, pear, apples, citrus, and figs, nuts including pecans, almonds, and pistachios, herbs such as arugula, mint, and basil, vanilla, maple syrup, and honey. Whole, unwashed Tsurunoko persimmons will keep 4 to 10 days at room temperature to soften, or they can be stored in the refrigerator for several weeks to maintain a crisper texture.
Ethnic/Cultural Info
In Uji, a city in the southern region of the Kyoto Prefecture, Tsurunoko persimmons are a traditional variety grown alongside tea plants. Uji is known for its tea production and has become famous for producing gyokuro, matcha, and sencha tea. Along with growing tea plants for Uji tea, many tea growers also plant Tsurunoko persimmon trees throughout their properties. Persimmon juice sterilizes tea farming tools to prevent the tea plants from absorbing other scents such as lotions, oils, and soaps. The fruits are also utilized as sweet treats, customarily served with green tea. One of the most well-known confections handmade in Uji are dried Tsurunoko persimmons, also called korogaki. These dried persimmons are distinguished from hoshigaki produced throughout the rest of Japan, as the Tsurunoko persimmons are dried using a kakiya, a drying hut specially designed for making korogaki. Legend has it that a lady once visited the village in ancient times, now modern-day Uji, and taught the villagers how to peel and dry persimmons, making ready to eat dried fruits only after 2 to 3 weeks. This style of drying persimmons is much faster than hoshigaki, and Uji residents have been drying the persimmons for hundreds of years. Drying persimmons occurs in the off-season for tea production, mainly in the winter, allowing farmers an additional source of income. The dried fruits also provide added sustenance during the bleak winter months.
Geography/History
Tsurunoko persimmons are native to Japan and have been cultivated for centuries in home gardens and specialty farms. The variety is not commercially grown and is considered a rare fruit sought out by persimmon enthusiasts. Tsurunoko persimmons were introduced to California sometime in the mid to late 19th century and were planted on a small scale in gardens of Japanese immigrants. It is rumored that the persimmons were bred and altered over time in California to create a new Tsurunoko variety, distinct from the initial fruits imported from Japan. Most Tsurunoko persimmon trees planted in California in the 19th century are still alive and producing fruits, primarily found in Placer County, just east of Sacramento. Today Tsurunoko persimmons are available in limited quantities in the Japanese prefectures of Kyoto, specifically the city of Uji, and Saitama, mainly in Kasukabe, and are offered in specialty grocers and farm stands. The persimmons are also grown on a small scale in California, sold through farm stands, markets, and distributors, and are planted in home gardens in Florida, Louisiana, and Georgia.
Recipe Ideas
Recipes that include Tsurunoko Persimmons. One

is easiest, three is harder.