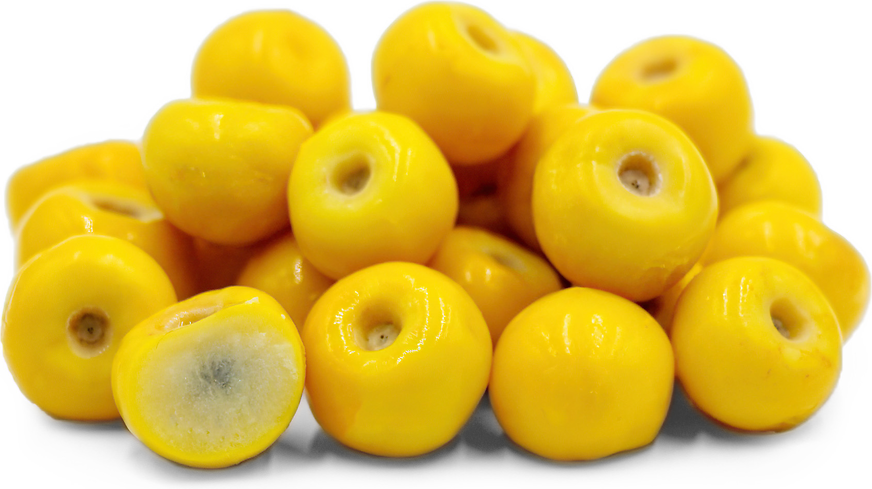 Nance Fruit
Inventory, lb : 0
Description/Taste
Nance fruits are a small species, averaging 1 to 2 centimeters in diameter, and have a round to ovate shape with a deep indentation on the stem end and flat shoulders that curve to a rounded base. The globular fruits have thin, smooth, semi-glossy, and taut skin. The skin is edible but also easy to peel, and it transitions from green to a golden yellow, yellow-orange, to red hue, depending on the variety. Underneath the surface, the flesh ranges in color from white to pale yellow and is oily, aqueous, and pulpy with a somewhat soft, succulent, and mealy consistency. The flesh is relatively thin and encases 1 to 3 brown-black inedible seeds. Nance fruits emit a strong and distinct aroma said to smell floral, fruity, and sweet mixed with a peculiar, funky cheese-like note. When ripe, the fruits can be consumed raw or cooked and have an acidic, subtly sweet, and sour taste with fruity nuances of lychees, bananas, and crabapples mixed with sharp, parmesan cheese-like undertones.
Seasons/Availability
Nance fruits are available in the spring through early summer, with a peak season from April to June.
Current Facts
Nance fruits, botanically classified as Byrsonima crassifolia, are an unusual tropical to subtropical species belonging to the Malpighiaceae family. The small fruits develop in dense clusters along the branches of slow-growing trees extending up to ten meters in height and are favored for their complex taste and aroma. Nance fruits are native to regions of the Americas, and each tree produces around 2,000 to 4,000 fruits in a season. Harvesting the fruits is done by hand, and once the fruits are collected, they are sold in fresh markets as culinary and medicinal ingredients. Historically, Nance fruits have been utilized by indigenous populations in their native growing regions throughout Mexico and Central and South America, and over time, the species has remained relatively localized to these areas. Nance fruits are known by many names, including Golden Spoon, Yellow Cherry, Golden Cherry, Chaparro, Nanche, Mariaco, Yaca, Cimun, Mirixis, Changunga, Yoco, Kraabu, Hogberry, Peraleja, Craboo, Nancites, Cao Cimun, Maurissi, Manchic, Murici, Indano, Savanna Serrette, Mantecos, Manzi, and Nauche, and the fruits have several other indigenous monikers unique to select regions of the Americas. There are two main types of Nance fruits, a yellow-orange variety and a red variety known as Red Nance or Guajacote, and both types are regarded as similar and used in the same preparations. In the modern day, Nance fruits are seasonal, specialty fruits consumed raw or incorporated into a variety of sweet or savory preparations. The fruits add sweet and sour notes to dishes and are known for their memorable, pungent aroma.
Nutritional Value
Nance fruits are a source of fiber to regulate the digestive tract, calcium to build strong bones and teeth, magnesium to control blood pressure, and vitamin C to boost the immune system. The fruits also provide potassium to balance fluid levels within the body, vitamin E to protect the cells against the damage caused by free radicals, copper to develop connective tissues, and other nutrients, including iron, folate, and vitamin K. In Central and South America, unripe Nance fruits are used as a natural dye for cotton, and the bark is infused into medicines to reduce fevers.
Applications
Nance fruits have a sweet and sour flavor suited for fresh and cooked preparations. The fruits are edible when ripe and can be eaten out of hand, discarding the seeds. In Mexico, fresh Nance fruits are popularly sold in to-go containers sprinkled with lime juice and chili powder as a snack. The fruits can also be sliced into pieces and tossed into salads, blended and frozen into popsicles, sorbet, and ice cream, or preserved in syrup as a sweet treat. In Panama, Nance fruits are famously incorporated into pesada de Nance, a creamy, pudding-like dessert made from water, sugar, fruits, and cornstarch. Pesada de Nance can be served hot or cold and is typically topped with fresh cheeses, milk, or corn. Nance fruits are also used in raspados in Nicaragua, a dessert of boiled and mashed Nance fruits combined with a heated mixture of brown sugar, white sugar, and cinnamon. The fruits are combined with the sweetened liquid and are poured over shaved ice as a refreshing drink-like dessert. Nance fruits are also baked into cobblers, simmered and hardened into candies, or fermented in sugar or vinegar to create sweet and sour condiments. In addition to sweet preparations, Nance fruits can be added to savory dishes, including stews or dishes with poultry and rice. The fruits are also frequently added to smoothies, juices, or carbonated beverages. In Brazil, Nance fruits are fermented into chicha, a beer-like drink, and in Costa Rica, the fruits are distilled into a liquor called crema de Nance. Nance fruits pair well with vanilla, spices such as cinnamon, nutmeg, or ginger, brown sugar, and fresh cream. Whole, fresh harvested Nance fruits have a short shelf life and should be immediately consumed for the best quality and flavor. The fruits are also stored in water, fermented, or frozen for extended use.
Ethnic/Cultural Info
Nance fruit trees are featured in a Mayan myth in the Popol Vuh, an ancient text of the K'iche, also known as the Quiché people in Guatemala. Popol Vuh roughly translates to "Book of the Community" and is comprised of stories and records that were passed between generations of the K'iche using oral tradition. Popol Vuh was officially transcribed sometime in the mid-16th to 18th centuries, and one of the stories in the text reveals that Nance fruits were a tree commonly perched upon by Vucub-Caquix, a demon who took the form of a bird, also known as Seven Macaw. Vucub-Caquix claimed he was the god of the sun and moon, often sitting in Nance trees to feast on the fruits. This demon bird angered many of the other gods, and one day, two Mayan gods, Hunahpu and Xbalanque, were chosen to kill Seven Macaw. The two gods were also twins and waited in the Nance fruit tree for the unsuspecting Seven Macaw. When the demon finally arrived, Hunahpu and Xbalanque shot several darts into the demon's jaw and neck, causing it to crash to the ground. Hunahpu rushed over to the creature to grab him, and in a sudden fit of rage, the Seven Macaw grabbed Hunahpu and ripped his arm off. There are several endings to this story, many with the Seven Macaw getting his teeth ripped out and replaced with white corn kernels, leading him to be unable to eat, ultimately perishing. Hunahpu also retrieves his arm from the fallen monster and can have the other gods reattach it. After their victory, the gods are elated with Hunahpu and Xbalanque, and the two twin brothers ascend into the sky to become the sun and moon.
Geography/History
Nance fruits are native to Central America, South America, and regions of Mexico and have been growing wild since ancient times. The species thrives in tropical to subtropical climates and is commonly found wild in tropical deciduous forests and Amazonian savannas up to 1800 meters in elevation. Nance fruits have traditionally been used as a medicinal and culinary plant for thousands of years, and the species has remained mainly localized to its native growing region. Today Nance fruits are still found in the wild and are also planted in home gardens, pastures, and fields for cultivation on a small scale. The fruits are seasonally sold in fresh markets throughout Central and South America and Mexico and have expanded to the Caribbean and parts of Southern California. Nance fruits are also commercially processed and sold in canned form through select online retailers, grocers, and distributors.
Recipe Ideas
Recipes that include Nance Fruit. One

is easiest, three is harder.