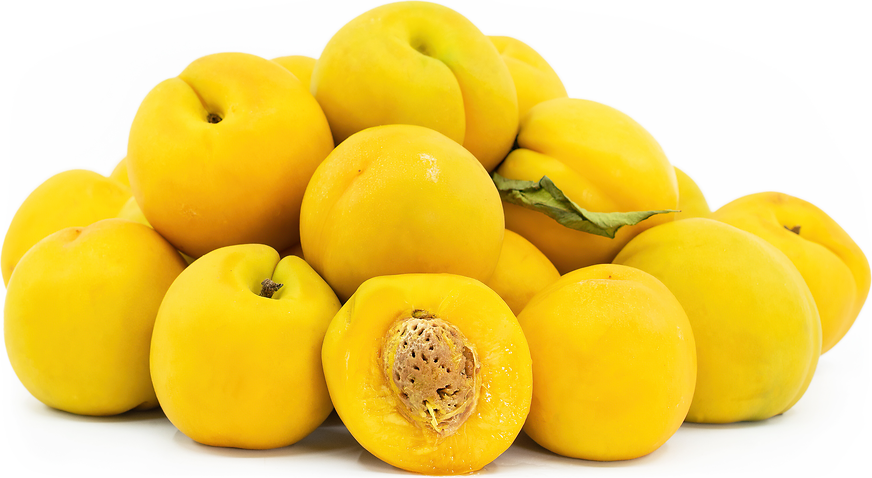 Mango Nectarines
Inventory, 10 lbs : 0
Description/Taste
Mango nectarines are small fruits, averaging 5 to 7 centimeters in diameter, and have a round to slightly lopsided, oblate shape. The fruit's skin is smooth, semi-thick, and taut, featuring a prominent suture extending from the stem to the apex of the fruit. When young, the skin is pale green, ripening to a bright, golden yellow hue with maturity, sometimes speckled with green. Underneath the surface, the golden flesh is dense, somewhat aqueous, succulent, and firm with a tender, fine-grained consistency. There is also a freestone, brown pit lightly adhered within the center of the flesh that can be easily removed and discarded before consumption. Mango nectarines are aromatic and emit strong, perfumed notes of tropical fruit and flowers. Ripe Mango nectarines contain a sweet, subtly acidic flavor with tangy, fruity, and tropical nuances. Some consumers report the fruit also bearing a slight mango-like aftertaste.
Seasons/Availability
Mango nectarines are available for a short season in the early to mid-summer.
Current Facts
Mango nectarines, botanically classified as Prunus persica var. nucipersica, are a rare hybrid variety belonging to the Rosaceae family. The golden-hued fruits are grown exclusively in California, typically in season at the end of June through July, and were naturally created using traditional crossbreeding techniques. Mango nectarines were not genetically modified and were developed from a cross between two heirloom, pale-skinned nectarine varieties. Both parent varieties were classified as sports or natural mutations discovered growing in nectarine orchards. It is important to note that nectarine cultivars in California were traditionally pale in color, similar to Mango nectarines, as the original varieties from Asia were golden yellow. When the red-skinned varieties were released in the 1940s, consumer preferences switched to desiring the red-blushed fruits, resulting in the disappearance of pale-skinned varieties. Mango nectarines earned their fruity moniker from their golden skin tone and fragrant aroma. The nectarines are not related to or bred from an actual mango. In addition to their coloring, some growers tout that the flesh has a texture and flavor reminiscent of mangos, but the taste is subtle and is primarily an aftertaste. Mango nectarines are only in season for about a month and are a specialty fruit that is challenging to find outside of local California markets.
Nutritional Value
Mango nectarines are a good source of vitamin A to maintain healthy organ functioning and provide antioxidants, including vitamin C, to strengthen the immune system, reduce inflammation, and protect the cells against free radical damage. The fruits also contain potassium to balance fluid levels within the body, B vitamins such as niacin that assist the body in promoting optimal nerve functioning and digestion, and lower amounts of minerals including copper, calcium, and iron.
Applications
Mango nectarines have a sweet and tangy flavor ideal for fresh eating. The rare fruits are challenging to find in markets due to their small-scale cultivation and short season, leading many fruit enthusiasts to consume the fruits raw to appreciate their full flavor. Mango nectarines can be eaten straight, out of hand, discarding the pit, or they can be sliced and tossed into fruit bowls, mixed into green salads, or combined into yogurt, oatmeal, or breakfast dishes. The semi-firm flesh can also be quartered and displayed on appetizer plates, chopped into salsas and side dishes, blended into smoothies, sliced and stirred into fruit punches, cocktails, and sparkling beverages or used as a fresh topping over ice cream and sorbet. In addition to fresh preparations, Mango nectarines can be utilized in some cooked dishes, including baked goods such as tarts, cobblers, crisps, and scones. The fruits can also be simmered into jams and syrup, or they can be used in any recipe calling for peaches or nectarines. Mango nectarines pair well with vanilla, caramel, honey, brown sugar, spices including cinnamon, allspice, and nutmeg, and herbs such as basil, mint, tarragon, and rosemary. Whole, unwashed Mango nectarines can be kept at room temperature for immediate consumption and will last up to one week when stored in the refrigerator.
Ethnic/Cultural Info
Gold-skinned nectarines have their origins in southeastern China, where the first fuzz-free stone fruit appeared as a sport itself on a peach tree. Experts believe only one gene distinguishes nectarines from peaches, and nectarines contain the recessive trait for fuzz-less skin. Over time, the golden fruits were planted in California, where they thrived in the San Joaquin Valley, a fertile region extending throughout Central California. Ninety-five percent of the nectarines sold domestically in the United States are grown in California. Mango nectarines represent one of the more unique cultivars produced on a small scale in Reedley, a city in Fresno County, and the variety is viewed as a reminder of the original golden-hued nectarines first grown in the state. In the spring, Fresno County offers visitors a chance to experience nectarine cultivation by touring the orchards when they are in bloom. The 62-mile loop is known as the Fresno County Blossom Trail and features blooming nectarine, peach, apple, plum, apricot, and almond trees. The trail also notes points of interest along the way, allowing visitors to completely immerse themselves in the life of the San Joaquin Valley. Once the blossoms fall from the trees, the loop becomes the Fresno County Fruit Trail, and local vendors construct farm stands along the road to sample the freshly harvested fruits from the orchards.
Geography/History
Mango nectarines were developed in the late 20th century by grower David Kamada of the Ito Fruit Company based in Reedley, California. The variety was created from two nectarine sports that were discovered growing as mutations on nectarine trees within Kamada's orchard. Both sports were propagated and naturally crossbred using traditional techniques, resulting in the pale-skinned nectarine. Mango nectarines resemble the heirloom varieties from the early days of growing stone fruit in California. At the beginning of California's stone fruit history, nectarines grown in the golden state were small, yellow to green-skinned, and golden to white-fleshed. In the mid-20th century, red-skinned nectarines appeared in commercial markets, altering the consumer's perspective on what coloring was a symbol of ripeness. More growers began developing red-skinned nectarine cultivars due to their increased popularity, and the pale yellow and green-fleshed varieties fell out of favor. Today Mango nectarines are a rare variety challenging to find outside of local California markets. When in season, the fruits can be found through farm stands, farmer's markets, and specialty distributors.
Recipe Ideas
Recipes that include Mango Nectarines. One

is easiest, three is harder.
Podcast