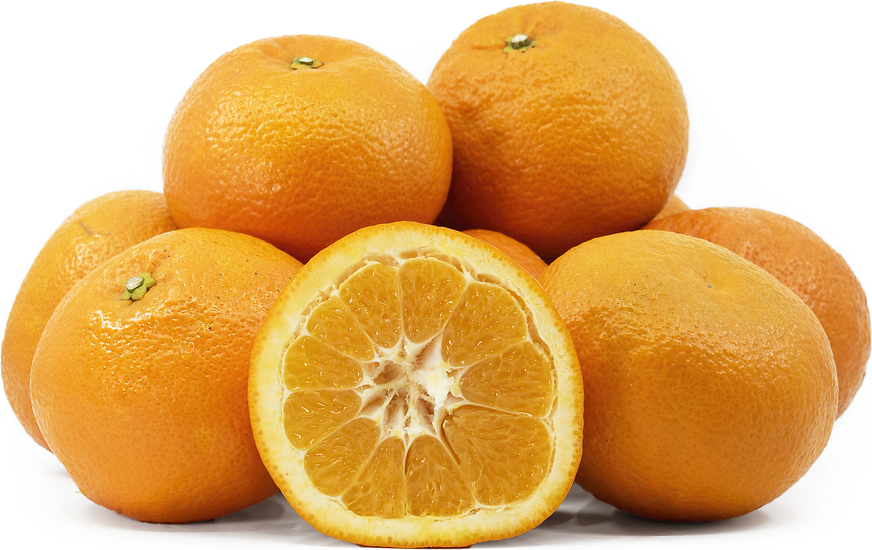 Iyokan Oranges
Inventory, lb : 0
Description/Taste

Iyokan oranges are a medium to large-sized varietal, averaging 8 to 10 centimeters in diameter, and have an oblate to oval shape. The fruit's rind is semi-thick but easy to peel and is glossy, smooth, and lightly textured with large sunken oil glands. The rind also has a dark orange coloring and is sometimes blushed with crimson hues, depending on cultivation. Underneath the peel, a thin layer of bitter white pith encases 9 to 10 segments of orange flesh, divided by thin membranes. The flesh is comprised of large juice vesicles that create a soft, tender, and aqueous eating experience, and the oranges are mostly found seedless. Iyokan oranges are known for their bright, citrusy fragrance when peeled and have a balanced sweet and sour flavor. The flesh contains high sugar content and acidity, developing a sweet flavor with subtly bitter and sour notes. This balanced blend of sweet and sour creates a tangy, refreshing taste when the oranges are consumed out of hand.


Seasons/Availability

Iyokan oranges are available in the winter.


Current Facts

Iyokan oranges, botanically classified as Citrus reticulata, are a Japanese variety belonging to the Rutaceae family. The oranges were discovered as a natural mutation growing in Japan in the late 19th century and were selected as a new commercial variety in the early 20th century. Iyokan oranges were named after the Ehime Prefecture, the fruit's central growing region, and Ehime used to be called Iyo-no-Kuni, a name that inspired the creation of Iyokan. Throughout Japan, Iyokan oranges are the second most commercially produced citrus, falling just below the satsuma mandarin, and are known by several names, including Gokakukei Iyokan, Anadomikan, and Gokaku no Iyokan. There are two types of Iyokan, the original mutation, sometimes called the Anato mandarin, and a sport developed from the original citrus in the mid 20th century. The sport exhibited slightly thinner skin and was named Miyauchi Iyokan, becoming the most prevalent type of Iyokan grown in the modern-day. Iyokan oranges are highly favored for their bright fragrance, refreshing flavor, large size, seedless nature, and juicy consistency. The oranges are primarily consumed fresh or juiced, but their strong scent is also used for desserts, sauces, and preserves.


Nutritional Value

Iyokan oranges are an excellent source of vitamin C to strengthen the immune system while reducing inflammation and provide vitamin A to maintain healthy organ functioning. The fruits also contain potassium to balance fluid levels within the body, calcium and phosphorus to protect bones and teeth, and other nutrients, including zinc, manganese, folate, and B vitamins.


Applications

Iyokan oranges have juicy, soft flesh and a sweet-tart flavor well suited for fresh and cooked preparations. The oranges are primarily consumed straight, out of hand, and are favored for their balanced, sweet, and tangy taste, consumed as a snack or healthy dessert. Iyokan oranges can also be pressed into juices, blended into smoothies, or used to flavor sparkling beverages and cocktails. In addition to drinks, the juice can be whisked into salad dressings, sauces, and marinades, or the flesh can be segmented and tossed into salads, grain bowls, and fruit mixes. The rind can also be zested into French toast batter, stirred into ice cream, or lightly sprinkled onto fish dishes as a bright flavoring. Beyond fresh preparations, Iyokan oranges are used to flavor baked goods, cakes, cookies, muffins, bread, and other desserts. The oranges can also be simmered into jams, jellies, and marmalades or juiced into yogurt as a sweet and sour enhancement. The orange's semi-thick peel can be candied as a sugary-sweet treat or dried and incorporated into tea blends. The fruit's flavor is also frequently used in commercial products such as Fanta, Pocky, and other candies. Iyokan oranges pair well with herbs such as mint, basil, and thyme, fruits including strawberries, grapes, bananas, and apples, spices such as ginger, cardamom, cinnamon, and nutmeg, seafood, and meats such as poultry, turkey, and beef. Whole, unwashed Iyokan oranges will keep for a couple of days at room temperature and up to 10 days when stored in a plastic bag in the refrigerator.


Ethnic/Cultural Info

Iyokan oranges were grown into the shape of pentagons in the Ehime Prefecture as a symbol of good luck for students taking exams. The angular fruits were nicknamed Gokaku no Iyokan and were grown in custom wooden molds when the fruits were still developing on the tree. As the oranges matured, they naturally molded into the pentagon shape, and when the fruits are cut open, they display five distinct points. Gokaku no Iyokan was developed from the similarity in sound between the name Iyokan and the word Iiyokan, which roughly translates to "good feeling." The oranges were handed out to students as a good luck charm and acted as a visual reminder that they would be successful in their exams. Gokaku no Iyokan oranges were widely successful during their promotional period, leading some farmers to continue growing the uniquely shaped fruits as an annual specialty orange. Iyokan oranges were also infused into white chocolate KitKats, a "good luck" marketing plan used as a message of goodwill to students during their seasonal studies.


Geography/History

Iyokan oranges were discovered growing as a natural mutation in the late 19th century in the garden of Mr. Masaji Nakamura in the Yamaguchi Prefecture of Japan. The exact parentage of the variety is unknown, and the newly discovered citrus was initially named Anato mandarin. A few years after the fruit's discovery, Mr. Yasunori Miyoshi purchased a tree from Mr. Nakamura and planted the citrus in his garden in the Ehime Prefecture. Several years later, the tree began producing fruits and eventually developed a sport of the original Iyokan. This sport exhibited thinner skin, a pleasant, sweet, and sour flavor, and was more productive, leading Mr. Miyoshi to propagate the sport and give the seedlings to neighboring farms. The sport became known as Miyauchi Iyokan and was registered in November of 1966. Over time, Miyauchi Iyokan expanded in cultivation, replacing most of the original Iyokan trees. Today Iyokan oranges are primarily grown in the Ehime Prefecture, accounting for around 80-90% of the Iyokan oranges available in commercial markets. Ehime is known for its coastal, sunny climate, and the soil is filled with minerals that contribute to the citrus's pronounced flavor. The variety is also cultivated on a smaller scale in the Saga, Shizuoka, Wakayama, Yamaguchi, Kagoshima, and Hiroshima Prefectures. Iyokan oranges are offered through specialty retailers throughout Japan, and the fruits are also exported on a limited scale to continental Asia. The Iyokan oranges featured in the photograph above were sourced from Meidi-Ya Supermarket in the Millenia Walk in Singapore.