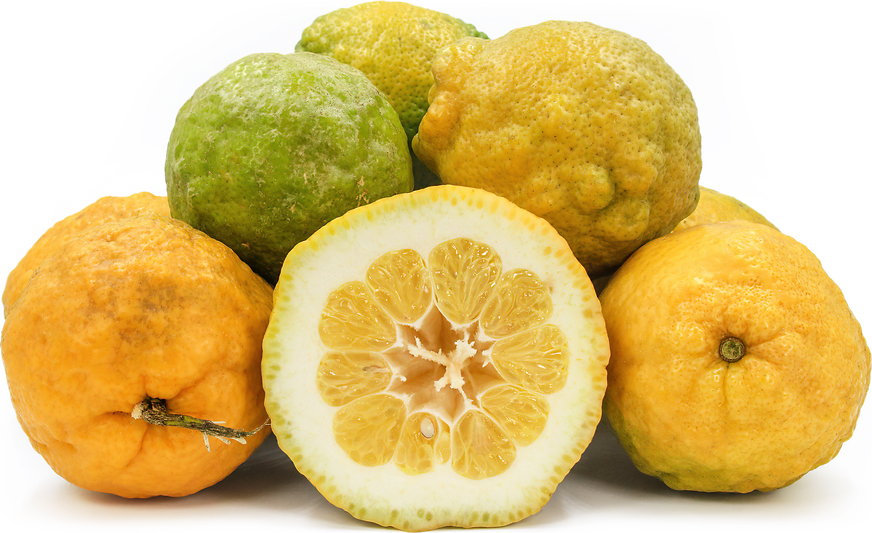 Rough Lemons
Inventory, lb : 0
Description/Taste

Rough lemons are a medium to large-sized varietal, averaging 7 to 8 centimeters in diameter, and have a gnarled, round to oblate shape. The lemon's skin is covered in a thick rind, enveloped in deep creases, wrinkles, and bumps with a pronounced nipple on one end. The surface is also leathery and textured, bearing prominent oil glands giving the rind a pebbled appearance. Rough lemons will ripen from green, pale yellow, to golden yellow-orange, and the fruits can be used at any stage in ripeness for culinary preparations. Underneath the surface, there is little flesh wrapped in a spongy white pith, divided into 10 to 11 segments by fibrous white membranes. There is also a hollow cavity sometimes apparent in the center of the flesh. Each segment is comprised of dry to juicy pale-yellow vesicles, and the lemons may contain a few to many cream-colored oval seeds. Rough lemons are more acidic than common lemon varieties and also retain a slightly sweeter flavor. The lemons have a bright, sweet-tart taste with tangy, fruity, floral, and sour nuances.


Seasons/Availability

Rough lemons are available year-round, with a peak season in the winter through spring.


Current Facts

Rough lemons, botanically classified as Citrus jambhiri, are rare citrus belonging to the Rutaceae family. The bumpy, wrinkled fruits are native to India and are an ancient hybrid variety, believed to be a cross between a mandarin and a citron. Rough lemons grow on large evergreen trees that can reach 3 to 6 meters in height and are a variety favored for their aromatic rind and complexly flavored juice. Most Rough lemons have little flesh compared to their rind, but the juice is said to have a sweeter flavor than common lemon varieties combined with characteristic bright, tart, and acidic nuances. Rough lemons were spread around the world through Spanish and Portuguese explorers, and the citrus was bred over time as a commercial rootstock. Throughout the early 20th century, many countries were using Rough lemon rootstock, and there were several commercially produced cultivars, including McKillop, Lockyer, Florida, Schaub, Milam, Vangassay, and Estes. Rough lemons are also known as Bush lemons, Coarse lemons, St. Lucia lemons, and Jambhiri lemons. In the modern-day, Rough lemon rootstock has been replaced with hardier varieties, causing Rough lemons to become rare citrus mostly found in backyard gardens and specialty orchards. In home gardens in the United States and Europe, Rough lemons are playfully labeled as the unsightly "beast" when planted next to the aesthetically attractive, or "beauty," meyer lemons, a nod to the French fairytale Beauty and the Beast.


Nutritional Value

Rough lemons are an excellent source of fiber to stimulate the digestive tract and vitamin C to strengthen the immune system, boost collagen production within the skin, and reduce inflammation. The fruits are also a good source of potassium, copper, vitamin B6, calcium, magnesium, and iron. In addition to vitamins and minerals, Rough lemons have historically been used as a natural diuretic and a protective aid against scurvy among sailors.


Applications

Rough lemons have a sweet, tart, and acidic nature well suited for fresh and cooked preparations. The lemons can be used at any stage of ripeness and are traditionally juiced as a flavor enhancement. Rough lemon juice can be incorporated into salad dressings, sauces, and syrups or simmered into jams, jellies, and lemon curd. The lemons can also be squeezed over vegetables, roasted meats, and fish as a pop of acidity, or the juice can be sprinkled into rice, salads, and soups for brightness. In addition to flavoring savory preparations, Rough lemon juice and zest can be used interchangeably with standard commercial lemons in dessert recipes, including cookies, scones, meringue pies, cakes, bars, and muffins. The juice is also stirred into hot or iced teas, cocktails, and lemonade. Beyond fresh preparations, Rough lemons can be preserved and pickled for extended use. Rough lemons pair well with vanilla, maple syrup, herbs such as lemongrass, basil, tarragon, mint, cilantro, and thyme, spices including nutmeg, coriander, cardamom, and ginger, meats such as poultry, turkey, and fish, other seafood, and cheeses including ricotta, goat, and feta. Whole, unwashed Rough lemons will keep 1 to 3 weeks at room temperature and 1 to 2 months when stored in the refrigerator's crisper drawer.


Ethnic/Cultural Info

Rough lemons were once widely planted throughout South Africa for visiting sailors staying in the ports. The lemons were brought to South Africa sometime in the 15th and 16th centuries and were planted in the gardens of Jan van Riebeeck in Cape Town. The Dutch colonial administrator and commander established the gardens to grow fruits and vegetables for sailors working for the Dutch East India Company. Jan Van Riebeeck was sent to South Africa to construct the gardens in April of 1652, and the gardens were meant to act as a refreshment station for sailors and merchants stopping in the port to restock their ships. Once established, the gardens were known as the Company's Gardens, and the site included several Rough lemon trees. In the garden, a specific variety of Rough lemon became especially popular throughout Cape Town, known as the Cape Rough Skinned lemon. This citrus is considered one of the oldest lemon varieties in South Africa, and sailors would consume lemon juice to fight against scurvy. Depending on the degree of ripeness, some Rough lemons would be peeled and segmented, sprinkled with salt or dried chile powder as a fiber-filled snack. Rough lemons were also purchased to carry onto the ships for long voyages, as the lemon's thick rind would allow the fruits to last for extended periods. Carrying lemons further gave sailors a beneficial dose of vitamin C to fight against diseases and infections.


Geography/History

Rough lemons are believed to be native to northeastern India in the foothills of the Himalayas and have been growing wild since ancient times. The bumpy, gnarled lemons were transported by Portuguese explorers sometime during the 15th or 16th centuries to St. Helena and later southeastern Africa, where the lemons quickly naturalized in several regions, becoming a popular citrus among sailors. Rough lemons were also carried to Europe, and Spanish explorers introduced the variety to the New World, planted in the West Indies and Florida. Frank N. Meyers documented the variety during the early 20th century, and around the same time, Rough lemons became a favored citrus rootstock sent to growing regions worldwide. Rough lemons were one of the most popular commercial rootstocks in the first half of the 20th century, used in Australia, Africa, Brazil, and the United States. Over time, other citrus varieties were selected for specific characteristics, and Rough lemons were replaced with different rootstocks. Today Rough lemons are rare and are primarily found in India, Australia, and parts of the Caribbean. The variety is also used as rootstock or grown on a small scale in South Africa, the United Kingdom, Hawaii, Florida, and Arizona. Rough lemons are not sold commercially and are primarily offered directly from growers or through specialty markets and distributors.