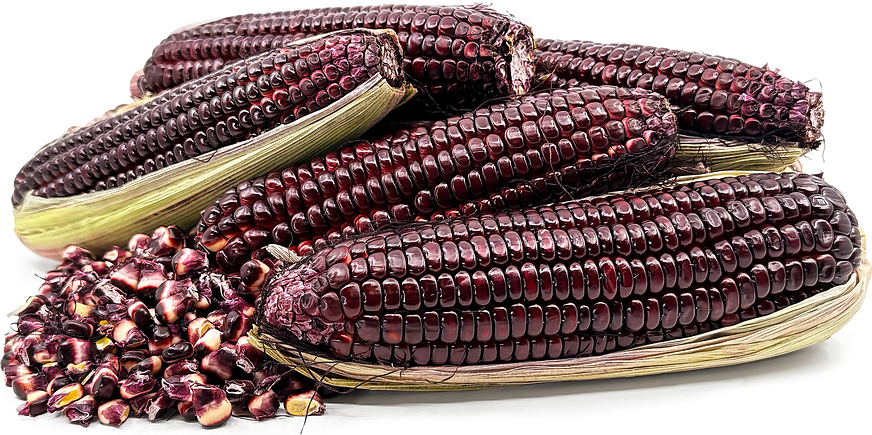 Purple Corn
Inventory, ea : 0
Description/Taste
Purple corn is in shape and form very similar in appearance to common corn, consisting of a long cob containing numerous edible kernels wrapped tightly in layers of husks. It is unique in that its husks showcase a lime green and dark purple color combination. Its kernels as well can be a combination of white and purple or completely purple depending on specific variety. The moist kernels contain sugar and water and offer a sweet corn flavor and a tender yet crisp texture.
Seasons/Availability
Fresh Purple corn is available in the summer months.
Current Facts
Purple corn botanically is known as part of Zea mays along with conventional yellow and white corn. Also known as maize Morado, in the culinary world it is beloved for its vibrant purple coloring and used both in its fresh corn form as well as milked or pureed for its natural, purple coloring properties. In recent years Purple corn has been the focal point of numerous medical studies looking into the affects consumption of it can have on diabetes, obesity, inflammation, and cellular health. Studies so far have yielded impressive results, and it is quickly becoming a sought after fresh, functional food as well as a concentrated supplement in the form of Purple corn powders and liquid extracts.
Nutritional Value
Purple corn offers phytonutrients, phenolic acids, and flavonoids. It has been shown to exhibit anti-inflammatory properties and is studied for its ability to help prevent obesity. Deep blue, red, and purple hued produce gets it colors from water soluble pigments known as anthocyanins. These anthocyanins act as antioxidants in the body with Purple corn offering one of the highest anthocyanin levels found in fruits and vegetables. Purple corn is most abundant in the anthocyanin C3G or cyanidin-3-glucoside which is the most common anthocyanin found in nature and is being studied for its superior antioxidant capacity.
Applications
Purple corn can be used in many applications that call for conventional corn. As a result of its unique coloring preparations that show off its purple hue such as salads, tostadas, sautés, or simply grilled on the cob are ideal. Both the juice and the chopped kernels can be used to make sweet and savory baked goods. Dried and ground purple corn can be used in the preparation of fresh tortillas or chips. Purple corn kernels can be juiced, and the cob milked to make a nutritional beverage or to add a natural, purple color to preparations. Purple corn should be kept refrigerated, ideally with its husks still on until ready to use. For fresh preparations, Purple corn should be used before it has overly matured, as the corn ages it can become tough and lose its crisp texture as its moisture content decreases.
Ethnic/Cultural Info
Purple corn was traditionally used by the Peruvian people of the Andes as a natural colorant for foods and beverages. They also used the corn to make a beverage known as chica morada which contained purple corn, pineapple, and a variety of spices and was prepared both fresh and in a fermented, alcoholic form. Still today both alcoholic and non-alcoholic forms of chica morada can be found sold as a popular beverage throughout Peru at bars, restaurants, street vendor carts, and in bottled form at the market. Purple corn is also used today in Peru to make the popular street food, parched corn and the Peruvian dessert, mazamorra morada.
Geography/History
Purple corn dates back to the time of the Incan Empire in 3000-2500 BC. It originated in the mid-altitude region of central Peru then spread to the Peruvian coast and eventually to the high altitude Andean regions. Purple corn's use in making natural dyes and beverages has sustained throughout the ages, from the Incan Empire era to the arrival of the Spanish in the 16th century and all the way through to today. Historically it has mainly been grown in Peru though in recent years it has begun to catch on in Spain, Europe, and the United States. On the internet seeds to grow Purple corn can be purchased or for those not interested in growing Purple corn kernels can be purchased online as well.
Recipe Ideas
Recipes that include Purple Corn. One

is easiest, three is harder.