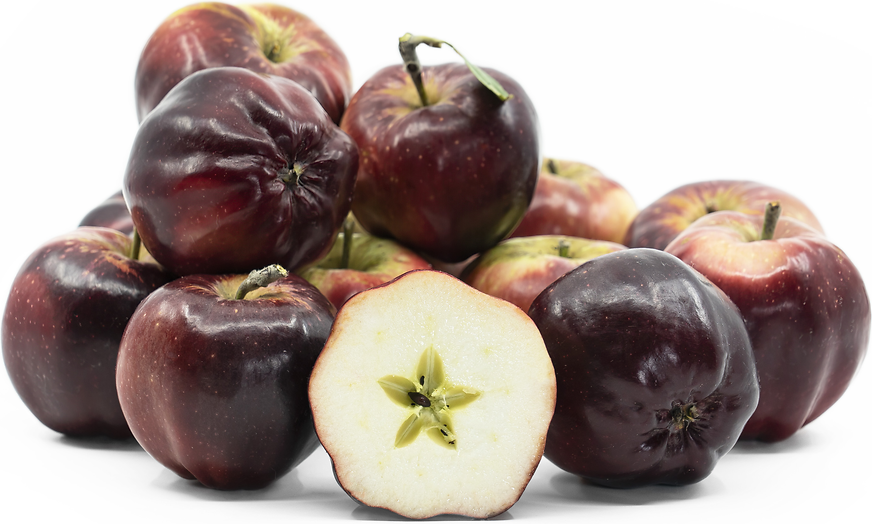 Bloody Butcher Apples
Inventory, lb : 0
Description/Taste

Bloody Butcher apples are a medium to large varietal and have a round, conic, to flattened shape with distinct ribbing. This ribbing gives the fruits an irregular appearance, showcasing creases and folds at the base and on the shoulders, and the stem cavity and portions of the skin are covered in a textured, sandy, and rough green-brown russet. Bloody Butcher apples have a short, woody, and fibrous stem, and the skin is semi-thick with a smooth, taut, and glossy nature. The apples also have a yellow-green base and are covered in large patches of saturated, dark red, burgundy, to crimson blush. Some Bloody Butcher apples may be entirely covered in blush, depending on sun exposure, and display prominent white to pale yellow lenticels. Underneath the surface, the ivory to cream-colored flesh is firm, solid, and moderately aqueous with a crisp, succulent consistency. The flesh also encases a central core filled with teardrop-shaped black-brown seeds. Bloody Butcher apples are edible raw or cooked and have a mild, sweet, tart, and subtly acidic flavor.


Seasons/Availability

Bloody Butcher apples are available in the fall, with a peak season in September and October.


Current Facts

Bloody Butcher apples, botanically classified as Malus domestica, are a rare variety belonging to the Rosaceae family. The mid-season apples are a heritage, also known as an heirloom variety, and are native to Ireland. Historically, Bloody Butcher apples were dual-purpose apples utilized for fresh and cooked preparations and cider making. Bloody Butcher apples are known by several names, including Bloodhound, Lamb's Apple, and Winesap, and are a triploid cultivar once favored by orchardists and home gardeners for their high yields, disease resistance, and vigorous nature. The story behind the variety's unusual name is unknown, but some experts attribute it to the apple's crimson, dark red coloring, similar in color to the pigment of blood. Bloody Butcher apples almost went extinct in the 20th century and were saved as a traditional cultivar of Ireland in national fruit collections. In the modern day, Bloody Butcher apples are challenging to find and are only grown by a few orchardists in the United Kingdom as a specialty cultivar.


Nutritional Value

Bloody Butcher apples have not been studied for their nutritional properties. Like other red apples, the variety is a source of fiber to regulate the digestive tract, potassium to balance fluid levels within the body, and vitamin C to strengthen the immune system and reduce inflammation. The apples also provide magnesium to control nerve functioning, vitamin A to maintain healthy organs, iron to develop the protein hemoglobin for oxygen transport through the bloodstream, and other nutrients, including calcium, phosphorus, zinc, and copper. The dark red coloring in the skin is attributed to the presence of anthocyanins, natural pigments that contain antioxidant-like properties to guard the body and immune system against environmental aggressors.


Applications

Bloody Butcher apples have a sweet-tart taste suited for fresh and cooked preparations. The variety can be consumed straight out of hand when ripe, and the skin can be eaten or peeled, depending on preference. Bloody Butcher apples can also be chopped into salads, layered into sandwiches, or used as an edible topping over porridge, pancakes, and grain bowls. Try serving the variety on cheese boards or dipping slices into nut butter, melted chocolate, or caramel as a snack. In Ireland, Bloody Butcher apples were popularly used for cider blends and produced a bittersweet juice. The variety was also grown in home gardens for baked preparations such as crisps, cobblers, pies, muffins, bread, and tarts. Bloody Butcher apples are often combined with sugar to create a sweeter taste. The apples can also be sauteed in browned butter and spices as a decadent topping for ice cream or added to savory dishes, including stuffing, roasted root side dishes, and baked apples. Bloody Butcher apples pair well with maple syrup, vanilla, heavy cream, brown sugar, spices such as cinnamon, nutmeg, cloves, and ginger, and nuts including pecans, walnuts, hazelnuts, and cashews. Whole, unwashed Bloody Butcher apples will last up to three months when stored in a cool, dry, dark location such as a cellar or refrigerator.


Ethnic/Cultural Info

Dr. J.G.D. Lamb helped save Blood Butcher apples from extinction. Dr. Lamb focused his doctoral thesis on apples from Ireland and began collecting disappearing varieties due to market modernization. Throughout the 20th century, apple growers replaced heirloom varieties with new cultivars with improved appearances, coloring, and flavor. These varieties were primarily grown for how they looked versus flavor. Dr. Lamb recognized this spreading trend and knew several older apple varieties were in danger of being extinct as growers were ripping out the old trees. In the 1940s, Dr. Lamb collected over 53 heritage varieties from private and home orchards and worked with the University College Dublin to establish the national collection. Dr. Lamb also partnered with Anita Hayes, the founder of the Irish Seed Savers Association, in the 1990s to reintroduce these varieties on improved rootstocks for continued cultivation. In addition to searching with Dr. Lamb, Hayes involved the Irish Seedsavers Association to publicly search for other heritage varieties that were not yet rediscovered. After Hayes and Dr. Lamb's partnership, over 180 varieties were gathered as a collection and were given as the Lamb-Clarke Collection to University College Dublin. Many varieties were also sent to Brogdale Collections, one of England's National Fruit Collections.


Geography/History

Bloody Butcher apples are native to Ireland and are a heritage or heirloom variety with a mysterious past. The exact history of the variety is unknown, but the cultivar was developed from other apple varieties of Malus domestica that are descendants of the apples carried into Britain through the Romans. Ireland has wild crabapples, Malus sylvestris, that have been growing naturally for thousands of years, but Malus domestica varieties were spread from Britain when Roman soldiers planted the trees along their main travel routes sometime between 43 to 500 CE. Apples were officially recorded in Ireland in 1598 in a written piece, and over time, many varieties of apples were developed in Irish orchards. Bloody Butcher apples are thought to be native to Offaly in the Midlands and Kilkenny in the South-East Region. The variety was recorded in Kilkenny in the 1800s, but much of its origins are left unknown. In the 1940s, Dr. J.G.D. Lamb, an apple researcher, began documenting and seeking out Irish heritage varieties to protect and preserve them. Dr. Lamb saved over 53 varieties, including Bloody Butcher, and planted seedlings in multiple orchards throughout Ireland and England. Bloody Butcher apples were added to the United Kingdom's National Apple Register in 1971 and were planted in Brodgdale Collections in Faversham, England. Today, Bloody Butcher apples are a rare variety planted in home gardens and preservation orchards in the United Kingdom and are not grown commercially. The Bloody Butcher apples featured in the photograph above were sourced through Brogdale Farm in England.