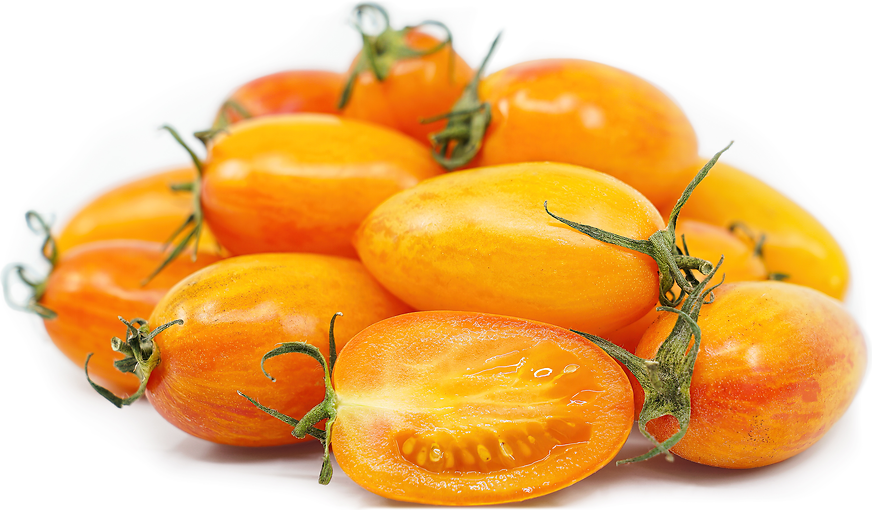 Blush Cherry Tomatoes
Inventory, lb : 0
Description/Taste

Blush tomatoes are slightly larger than common cherry tomato varieties, averaging 5 to 6 centimeters in length and 1 to 2 centimeters in diameter, and have an elongated, oval shape, tapering to a rounded point on the non-stem end. The skin is smooth, taut, and glossy with a semi-tough, chewy consistency. When young, the skin is bright yellow, developing an orange blush with red and pink striping on the blossom end with maturity. Underneath the skin, the flesh is crisp, aqueous, aromatic, and yellow to orange, encasing two chambers filled with a viscous liquid and small, cream-colored seeds. Blush tomatoes have a tangy, fruity, and balanced, sweet-tart flavor with tropical notes reminiscent of tangerines. It is important to note that the flavor will change with maturity, developing sweeter notes with age.


Seasons/Availability

Blush tomatoes are available in the summer through early fall.


Current Facts

Blush tomatoes, botanically classified as Solanum lycopersicum, are an elongated cherry tomato variety belonging to the Solanaceae or nightshade family. The striped fruits grow in large clusters and are one of the most popular cherry tomato varieties for home gardening. Blush tomatoes are known for their unique, tropical flavor and are highly favored by growers for their high yields, adaptability, and true-breeding nature. The tomatoes were created in the early 21st century and are considered to be a salad or snacking tomato, primarily used fresh to showcase the skin and complex flavoring.


Nutritional Value

Blush tomatoes are an excellent source of vitamins A and C, which are antioxidants that can help boost the immune system and provide anti-inflammatory benefits. The tomatoes are also a good source of fiber, which acts as a digestive aid, and the fruits contain lycopene, which is an antioxidant-like compound that gives the fruit its coloring and helps to protect the body from disease and external cell damage.


Applications

Blush tomatoes are best suited for both raw and cooked applications such as roasting, simmering, and baking. When raw, the tomatoes are commonly used in preparations that can showcase their striped skin and bright, complex flavor. Blush tomatoes can be tossed into salads, skewered with basil and mozzarella as an appetizer, displayed on vegetable platters with various dips, sliced and layered over avocado toast, or chopped into salsa. They can also be sliced and baked in a galette, cooked into pasta, grilled on kabobs, blended into gazpacho, baked into casseroles, or sauteed with fresh herbs as a side dish. Blush tomatoes pair well with vegetables such as zucchini, peas, carrots, and green beans, meats such as poultry, pork, and beef, herbs such as basil, mint, and cilantro, and cheeses such as feta, cheddar, and provolone. Whole Blush tomatoes can be stored at room temperature in a ventilated container for 5 to 7 days.


Ethnic/Cultural Info

Fred Hempel may be known as a renowned tomato breeder, but before he obtained this title, he was a lead geneticist in the biotech field. In 2006, Hempel decided to start a farm and commit to his lifelong passion for growing tomatoes, which led to the creation of over twenty new tomato varieties in the past decade. Blush tomatoes are still considered to be one of Hempel's most famous creations, but when asked about the history of the variety, Hempel credits his son for the tomato's existence. Alex Hempel was eight years old when his father asked him to select tomato cultivars to be crossbred. The young researcher decided to base his decision off of his favorite flavored varieties and recommended three different crosses. From these crosses, Blush tomatoes were created, and the small fruits have remained one of Fred Hempel's most admired varieties into the modern-day. Years later, Fred Hempel still uses his son's breeding philosophy of only crossing tomatoes with quality flavor and not basing the crosses on appearance or size.


Geography/History

Blush tomatoes were developed by breeder Fred Hempel on his farm in Sunol, California. Green Bee Farm, formerly known as Baia Nicchia Farm, was established in 2006 by Hempel and is a part of the Sunol AgPark, which is a space dedicated to sustainable farming. The farm produces over 50,000 pounds of tomatoes each year, and the majority of these fruits are sold locally on the farm and sent to restaurants. Blush tomatoes were released in 2011 and are an open-pollinated variety that was met with immense success due to its unusual shape, appearance, and flavor. Today Blush tomatoes are primarily sold in seed form through Hempel's Artisan Seeds, but they are also available through select seed partners retailing to growers and home gardeners. Beyond seeds, mature Blush tomatoes are not commercially found and are available through farmer's markets and specialty grocers throughout Europe and the United States.