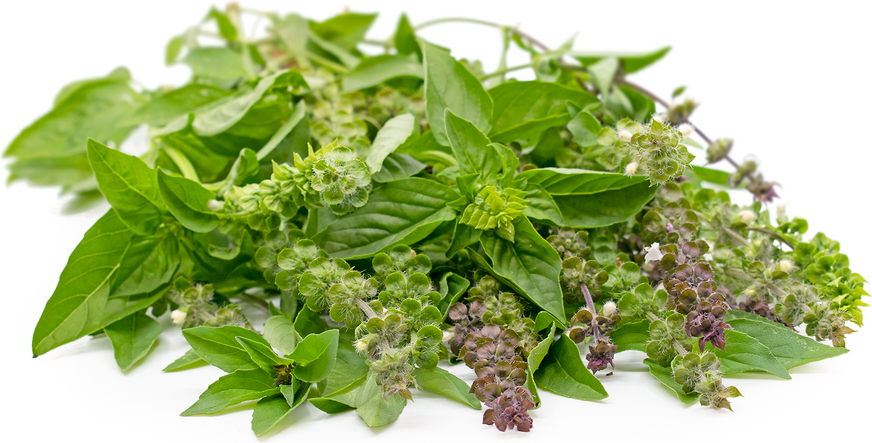 White Thai Holy Basil
Inventory, lb : 0
Description/Taste

White Thai Holy basil is a shrub-like herb that reaches 45 to 60 centimeters tall and develops spikes of fragrant white to light purple flowers when mature. The broad, ovate, jagged-edged, light green leaves grow opposite along thick, hairy, green to purple stems, reaching 5 to 8 centimeters long. The delicate leaves are incredibly fragrant with a minty clove-like aroma and offer a more mellow and cooling flavor compared to other holy basil varieties, with well-balanced notes of mint and peppery spice.


Seasons/Availability

White Thai Holy basil is available year-round.


Current Facts

White Thai Holy basil is botanically classified as Ocimum tenuiflorum and is a member of the Lamiaceae or mint family. Basil cultivars are generally categorized into three groups: Thai, sweet, or holy basil. White Thai Holy basil is the most common type of holy basil and is known in India as Light or Rama Tulsi. Tulsi has longstanding value in Ayurvedic medicine and to this day is one of India's most cherished sacred plants.


Nutritional Value

White Thai Holy basil is rich in vitamins A and C, calcium, zinc, and iron, and its seeds are packed with magnesium, calcium, and fiber. Holy basil is considered an adaptogen, a natural substance that can help your body manage stress, and has been shown to have strong antibacterial, antifungal, antiviral, and antioxidant properties. Holy basil is well known for its essential oils, including compounds like eugenol, which can help treat viral, bacterial, and fungal infections and is especially useful for relieving congestion and supporting respiratory disorders. Thanks to its nutritional benefits, White Thai Holy basil has also historically been used to promote healthy digestion, alleviate pain, and support overall immunity.


Applications

White Thai Holy basil is mainly used fresh or dried to make a calming and therapeutic tea, though it is also frequently found in Thai cuisine, such as drunken noodles and red or green curries. Add it to stir-fries alongside garlic, fish sauce, and chilies to impart flavor into meat or seafood, or use it to impart a peppery, clove-like flavor into honey or ghee. White Thai Holy basil pairs well with ginger, garlic, onions, fish sauce, soy sauce, fresh chiles, bell peppers, carrots, green beans, snap peas, poultry, pork, fish, shrimp, and scallops. While it can be used as a substitute for other types of basil, it is important to note that White Thai Holy basil will be slightly spicier, and the flavor will intensify with cooking. White Thai Holy basil leaves are typically added at the end of the cooking to preserve their delicate nature and taste. They are best used fresh as they wilt quickly and lose their aroma within a few days. To store, cut the ends of the stems and place in a glass of water at room temperature for a couple of days, or wrap in a paper cloth and store in a bag in the refrigerator for about a week.


Ethnic/Cultural Info

Holy basil, or Tulsi, is one of the most revered houseplants in India, where it has been held sacred for thousands of years as a pillar of holistic herbal medicine. According to Ayurvedic texts, the plant is the incarnation of Tulasi, the goddess of love and protection, hence it is also nicknamed "The Mother Medicine of Nature" and "The Queen of Herbs." It is commonly displayed on home altars in traditional Hindu homes and is used in religious ceremonies and rituals for health and purification. While it is often consumed as a tea in traditional Ayurvedic medicine to promote digestion, it is not really found in Indian cuisine. It is, however, a popular culinary ingredient in Thailand, where it is known as Bai Gkaprow. It is the star of a famous Thai street dish called gai pad grapow, traditionally made with chicken and holy basil, and is also found in a traditional dish called phat kraphao, made with holy basil and chicken, pork, beef, or seafood, depending on the variation.


Geography/History

White Thai Holy basil is native to India and Southeast Asia, dating back thousands of years. It is widely cultivated in the lowlands or private homes and gardens throughout India and parts of China, Nepal, and Southern South America. Today, it can also be found in some areas of Europe, Australia, and the United States. White Thai Holy basil grows as a perennial plant in frost-free areas with mild winters or as an annual in cold and temperate climates. It is said to have better cold tolerance compared to other holy basil varieties, though it requires more watering and fertilization. Fresh White Thai Holy basil can be found in specialty stores or farmers markets.