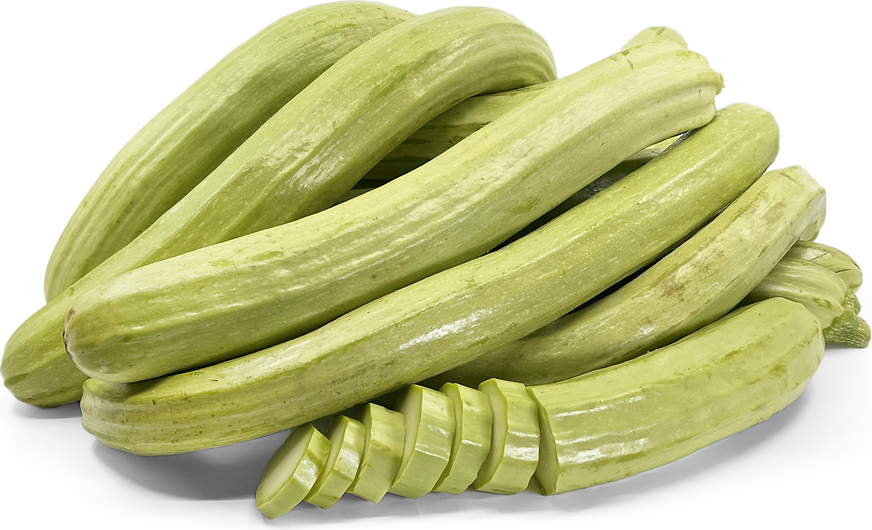 Bianco di Sicilia Squash
Inventory, lb : 0
Description/Taste

Lungo Bianco di Sicilia squash is a medium to large varietal, typically harvested when it has reached 20 to 25 centimeters in length, though the squashes can grow as large as 30 centimeters long in ideal conditions. The larger the squashes grow, the less tender the flesh tends to be, so they are mostly picked when on the smaller side. Lungo Bianco di Sicilia squashes also have a reasonably straight, slender, and cylindrical shape with one bulbous end opposite of the stem, but they may develop a slight curve as they expand in size. The squash's skin is thin, smooth, taut, and glossy, showcasing pale green to almost white hues, depending on cultivation. The skin is also flat when young, developing some ribbing, ridges, white speckling, and white spots across the surface when larger and more mature. Underneath the skin, the squash's flesh is pale green-yellow to cream-colored and is solid, tender, moist, and succulent with a soft crispness. Lungo Bianco di Sicilia squash can be consumed raw or cooked and has a mild, sweet, subtly vegetal, and nutty flavor.


Seasons/Availability

Lungo Bianco di Sicilia squash is generally available in the summer through early fall. In warmer regions with milder winters, the variety may be able to be grown throughout the year.


Current Facts

Lungo Bianco di Sicilia squash, botanically classified as Cucurbita pepo, is an heirloom variety belonging to the Cucurbitaceae family. The pale-skinned cultivar is native to Italy and is a specialty type of zucchini prized for its tender flesh, unique coloring, elongated nature, and sweet flavor. Lungo Bianco di Sicilia squash translates to "long white squash of Sicily" and is known by several other names, including Bianco di Sicilia, Long White Sicilian zucchini, and Lungo Bianco di Sicilia zucchino. The variety grows on a bush-type plant reaching 45 to 60 centimeters in height, and the squashes are available for harvest approximately 50 to 60 days after sowing. Lungo Bianco di Sicilia is a rare cultivar, and though it is popular throughout Italy, especially in Sicily, it is mainly found in specialty markets. The variety is also traditionally grown in home gardens as the plant is an early producer, has consistent, prolific yields, and develops squashes with improved flavoring compared to common zucchini and summer squash varieties. When in season, Lungo Bianco di Sicilia squash is used as a versatile culinary ingredient and incorporated into fresh and cooked preparations.


Nutritional Value

Lungo Bianco di Sicilia has not been studied for its nutritional properties. Like common zucchini and summer squashes, the variety is a source of potassium to balance fluid levels within the body, vitamin C to strengthen the immune system, fiber to regulate the digestive tract, and copper to develop connective tissues. The squashes also provide some calcium to build strong bones and teeth, zinc to heal damaged tissues, vitamin A to maintain healthy organ functioning, and other nutrients, including phosphorus, iron, vitamin K, magnesium, and other antioxidants.


Applications

Lungo Bianco di Sicilia squash has a mild and sweet taste suited for fresh and cooked preparations. The variety can be washed and sliced raw, served straight out of hand as a snack with dips, an element on a crudité platter, or as a topping in leafy green salads. Lungo Bianco di Sicilia can also be chopped into spreads and herbal dips or thinly peeled and used as a roll for bite-sized appetizers. In addition to fresh preparations, Lungo Bianco di Sicilia squash can be used as a substitute in any preparation calling for common zucchini or summer squash. The variety can be sauteed into omelets, baked into casseroles, simmered into soups and stews, or hollowed and stuffed with grains, cheeses, meats, or herbs. In Italy, Lungo Bianco di Sicilia is often added to lasagna, or it can be mixed into pasta as a roasted vegetable or pureed into a cream sauce. It can also be spiralized into zoodles or used as a vegetarian zucchini parmesan. Try slicing the squash into thin strips and frying it as an appetizer or skewering it onto kebabs and grilling for a smoky flavor. While less conventional, the zucchini can be made into a savory flan, baked into souffle, or pickled for extended use as a tangy condiment. Lungo Bianco di Sicilia pairs well with herbs such as rosemary, thyme, parsley, and oregano, meats such as beef, pork, and poultry, seafood, mushrooms, tomatoes, eggplant, bell peppers, and aromatics including garlic, shallots, and onions. Whole, unwashed Lungo Bianco di Sicilia squash will keep up to one week when stored in a plastic bag with one end open to allow for air circulation in the refrigerator's crisper drawer.


Ethnic/Cultural Info

Lungo Bianco di Sicilia squash is widely grown in home gardens throughout Palermo, the capital city of Sicily. The mild, sweet, and subtly nutty variety is often utilized as an everyday ingredient throughout Palermo, but at the end of the summer, the squash is popularly incorporated into giambotta, an Italian vegetable stew. Giambotta is a type of minestra, which is an Italian term used to describe a dish that is thick, almost like a cross between a soup and a stew, traditionally served from a central bowl. There are many variations of giambotta, also known as ciambotta, cianfotta, and ciammotta, made across Southern Italy, and each region will have its own recipe, depending on the available ingredients. The name giambotta is believed to be derived from an ancient French descriptor, "chabrot," translating to mean "mixture." When delving into the history of the French term, it is also said that chabrot once meant drinking a "mixture of wine and broth directly from a bowl," and is thought to have been taken from the Latin phrase "fait chabrot" meaning "drinking like a goat." These phrases were used to highlight broth-based meals that were eaten directly from the central dish, and stew-like mixtures, including giambotta, were historically eaten from a central pot in the fields in the southern Italian countryside. Farmers would use loaves of bread as a container to eat their giambotta during their workday, thus bringing new meaning to the name of the vegetable dish. In the modern-day, giambotta is a celebrated meal consumed at the end of summer to use up the remaining vegetables from the garden. It is common to see zucchini varieties such as Lungo Bianco di Sicilia in giambotta, especially in Palermo, and tomatoes, onions, eggplants, bell peppers, fresh herbs, aromatics, and potatoes are also typical ingredients used within the dish. The thick mixture is customarily served with additions such as bread, grated parmesan, polenta, pasta, or rice, and it can also be eaten with roasted meats as a main dish.


Geography/History

Lungo Bianco di Sicilia squash was developed in Sicily, the largest island in the Mediterranean just off the coast of southern Italy. Much of the variety's history is unknown, but the cultivar is thought to be a descendant of zucchini varieties that were developed in Milan. Cucurbita ancestors of the zucchini are native to the Americas and were introduced into Italy sometime in the mid-16th century. Around fifty years later, many different types of squash were being grown in Italy, especially squashes from the Cucurbita pepo species, expanding the number of varieties throughout the country. Experts believe the term zucchini was created in Tuscany sometime in the early 19th century to describe small bottle gourds, but by the mid-1840s, the descriptor was given to the young, tender fruits of Cucurbita pepo. The oldest known reference to zucchini in Italy can also be traced to Orticoltura, an Italian book written by Domenico Tamaro in the early 19th century. After their creation in Milan, zucchini varieties were spread across the country, where they were grown in home gardens and selectively bred for improved traits, later producing cultivars such as Lungo Bianco di Sicilia squash. Today Lungo Bianco di Sicilia squash is grown in Southern Italy, mostly Sicily, and is sold as a specialty squash in local fresh markets or grown in home gardens. It is commonly seen in the Mercato Ballaro in Palermo, the city's largest fresh market. Outside of Italy, it is a rare variety cultivated by home gardeners and a few select growers in the United States and Europe.