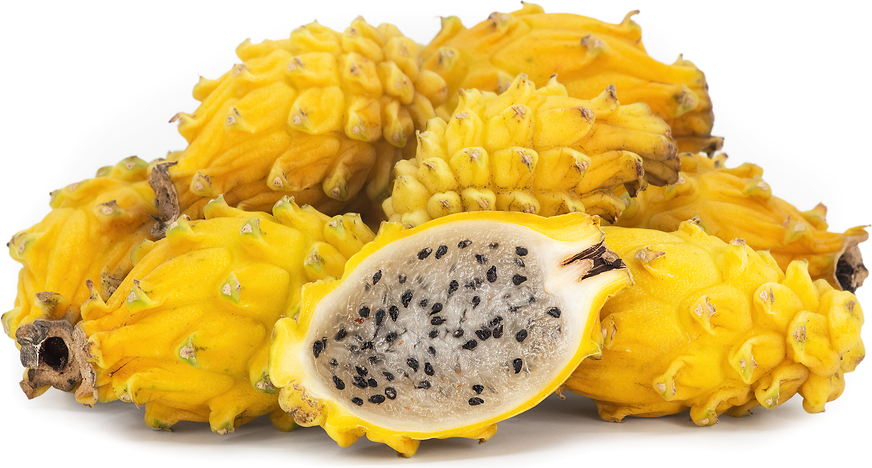 Yellow Dragon Fruit
Inventory, 5 lbs : 63.60
This item was last sold on : 11/25/23
Description/Taste
Yellow Dragon fruit is a small to medium-sized species, averaging 8 to 10 centimeters in length and 6 to 7 centimeters in diameter, and has an oval to elliptical shape. The fruits are smaller than red and pink dragon fruits, and the size largely depends on cultivation regions and growing conditions. The fruit's skin is thick, semi-smooth, and slightly rubbery, covered in small knobby protrusions that used to hold spines when the fruit was young. As the fruits age, the spines naturally fall off. The skin also ripens from green to golden yellow with maturity. Underneath the surface, the white, translucent flesh is dense, crisp, aqueous, tender, and succulent. The flesh is said to have a texture reminiscent of a cross between a kiwi and a pear, and there are many tiny black seeds that are edible and add a layer of crunchiness to the mouthfeel. Yellow Dragon fruit should feel soft to the touch when ripe and will be heavy for its size, indicating its high juice content. The skin of the fruit is not consumed and should be discarded. Yellow Dragon fruit flesh is mild, sweet, and slightly tangy with floral and subtly fruity nuances.
Seasons/Availability
Yellow Dragon fruit is available year-round, with varying peak seasons in growing regions worldwide.
Current Facts
Yellow Dragon fruit, botanically classified as Hylocereus megalanthus, is a tropical species belonging to the Cactaceae family. The fruits grow on a climbing cactus that sprawls over other plants, trees, trellises, or support structures, and the stems can extend over 6 meters in length. Yellow Dragon fruit is less common than the pink and red cultivars, but the species has increased in commercial production in the last decade for its mild and sweet nature. Yellow Dragon fruit is said to be sweeter than the other commercial varieties and is favored for its versatility in fresh or cooked preparations. Worldwide, Yellow Dragon fruit is also referred to as Pitahaya, a name given in its native region of the Americas. It is important to note that Pitahaya is sometimes written as Pitaya, but the spelling Pitaya is also used as a descriptor for a columnar cactus fruit in Mexico, Stenocereus thurberi. This fruit is not common outside of Mexico, but for the sake of differentiation between the two fruits, Pitahaya is used for Dragon fruit species, and Pitaya is used for Stenocereus thurberi. Yellow Dragon fruit is also known as Pitahaya Amarillo, meaning Yellow Pitahaya. The term Dragon fruit was created in Southeast Asia. When the fruits were introduced to Vietnam in the 19th century, they were called "Thang Loy," meaning "Dragon fruit." Later when China began commercially cultivating the fruits, they heavily pushed the Dragon fruit name, developing many myths and legends intertwining dragons with the whimsical-looking fruits to increase sales. In the modern day, Yellow Dragon fruit is primarily sold as a fresh-eating species. The fruits are widely available in their growing regions, but outside of those areas, it is still regarded as a somewhat rare specialty fruit.
Nutritional Value
Yellow Dragon fruit is a source of magnesium to support optimal nerve functioning, phosphorus to repair tissues, and potassium to balance fluid levels within the body. The variety also provides calcium to build strong bones and teeth, vitamin C to strengthen the immune system, and other nutrients, including iron, vitamin A, B vitamins, and niacin. The fruit's seeds contain fiber to regulate the digestive tract and omega-3 fatty acids to reduce inflammation. The flesh is also almost 80% water, acting as a natural source of hydration.
Applications
Yellow Dragon fruit has a mild, sweet, and floral taste suited for raw and cooked preparations. The variety is customarily eaten fresh to savor its subtle flavoring, and the flesh can be sliced, balled, or scooped from the skin. Try chilling the flesh before serving for an enhanced eating experience. Yellow Dragon fruit can also be sliced and tossed into fruit salads, skewered on fruit kebabs as an appetizer, balled and mixed into yogurt, or used as a topping over acai bowls. The flesh can be chopped into a fruit salsa and used as a topping over meats and breakfast items or pureed and made into a sauce or syrup. Yellow Dragon fruit syrup is popularly added to candies, pastries, and jelly-like desserts. The flesh can also be combined into puddings, cakes, custards, and pies, simmered into compotes and jams, or blended and frozen into granita or sorbet. In Mexico, Yellow Dragon fruit is incorporated into agua frescas, smoothies, and colonche, a traditional fermented drink. Yellow Dragon fruit pairs well with fruits such as peaches, pineapples, blueberries, mangoes, strawberries, and kiwis, vanilla, maple syrup, brown sugar, and nuts such as cashews, almonds, and walnuts. Yellow Dragon fruit should be ripened at room temperature. Once ripe, the fruits can be stored in an airtight container in the refrigerator for 3 to 4 days. The flesh can also be frozen for extended use, but it will thaw into a mushy texture. Frozen dragon fruit should be used for softer preparations like purees, beverages, and granitas.
Ethnic/Cultural Info
Dragon fruit, known as Pitahaya in Mexico, is occasionally referenced in bombas during Jarana, a traditional dance of the Yucatan. Bombas, translating to mean "bomb," are short verses or pick-up lines that typically rhyme, and these verses are recited to a dance partner in the middle of the Jarana. During the dance, the music is stopped, and "bomba!" is yelled across the dance floor. The bomba is then spoken out loud, and the crowd listening shouts, "bravo!" meeting the verse with laughter and encouragement. After the bomba is finished, "bomba!" is yelled again, a sign that the music is continuing. Bombas are traditionally witty, funny, or flattering verses and are a favorite activity during festivals, parties, and celebrations throughout the Yucatan. One bomba incorporating Dragon fruit is: "Hermosa flor de Pitahaya, blanca flor de zaramuyo, en cualquier parte que vaya, mi corazon es tuyo," roughly translating to "Beautiful Pitahaya flower, white flower of zaramuyo, anywhere you go, my heart is yours!"
Geography/History
Yellow Dragon fruits are native to Mexico, Central America, and northern regions of South America, specifically in areas of modern-day Colombia and Ecuador. The species was used medicinally and as a food source in the Mayan and Aztec civilizations, and the plants were revered among several other indigenous populations for their fruits. The first written documentation of Dragon fruit was recorded in 1494 with the arrival of Spanish conquistadors. The Spanish named the fruits "Pitahaya," meaning "scaly fruit," a word derived from the Taino language once spoken in the Caribbean. Dragon fruits were later transported to the Caribbean, West Indies, and Europe and were eventually introduced into Southeast Asia through French missionaries in Vietnam in the early 19th century. In Asia, Dragon fruits were initially reserved for wealthy families and nobility. Over time, the plants became commercially cultivated for widespread consumption, spreading into China, and were heavily marketed in China under their dragon moniker. Today Yellow Dragon fruits are cultivated worldwide and are extensively produced for commercial purposes in Southeast Asia, South America, Central America, and Mexico. Ecuador, Peru, and Colombia are known for growing Yellow Dragon fruits, and the variety is also planted throughout Costa Rica, Mexico, Guatemala, and El Salvador. In Asia, China, Thailand, and Vietnam are notable producers, and Australia and Israel and growers and exporters. Yellow Dragon fruits are also cultivated in the United States in Florida, Southern California, and Hawaii. When available, Yellow Dragon fruits can be found through fresh markets in their growing regions and through specialty distributors and grocers in areas beyond their native areas.
Featured Restaurants
Restaurants currently purchasing this product as an ingredient for their menu.
Recipe Ideas
Recipes that include Yellow Dragon Fruit. One

is easiest, three is harder.