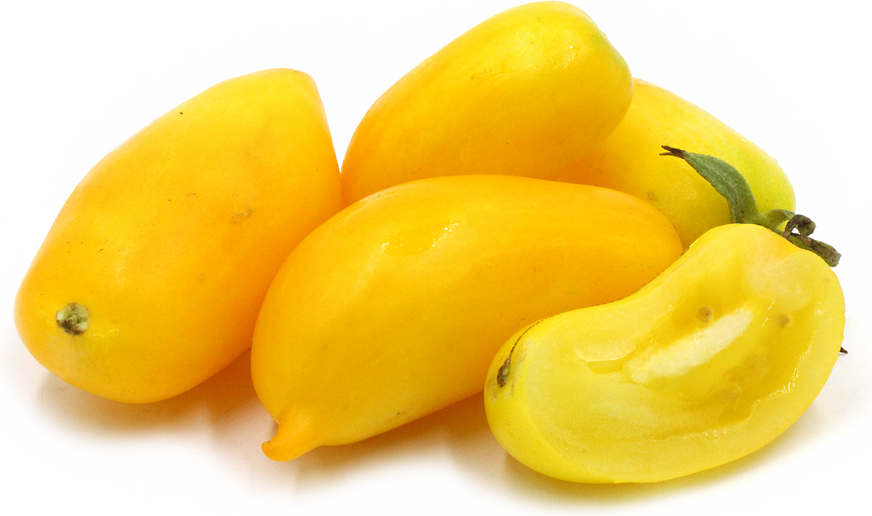 El Dorado Tomatoes
Inventory, lb : 0
Description/Taste
El Dorado tomatoes are a hybrid paste-type tomato. The 4-ounce pear-shaped fruit has a golden yellow skin and meaty flesh with little juice. The indeterminate El Dorado tomato plants will continue to grow and produce fruit all season until killed by frost, and their long vines can reach more than 7 feet tall.
Seasons/Availability
Season: El Dorado tomatoes are available mid-summer.
Current Facts
Like all tomatoes, the El Dorado tomato is a member of he nightshade family, which includes other edible plants like eggplants, potatoes, and tomatillos, as well as some poisonous plants such as tobacco and the deadly nightshade. Tomatoes are botanically referred to as Solanum lycopersicum, formerly Lycopersicon esculentum.
Nutritional Value
Tomatoes are known for their rich antioxidant content, notably lycopene, which has been studied for its cancer-fighting properties. Tomatoes contain a great deal of vitamin C and Vitamin A, which promotes healthy eyes, skin, bones and teeth. Tomatoes also have good amount of calcium and Vitamin K, both of which are essential nutrients for strong, healthy bones and bone tissue, and the vitamin B and potassium in tomatoes help to promote heart health.
Applications
El Dorado tomatoes are excellent for eating fresh, although they are perfect for canning or drying. They are known for making a delicious yellow tomato sauce as they are high in pectin, have a meaty, solid flesh, and are and easy to peel. As a paste-type tomato, they have lower juice content and hence take half the time to cook down into a sauce than salad type tomatoes. Try adding to a colorful fresh salsa, or pair with fresh herbs and soft, young cheeses. Store El Dorado tomatoes at room temperature until ripe, after which refrigeration can slow the process of decay.
Ethnic/Cultural Info
Although it is not explicitly stated, the name "El Dorado" likely refers to the golden color of El Dorado tomatoes, alluding to the legendary lost city of gold. Just like tomatoes, the myth of El Dorado originates from South America. Legend tells of a Muisca tribe king called "El Dorado" or "the Gilded One" who would cover himself in gold dust during festivals, then dive from a raft into Lake Guatavita in Columbia. That story has transformed over time into today's enduring tale of El Dorado, the lost city of gold. It was in the early 1500s that returning Spanish colonists first introduced tomatoes to Europe from Mexico, and at the same time other Conquistadores were attempting to drain Lake Guatavita in Columbia in search of El Dorado. The Colombian government declared the lake a protected area in 1965, however searches for El Dorado continued elsewhere, spanning all areas of Latin America.
Geography/History
El Dorado is a hybrid tomato variety, although it is unclear where it was developed. Hybridization is a controlled method of pollination in which the pollen of two different species or varieties is deliberately crossed, usually in order to breed a desired trait. Like most tomato varieties, El Dorado is thought of as tender so it is essential to wait until temperatures are mild and the danger of frost has passed before planting outside.
Podcast