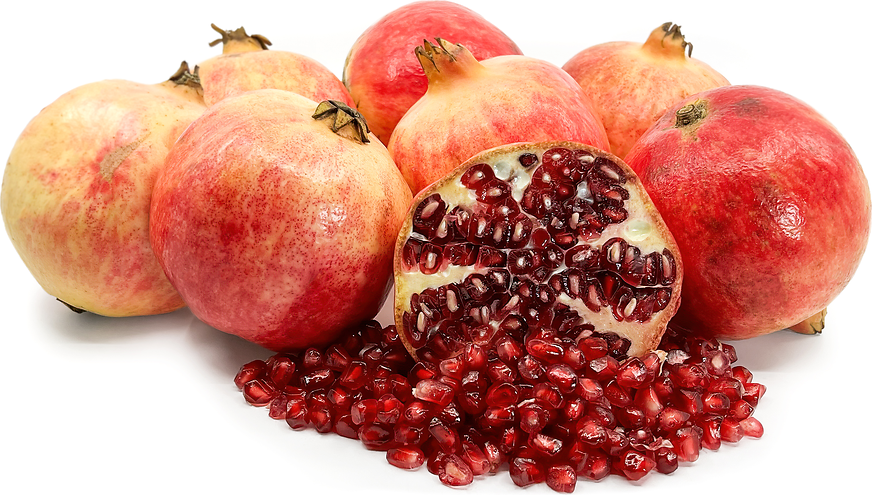 Tunisian Soft-Seed Pomegranates
Inventory, lb : 0
Description/Taste

Tunisian Soft-Seed pomegranates are a medium to large varietal, averaging 10 to 12 centimeters in diameter, and have a round shape with faintly squared shoulders and a multi-pointed calyx protruding from the top of the fruit. The skin, also known as the exocarp, is thin, smooth, glossy, and easy to peel, ranging in variegated red-pink hues. Underneath the surface, spongy, thin, and fibrous white-to-yellow membranes encase many small, tightly compacted arils and divide them into multiple chambers. The ruby-red arils are angular, soft, fleshy, and aqueous, and some arils have tiny, unnoticeable seeds, while others may be seedless, depending on the growing region. Tunisian Soft-Seed pomegranates should feel heavy for their size, an indication of juice content, and the surface should be free from blemishes. The arils are high in sugar, occasionally reaching up to 17.2 Brix, a sugar measurement unit, creating a sweet, tart, and subtly tangy taste.


Seasons/Availability

Tunisian Soft-Seed pomegranates are harvested in the fall through early winter.


Current Facts

Tunisian Soft-Seed pomegranates, botanically classified as Punica granatum, are a specialty variety belonging to the Lythraceae family. The cultivar was initially grown in Tunisia and was given to China in the late 20th century as a diplomatic gift. After its introduction into China, Tunisian Soft-Seed pomegranates were extensively bred and domesticated, creating a variety renowned for its large aril size, juicy nature, and sweet taste. The pomegranates quickly became one of the most popular cultivars in China and are famous as the arils can be eaten in their entirety without spitting out the seeds. Prior to the variety's introduction, pomegranates in China were challenging to chew and digest. Tunisian Soft-Seed pomegranates have a large aril size and soft nature, allowing them to be enjoyed by all ages. The arils can also be consumed as an on-the-go snack, increasing the fruit's overall favor as a commercial crop. Tunisian Soft-Seed pomegranate trees bear fruit in approximately 3 to 4 years, and each tree can produce anywhere from 20 to 30 kilograms of fruit per season. The pomegranates are harvested 130 to 160 days after blooming and are hand-picked to ensure the fruit's exterior is not damaged. In the modern day, Tunisian Soft-Seed pomegranates are renowned in China, nicknamed "diamonds in fruit," and are expanding in notoriety worldwide as an exported seasonal fruit.


Nutritional Value

Tunisian Soft-Seed pomegranates are a source of iron to develop the protein hemoglobin for oxygen transport through the bloodstream, vitamin C to boost the immune system, calcium to build strong bones and teeth, and magnesium to control nerve functioning. The pomegranates also provide copper to produce connective tissues, vitamin E to reduce inflammation, potassium to balance fluid levels within the body, and other nutrients, including zinc, vitamin K, manganese, phosphorus, and B vitamins. The red hues within the arils indicate the presence of antioxidants that protect the cells against the damage caused by free radicals. In natural medicines of Tunisia, pomegranate skin and membranes are ingested for their tannins to relieve stomach pain and assist with ulcers. In Traditional Chinese Medicine, pomegranates are used to fight inflammation and cool the body. The fruits are also used to improve skin tone, reducing symptoms of eczema or acne.


Applications

Tunisian Soft-Seed pomegranates have a sweet and tangy flavor suited for fresh and cooked preparations. The fruits are easy to break open, and the arils are large, allowing them to be consumed straight out of hand without needing to spit out seeds. Tunisian Soft-Seed pomegranate arils can also be added to salads, fruit medleys, or sprinkled over breakfast dishes, including cottage cheese or yogurt. The arils can be used as a garnish and color enhancement to raw or cooked dishes, and their ruby-red coloring is favored for seafood and roasted meats. Try adding pomegranate arils to grilled eggplant and a mixture of yogurt, fresh herbs, and seeds, serve with zucchini and balsamic, stuff into cooked quince, top over bsissa, or mix into rice-based meals. In Tunisia, the arils are sprinkled with orange flower water and sugar as a sweet snack or simmered into jams flavored with grilled sesame seeds. They are also served over mesfouf, a breakfast dish of sweet couscous mixed with dates and nuts. In China, Tunisian Soft-Seed pomegranates are used in salads and are cooked into sauces and syrups. The arils are also added to a traditional chicken soup recipe consumed in the winter to strengthen the immune system. Beyond savory dishes, pomegranate arils can be baked into crumbles or pressed into juice. Tunisian Soft-Seed pomegranates pair well with herbs such as parsley, cilantro, mint, and basil, cucumbers, zucchinis, radishes, apples, citrus, cheeses including feta, goat, and brie, and meats such as lamb, quail, poultry, and beef. Whole, unopened Tunisian Soft-Seed pomegranates will keep for a few weeks to months when stored in a cool, dry, and dark location. The fruits can also be stored in the refrigerator for a few months. In professional cold storage, pomegranates can be kept for over 5 to 6 months.


Ethnic/Cultural Info

Pomegranate's botanical genus Punica is derived from the name of the western Phoenician people group known as the Punics, also called the Carthaginians. The Punics settled in Carthage, a city in Tunisia once considered one of the most important trading hubs in ancient times. Pomegranates grown in Tunisia were often carried to Italy, where they became initially known as the "Punic apple." Tunisian pomegranates were renowned throughout the Mediterranean and were the symbol of Tanit, the goddess of Carthage, representing fertility. The fruit's tie to fertility was also seen in Chinese folklore, as the seeds in pomegranates symbolized many blessings and the wish for offspring. The Chinese character for seed, "zi," is also the same character for "son." Seeded pomegranates are said to offer the blessing of many sons to continue family lines. Pomegranates are also treasured in China for their red coloring, a hue symbolizing good luck and prosperity.


Geography/History

Tunisian Soft-Seed pomegranates are native to Tunisia, officially known as the Republic of Tunisia in northern Africa. Tunisia is situated along the Mediterranean Sea between Libya and Algeria and is a part of the Maghreb region. Pomegranates were introduced into Tunisia sometime around 2000 BCE by the Phoenicians, and by the 1st century CE, Roman naturalist Pliny the Elder recorded the presence of pomegranate trees in Gabes, a coastal city in Tunisia. Pomegranates are primarily grown in Gabes and Testour in Tunisia in the present day, and several varieties are commercially cultivated under the fruit's general name. In China, pomegranates were introduced from Central Asia sometime around 100 BCE and were recorded in the Book of Natural History written by Zhang Hua between 232 and 300 CE. In this book, it is mentioned that Zhang Qian was sent on a diplomatic mission and brought pomegranate seeds back from Anshi, a country thought to have been somewhere in modern-day Central Asia. The history of Tunisian Soft-Seed pomegranates intertwined the fruit's history in China and Tunisia in the late 20th century. In 1986, Tunisia sent six pomegranate trees to China as a gift to commemorate the establishment of diplomatic relations. The trees were planted in Xingyang City in the county of Heyin in the Henan Province and were studied and cultivated for over ten years through a collaboration between China Agricultural University, Henan Agricultural University, and the Pomegranate Research Center. After evaluating the fruits, the Tunisian pomegranate trees were propagated and planted in other regions throughout China, including Huili in Sichuan, and were domesticated for centuries to adapt to the various climates and soils of China. The grafted trees were officially named Tunisian Soft-Seed pomegranates in 2002, and the fruits quickly became one of the most popular pomegranate varieties in China. Today, Tunisian Soft-Seed pomegranates are commercially cultivated in China's Henan and Sichuan Provinces and on a smaller scale in Yunnan. When in season, the fruits are sold to markets domestically throughout China and are also exported to Australia, North America, Dubai, Russia, South Korea, and Southeast Asia, mainly to Singapore, Thailand, Vietnam, and Myanmar. The Tunisian Soft-Seed pomegranates featured in the photograph above were sourced in Singapore.