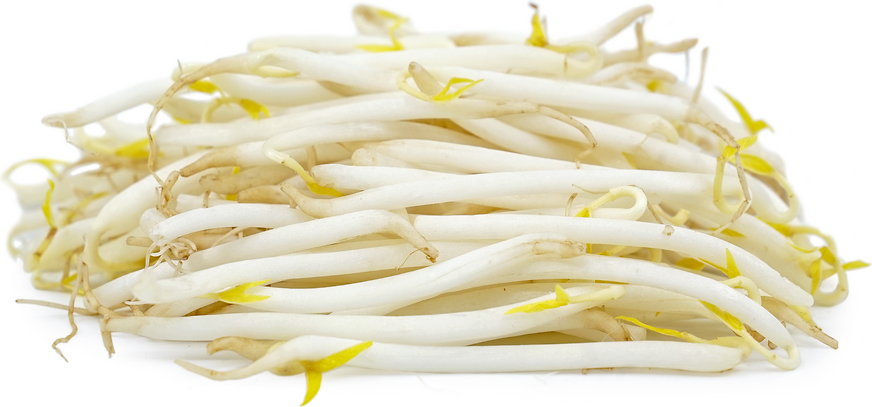 Mung Bean Sprouts
Inventory, 24 ct : 31.54
This item was last sold on : 12/10/23
Description/Taste
Mung Bean sprouts are young, slender shoots that develop from a dark green, oval bean approximately one centimeter in length and less than a centimeter in diameter. Once the beans are germinated, the sprout bursts from the bean and grows into a thin, white to ivory shoot with two small yellow to green leaves. The sprouts may also exhibit a small hull at the base of the sprout, and the hull is edible but typically discarded. Mung Bean sprouts have a smooth, firm surface and a plump, taut appearance. The sprouts contain high water content and are mainly used in culinary dishes for their crisp, crunchy, and succulent consistency. Mung Bean sprouts offer a mild, subtly sweet, vegetal, and nutty taste, and their neutral profile complements accompanying flavors in spice-filled dishes.
Seasons/Availability
Mung Bean sprouts are available year-round.
Current Facts
Mung Bean sprouts, botanically classified as Vigna radiata, are the young shoots of an edible legume belonging to the Fabaceae family. The Mung Bean plant is native to Asia, cultivated since ancient times, and the sprouts are a favored textural addition to culinary dishes. To produce Mung Bean sprouts, the beans are traditionally soaked in water and left to naturally germinate for 4 to 7 days to develop edible, crunchy sprouts. Mung Bean sprouts are known as Sabut Moon in Hindi, Sukjunamul in Korean, Moyashi in Japan, Yar Tsai in Mandarin, and Ngar Choy in Cantonese. The sprouts are commercially cultivated worldwide, sold fresh and canned, and are valued as a culinary ingredient for their nutritional properties, crisp nature, and year-round availability. The sprouts are also produced in home kitchens, but they must be grown in sanitary conditions to prevent bacteria from growing and causing illness. Chefs utilize Mung Bean sprouts in a wide variety of raw and cooked preparations, including salads, stir-fries, soups, noodles, and rice dishes.
Nutritional Value
Mung Bean sprouts are a good source of fiber to regulate the digestive tract, folate to produce red blood cells, vitamin K to assist in faster wound healing, and vitamin C to strengthen the immune system while reducing inflammation. The sprouts also contain phosphorus to protect bones and teeth, manganese to develop connective tissues, magnesium to maintain healthy nerve functioning, and other amounts of B vitamins, zinc, copper, potassium, and iron.
Applications
Mung Bean sprouts are utilized in culinary preparations for their crunchy texture and are well-suited for sweet and savory dishes. The sprouts should be washed before use and can be consumed raw or cooked, but it is generally recommended to cook them to reduce possible bacterial contamination. Mung Bean sprouts can be blended into smoothies, tossed into salads, or layered into sandwiches and wraps for enhanced texture. The sprouts can also be steamed or stir-fried into rice and noodle dishes such as fried rice or pad Thai, mixed into soups, curries, and congee, used as a filling for dumplings, spring rolls, or lumpia, or lightly cooked into vegetable stir-fries. To prevent the sprouts from wilting, Mung Bean sprouts should be added at the end of the cooking process. In China, Mung Bean sprouts are added into hot and sour soup, egg drop soup, and douya, while in Hong Kong, the sprouts are popularly incorporated into egg foo young, turnip cakes, and beef chow fun. The sprouts are also used as a topping for Vietnamese pho or stirred into an Indian stew known as kitchari, served with rice to create a complete meal. In addition to the sprouts, the tiny roots can also be trimmed, cleaned, and used in culinary preparations. Mung Bean sprouts pair well with meats such as poultry, beef, pork, and fish, aromatics including garlic, scallions, ginger, and chile pepper, carrots, peas, bell peppers, broccoli, coconut, lime, and other legumes. Whole, unwashed Mung Bean sprouts should be used immediately for the best quality and flavor, but the sprouts will also keep 2 to 4 days in the refrigerator when stored in a sealed container.
Ethnic/Cultural Info
In Nepal, Mung Bean sprouts are incorporated into kwati, a traditional soup made with nine different sprouted legumes in the Kathmandu Valley. Kwati roughly translates from Newari, the local language of the Newar, to mean "hot soup," and the dish is customarily consumed during the festival of Guni Punhi, a celebration of the full moon. There is also a Hindu festival held at the same time known as Janai Purnima that overlaps and shares many of the same traditions, including the consumption of the sprouted bean dish. Kwati is viewed as a life-giving dish as the sprouted beans provide ample vitamins and minerals, energy, and protein, and the mixture is served with rice and sometimes goat meat to create a filling meal. There are many variations of kwati prepared throughout the Kathmandu Valley, but the dish is generally composed of warm, aromatic spices and Mung Bean sprouts, kidney beans, cowpeas, field peas, garden peas, rice beans, soybeans, black bean, and green beans. Beyond the festivals, Kwati is also used as offerings for rain, and farmers consume the dish to regain energy after working in the fields. Kwati is a staple dish consumed year-round, and it is held in high esteem as it has historically sustained the Newar people during times of famine.
Geography/History
Mung Beans are native to India and have been growing wild since ancient times. The beans were domesticated as early as 1500 BC and were eventually carried east into Southeast Asia and China. Experts have found evidence of Mung Beans in Southern Thailand that date back over 2000 years ago, and the legumes were quickly naturalized throughout the region, used as a food source for both humans and animals. Mung Bean sprouts have been grown since the introduction of the bean into cultivation. The sprouted beans are favored for their easy-to-grow nature and nutritional content, and over time, the beans were introduced into Africa, Europe, Austronesia, Australia, and later the Americas. Mung Bean sprouts were brought to the United States in 1830, and commercial production of the sprouts is predominately based in Oklahoma, Texas, and California. Today Mung Beans are primarily cultivated in Asia and are commercially exported worldwide. The sprouts can be found through farmer's markets, health food stores, Asian markets, select grocers, and distributors.
Featured Restaurants
Restaurants currently purchasing this product as an ingredient for their menu.
the other 28...
| | | |
| --- | --- | --- |
| Animae | San Diego CA | 619-925-7908 |
| Southwestern Yacht Club | San Diego CA | 619-222-0438 |
| Harumama Noodles & Buns (Carlsbad) | Carlsbad CA | 760-637-5737 |
| Bridges at Rancho Santa Fe | Rancho Santa Fe CA | 858-759-6063 |
| C 2 C | San Diego CA | 619-972-9345 |
| UCSD Food & Nutrition Department Hillcrest | San Diego CA | 619-380-9840 |
| Dija Mara 2021 | Oceanside CA | 760-231-5376 |
| Harumama (Little Italy) | San Diego CA | 619-269-7122 |
| Shimbashi Izakaya | Del Mar CA | 858-523-0479 |
| Harumama Sushi & Ramen (Ocean Beach) | San Diego CA | 858-886-9909 |
| Brigantine La Mesa | La Mesa CA | 619-465-1935 |
| Pete's Premade Paleo | San Diego CA | 770-359-8274 |
| Yummy Sushi | Coronado CA | 619-435-2771 |
| Del Mar Country Club | Rancho Santa Fe CA | 858-759-5500 x207 |
| Harvest Kitchen (Corp Lunch) | San Marcos CA | 619-709-0938 |
| La Costa Glen South | Carlsbad CA | 760-704-1000 |
| Grass Skirt | San Diego CA | 858-412-5237 |
| Stone Brewing-Liberty Station | San Diego CA | 619-269-2100 |
| Groundswell Brewing | Chula Vista CA | |
| Vista Valley | Vista CA | 760-758-2800 |
| The Switchboard Restaurant and Bar | Oceanside CA | 442-266-2781 |
| Artifact at Mingei | San Diego CA | 619-846-2164 |
| Leucadia Pizza Point Loma | San Diego CA | 619-295-2222 |
| Menya Ultra (Hillcrest) | San Diego CA | 619-782-9060 |
| PFC Fitness Camp | Carlsbad CA | 888-488-8936 |
| Blue Ocean La Jolla | La Jolla CA | 858-999-0323 |
| Panama 66 | San Diego CA | 619-206-6352 |
| Four Seasons Foods Catering | San Diego CA | 619-876-6986 |
Recipe Ideas
Recipes that include Mung Bean Sprouts. One

is easiest, three is harder.