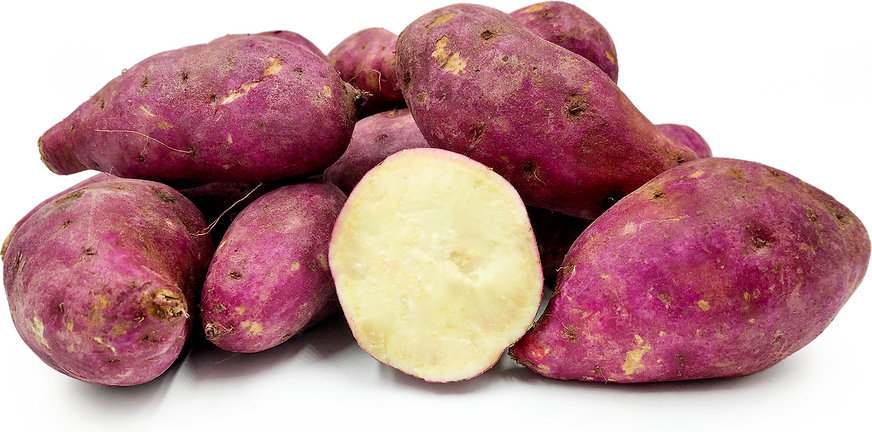 Tahitian Sweet Potatoes
Inventory, lb : 0
Description/Taste

Tahitian sweet potatoes widely vary in size, shape, and color depending on growing conditions, and are generally oblong, cylindrical, to slightly bulbous in shape with curved, tapered ends. The skin is firm, thin, semi-rough, and purple, covered in medium-set eyes and fine root hairs. Underneath the surface, the flesh is dense, crisp, and cream-colored to ivory. Tahitian sweet potatoes, when cooked, have a tender, moist, and creamy consistency with a mild, sweet, and nutty flavor.


Seasons/Availability

Tahitian sweet potatoes are available year-round.


Current Facts

Tahitian sweet potatoes, botanically classified as Ipomoea batatas, are sweet roots that belong to the Convolvulaceae or morning glory family. The tubers are locally known around Tahiti as Umara and Patate Douce, which are the Tahitian and French words for "sweet potato." Tahitian sweet potatoes are one of the ancient crops of Tahiti and have become a staple ingredient in culinary applications across the island. The roots are harvested by hand, and traditional growth methods are still practiced in both commercial cultivation and home gardening. Tahitian sweet potatoes are favored for their sweet, nutty flavor, nutritional content, versatility, and filling nature.


Nutritional Value

Tahitian sweet potatoes are an excellent source of potassium, which can help regulate fluid levels within the body, and are a good source of vitamin A, which provides antioxidant-like effects to boost the immune system. The roots also contain vitamins C and B6, calcium, iron, and fiber to help stimulate the digestive tract.


Applications

Tahitian sweet potatoes are best suited for cooked applications such as steaming, baking, roasting, and frying. The roots can be prepared with their skin on and are popularly steamed and mashed into a sweet, creamy side dish, or they can be incorporated into gratins, souffle, and baked goods such as bread, cakes, and pies. Tahitian sweet potatoes can also be cooked and mixed with spices, curry paste, chiles, and coconut milk to create a spicy potato salad, sliced and roasted for a caramelized exterior, pureed and used as a base underneath pork, or sliced into wedges and fried. In Tahiti, sweet potatoes are used as a flavor variation for the traditional pudding-like dessert known as po'e. Tahitian sweet potatoes pair well with coconut milk, lime juice, herbs such as cilantro, coriander, and thyme, fei bananas, avocado, beets, tomatoes, celery, spinach, seafood, and meats such as poultry and pork. The roots will keep up to a week when stored in a cool, dry, and dark place with good air circulation.


Ethnic/Cultural Info

Tahitian sweet potatoes are a staple ingredient in tama'ara'a, which is a traditional Tahitian feast held during special occasions such as weddings, birthdays, holidays, and anniversaries. Tama'ara'a consists of multiple dishes that are cooked in an ahi ma'a, which is an underground oven heated by wood and volcanic rock, and some ahi ma'a ovens are large enough to prepare food for over one hundred people. Once the ovens are heated, root vegetables, including sweet potatoes, meats, fruits, and seafood, are wrapped in banana leaves and steamed. While the food is cooking, the dining space is adorned with leaves, flowers, and fruits as decoration and as a practice to prepare for the celebration to come. Creating an inviting space is part of the tradition of the feast, and guests are also commonly given flower crowns to wear during the festivities as a symbol of the love between the gathered family and friends. Bowls are made out of braided leaves, coconut shells, and wood, and during the feast, the food is traditionally eaten with bare hands to celebrate the food as nature's gift.


Geography/History

Sweet potatoes are native to Central and South America. While the exact date of when the roots arrived in Polynesia is unknown, some experts hypothesize that they may have been brought back on ancient Polynesian voyages returning from South America in pre-Columbian times. Sweet potatoes were widely cultivated across Polynesia before Captain James Cook's arrival in the 18th century, and they have remained a staple crop grown for everyday culinary uses in Tahiti. Today Tahitian sweet potatoes can be found at local markets throughout Tahiti and are also found in home gardens.