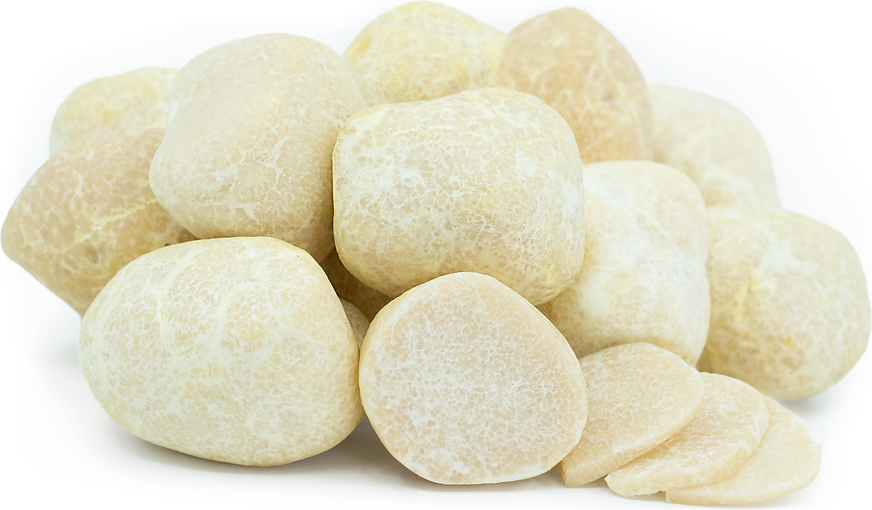 Honey Truffles
Inventory, oz : 0
This item was last sold on : 08/27/23
Description/Taste

Honey truffles vary in size and appearance, depending on growing conditions and season, and average 1 to 20 centimeters in diameter. The truffles generally have a round, lumpy shape and showcase cream-colored, ivory, to white hues. Honey truffles have a delicate, thin exterior and can be easily damaged in transit. Underneath the surface, the interior is solid, soft, springy, and crumbly. The interior also features an ochre hue with prominent white veining. Honey truffles release a robustly earthy, sweet, and honey-filled aroma with subtle cheese-like notes. This scent permeates and can quickly fill a room with its distinct smell. Honey truffles are traditionally consumed raw and are viewed as a flavoring agent. The truffles are known for their high sugar content, creating a sweet, saccharin flavor profile, and can sometimes border on tasting artificial. Honey truffles also have a complex blend of earthy, nutty, and mushroom-forward nuances combined with vanilla, fresh brioche, and a lingering honey-like taste on the palate. Some consumers note that Honey truffles are an acquired taste, but the truffles become sweeter and softer as it ages, a trait unique from other truffles.


Seasons/Availability

Honey truffles are available for a short season in the late summer through early winter.


Current Facts

Honey truffles, botanically classified as Mattirolomyces terfezioides, are a rare species belonging to the Pezizaceae family. The wild, pale truffles are primarily found in Hungary and are categorized as a type of sweet dessert truffle. Honey truffles are also known as Hungarian White Sweet truffle, Terfezia, and Sand truffle, and the species is only available for a few weeks each year, varying in quantity, depending on the climatic conditions and growing season. The species has also been historically challenging to find as truffle dogs naturally avoid their scent and must be extensively trained to search for the aroma. In the modern day, Honey truffles are increasing in popularity as chefs adopt the elusive species into high-end culinary dishes, and the truffles are showcased when they are lightly shaved or infused into sweet and savory preparations.


Nutritional Value

Honey truffles have not been extensively studied for their nutritional properties, as truffles are used sparingly in dishes. What has been studied is the truffle's high sugar content. It is said that Honey truffles contain over ten different types of sugar and have a sugar-type carbohydrate chain molecule that allows the truffles to be more shelf stable than other species, retaining their aroma and flavor for longer periods. Honey truffles may also provide low amounts of vitamins C, A, and K, phosphorus, copper, zinc, and manganese.


Applications

Honey truffles have a complex flavoring with an overarching funky sweetness. The truffles should not be heated and are only served fresh or used as an infused ingredient. Honey truffles can be shaved over warm dishes, but they will lose their flavor if they are overheated. The truffle's sweet, honeyed taste complements desserts and can be used to flavor panna cotta, sponge cakes, ice cream, sorbet, gelato, pudding, and pastries. They can also be infused into maple syrup or crème fraiche and served with desserts, fruits, or chocolate. In addition to sweet preparations, Honey truffles are popularly infused into butter and slathered over vegetables or spread on crostini. It is important to only use infused butter as a finishing element, as heating the butter will lose the truffle's aroma. Honey truffles can also be shaved over scallops, risotto, root vegetables, mashed potatoes, or rice-based dishes. Beyond culinary dishes, the truffles can be infused into a simple syrup and added to craft cocktails. Honey truffles pair well with cheeses such as gorgonzola, chevre, and goat, buttery Chardonnay, seafood, chocolate, berries, creamy ingredients such as milk, butter, cream, and eggs, peas, sunchokes, and parsnips. Honey truffles will keep for 3 to 5 days when stored wrapped in a paper towel in a dry container. Some chefs also note that the species can be frozen for extended use and will not lose flavor.


Ethnic/Cultural Info

Honey truffles were named for their sweet taste, often described as having a honeyed, vanilla, and fresh brioche finish. The species also received its moniker from its lingering sweet aftertaste due to its high sugar content. Honey truffles acquire their sweetness from their symbiotic relationship with the black locust tree. Scientists have studied that the species absorbs sugar from the tree's roots and, in return, gives the tree various minerals and water. Honey truffles are almost exclusively found beneath black locust trees, another indicator that the trees have influence over the truffle's aroma and taste. In Hungary, Honey truffles are also commonly called Sand truffles for their native growing region. The species thrives in sandy soils along the Danube River, and the loose, humus-filled soil often shifts and moves, leaving some Honey truffles exposed amidst the tree roots.


Geography/History

Honey truffles are native to Europe and Asia and are primarily known in the Carpathian Basin within Hungary. The species has been growing wild since ancient times and thrives in slightly alkaline, sandy soils along the banks of the Danube River. Honey truffles are often found near the roots of the black locust tree, Robinia pseudoacacia, also known as the false acacia. In Hungary, the region of Jaszsag is famous for its Honey truffle collection. Research points to Honey truffles first being documented in the late 16th century when a Hungarian magistrate declared that a forest was to be protected in order to maintain the supply of the rare truffles. A few Honey truffles were also discovered in China, Spain, and the Middle East throughout history, with one of the largest ever recorded being found beneath an orange tree in Spain. Over time, Honey truffles have been slowly introduced to culinary markets worldwide and are still mostly grown in Hungary. Despite their Hungarian production, Honey truffles are more popularly exported to other countries than used in local Hungarian cuisine. Today Honey truffles are commercially produced in Hungary and are mainly shipped to other countries in Europe, East Asia, and the United States.