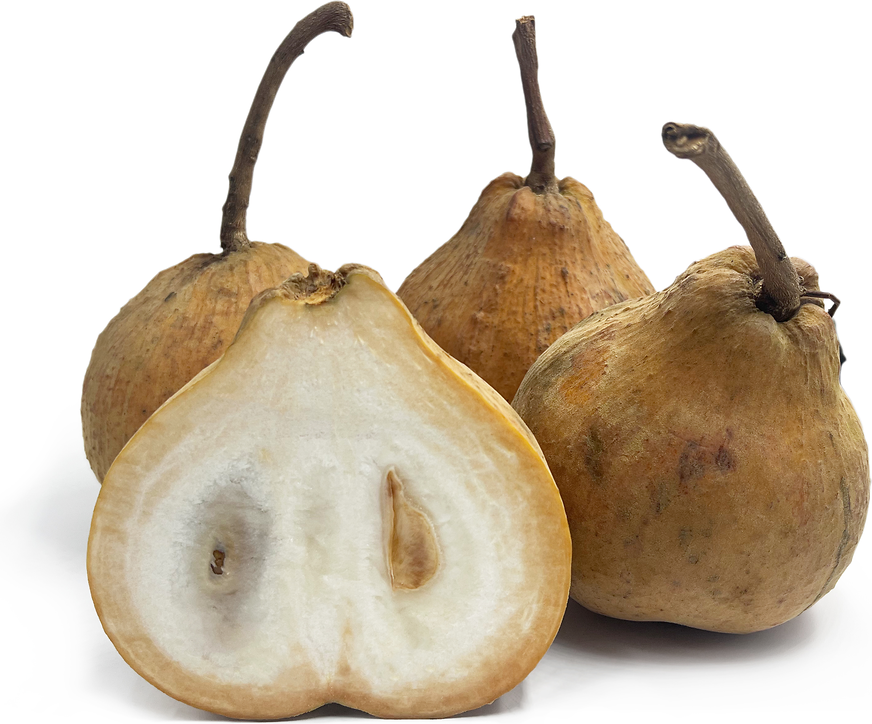 Thai Santol Fruit
Inventory, 1 EA : 0
Description/Taste

Thai Santol fruits widely vary in size and appearance, depending on the specific variety, and have a round, ovate, to pyriform shape. The fruits are generally 5 to 15 centimeters in length, and younger fruits will have a rounder shape, sometimes elongating into a pyriform appearance at maturity. The fruit's stems are dark brown, fibrous, and of varying lengths due to grower preference, and the skin ranges from thin to thick with a leathery, semi-rough feel. The skin is covered in soft, velvety hairs, and the surface ripens from green to a golden yellow-brown. Some varieties may exhibit a faint red-pink blush, while other varieties develop wrinkles surrounding the stem. Underneath the surface, a thick and spongy edible layer may have a subtly chalky and bitter taste. This layer is often combined with aromatics, sauces, or cooked to create a more palatable flavor. The center of the fruit encases 3 to 5 seeds covered in a fluffy white membrane. Depending on the variety, this membrane can be cotton-like or slippery, juicy, and soft. It is important to note that the seeds should never be consumed, only the white membrane and the spongy layer under the skin is edible. Thai Santol fruits have a sweet and sour taste. Each variety will showcase varying levels of sugar and sour notes and can be eaten raw or cooked.


Seasons/Availability

Thai Santol fruits are generally available during the hot season, spanning from March to May. In some regions of Thailand, the fruits may extend into the wet season, found in markets until August.


Current Facts

Thai Santol fruits, botanically classified as Sandoricum koetjape, are a category of several varieties belonging to the Meliaceae, or Mahogany family. Santol fruits have been cultivated in Thailand since ancient times, and the tropical fruits are a favored seasonal delicacy sold throughout the country. Different varieties of Santol fruits are grown in Thailand, with the four most popular cultivars being Pui Fai, Ela, Ruby, and Nimnuan. Other Thai Santol varieties include Khanthong, E-Daeng, Pak Tho, Thepras, Kiao Wan, Tubtim, Thong Yip, Thong Piak, Khan Thong, Mali Lui, and Khun Winai. Pui Fai Santol fruits are the top variety grown in Thailand, and the cultivar is favored for its sweet, sugary taste and large size. Thai Santol fruits generally grow on perennial trees reaching 15 to 30 meters in height, and the trees begin bearing fruits approximately 2 to 3 years after planting. The fruits are harvested from wild and cultivated trees and are utilized in a wide array of fresh and cooked, sweet or savory preparations.


Nutritional Value

Thai Santol fruits are a source of potassium to balance fluid levels within the body, fiber to regulate the digestive tract, and vitamin C to boost the immune system. The fruits also provide iron to develop the protein hemoglobin for oxygen transport through the bloodstream, calcium to build strong bones and teeth, magnesium to control nerve functioning, and other nutrients, including vitamin B, phosphorus, and folate. In natural medicines, the roots, fruits, leaves, and bark are used in remedies to assist with digestive issues, infections, skin conditions, and allergies. The fruits are believed to help reduce inflammation within the body.


Applications

Thai Santol fruits have a sweet and sour taste with varying sugar and acidity levels, depending on the specific variety. The fruits can be consumed fresh and are typically peeled or broken open, only eating the flesh. The seeds and skin are inedible and should be discarded. Santol fruits are popularly eaten with salt, sugar, chile peppers, or dipping sauces for added flavor, and the flesh can be chopped into salads, served as a side dish, or used as an edible topping. Santol fruits can also be cooked and complement sweet or savory dishes. The flesh is often simmered in curries, cooked into stir-fries, or seasoned with fish and black crab paste as an aromatic dish. It can also be pickled as a tangy, sour, and crunchy condiment. In Bangkok, Santol fruits are often peeled, soaked in salt water, shallowly sliced, and flattened, covered in a sticky, spicy, salty, and sweet sauce with toppings. Dried and fresh shrimp is mixed with chile peppers, shallots, garlic, cashews, palm sugar, fish sauce, and peanuts to create a sauce that is drizzled over the soaked fruits, and this recipe is famously made throughout the city's street food vendors. Santol fruits are also used in sweet preparations. The flesh is macerated in syrup and consumed with shaved ice, carved and chilled in syrup, or rolled in a mixture of chili powder, sugar, and salt as a candy-like snack. The flesh can also be simmered into jams and other preserves. Thai Santol fruits pair well with spices such as turmeric, curry powder, chili powder, and cardamom, nuts including peanuts and cashews, seafood, and herbs such as sweet basil, cilantro, and lemongrass. Freshly picked Santol fruits should be left at room temperature for 2 to 3 days before consumption. Fruits picked from markets can be consumed immediately if ripe and will not last longer than a few days.


Ethnic/Cultural Info

Thai Santol fruits are famously used in som tam, a raw papaya salad. The salad is internationally known for its blend of sweet, spicy, salty, sour, and umami flavors, and there are several variations of the dish regionally made across Thailand. The history of som tam is primarily unknown, but experts point to the dish's site of origin in Laos. Thailand shares a border with Laos, so over time, the dish was spread across the border and became popular in Thailand's northeastern region of Isaan. The name som tam roughly translates to mean "pounded papaya," and the original dish was comprised of green papaya being crushed with a mortar and pestle. Isaan residents eventually introduced the dish to Bangkok, where the dish evolved, and new ingredients were substituted to fit varying palates, including fish sauce. Not fully ripe Santol fruits were a later addition to the dish and were used in som tam as a crunchy, slightly sour ingredient. Santol was favored for som tam as it was a readily available local fruit and could act as a cheaper substitute for papaya. In the modern day, Santol fruits are still prevalent in som tam dishes, and the crunchy salad is sold throughout Thailand using all different varieties of Thai Santol fruits, depending on the region.


Geography/History

Santol fruits are believed to be native to Southeast Asia and have been growing wild since ancient times. The species was thought to have arisen out of Cambodia, southern Laos, Vietnam, and West Malaysia, and over time, the tropical fruits were carried into Thailand, Indonesia, India, the Philippines, and other neighboring countries. The species quickly naturalized in these regions, and the fruits were gathered from wild trees as a food source. Santol was eventually chosen for commercial production, and growers began breeding new varieties with improved cultivation traits to increase sales. In Thailand, there are many varieties of Santol grown across the country. The most concentrated production occurs in Southern Thailand, followed by Central Thailand. The Lopburi Province is a famous Santol-producing region, especially in the Ngiu Rai, Pho Kao Ton, and Talung subdistricts. When in season, Thai Santol fruits are sold through fresh markets, at roadside stands, and directly from growers throughout Thailand.