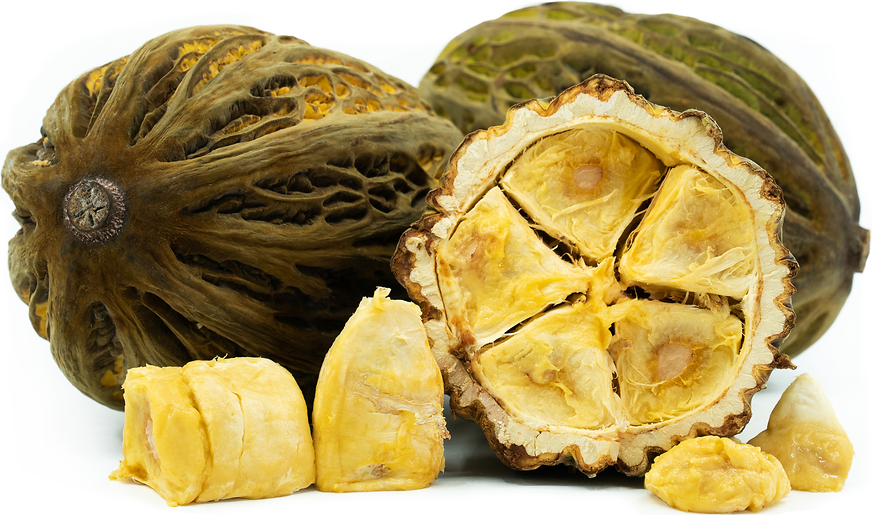 Pataxte Fruit
Inventory, ea : 0
Description/Taste

Pataxte is a medium to large fruit, averaging 14 to 35 centimeters in length and 12 to 15 centimeters in diameter, and has an oblong to ellipsoidal shape with slightly tapered ends. The fruits range from 300 to 400 grams in weight and are generally composed of 59% peel, 14% seeds, and 27% pulp. The exterior, also known as a pericarp, is firm, hard, and dense with prominent ribbing and a woody, fibrous pattern resembling netting. The fruits ripen from green to shades of yellow, yellow-green, red, and red-yellow when ripe, depending on the variety, and some types have a thin, soft, velvety layer on top of the hard surface. Inside the pods is a clump of 30 to 40 seeds enveloped in fleshy arils. The flesh is typically ivory to yellow and has a soft, creamy, slightly fibrous, and oily consistency. Each flat, oval, brown seed inside the aril is 1.4 to 2.5 centimeters in diameter and 1.6 to 3 centimeters in length and has a crunchy, woody, and waxy texture. Pataxte seeds and arils can be consumed raw or cooked. Raw arils have a mild, sweet, tropical, nutty, musky taste. When roasted, the seeds have a subtly nutty flavor.


Seasons/Availability

Pataxte is available year-round and is in season at varying times, depending on the region and climate. In the Amazon, the fruits are harvested from March to November.


Current Facts

Pataxte, botanically classified as Theobroma bicolor, is a rare species belonging to the Malvaceae family. The fruits, also referred to as pods, grow at the top of a slow-maturing tree, reaching 7 to 20 meters in height, depending on the variety. Pataxte is native to the Americas and is one of the largest fruits within the Theobroma genus. Each tree produces 15 to 40 fruits per season, and the fruits naturally fall from the tree when ripe, allowing foragers to gather them off the ground. Pataxte is distinct from cacao as the fruits hang from branches at the top of the tree, while cacao forms from the trunk. Pataxte is also known as Bacao, Mocambo, Marroca, Macao, Jaguar Cacao, Macambu, Majambo, Cacao Blanco, Wakampe, and Pataxte Cacao. Several varieties exist throughout Central and South America, varying in flavor, color, and shape, and the arils and seeds are edible in raw and cooked preparations. In the modern day, Pataxte is a rare species often overshadowed by cacao. The fruits are a treasured food of ancient civilizations and have been preserved among select people groups as a specialty ingredient.


Nutritional Value

Pataxte has not been extensively studied for its nutritional properties. The seeds contain less fat than cacao, more protein and fiber, and have a small amount of caffeine and theobromine. Pataxte may also be a source of fiber to regulate the digestive tract, vitamin C to boost the immune system, iron to develop the protein hemoglobin for oxygen transport through the bloodstream, magnesium to control nerve functioning, calcium to build strong bones and teeth, and other nutrients including vitamin E, vitamin D, and antioxidants.


Applications

Pataxte arils have a mild, subtly sweet, and nutty taste suited for raw or processed preparations. Only the seeds and their fleshy coatings are the edible portions of the pod, and when raw, the flesh and seeds can be chewed together. Most consumers choose to only suck on the soft, white pulp and cook the seed. The flesh can be blended into smoothies and juices, often mixed with lime and sugar, to create a more palatable flavor. These drinks are referred to as aguas frescoes and are widespread throughout Mexico. In Oaxaca, Mexico, another drink is made using seeds and combined with chocolate, nicknamed popo or Oaxacan cappuccino. Pataxte seeds can also be roasted on the grill, boiled and peeled to create a chewy, crumbly snack, or added to soups and stews. In addition to drinks and savory dishes, Pataxte can be incorporated into desserts such as nougat, marzipan, or marshmallows or mixed with cacao to make a swirled chocolate with a more complex flavor profile. The fruit's hard shell can also be served as a drinking vessel or bowl. Pataxte should be immediately consumed for the best quality and flavor.


Ethnic/Cultural Info

Pataxte was a sacred ingredient in the Mayan Empire and was often paired with cacao to make a ceremonial drink. Pataxte is representative of male energy and is said to resemble male genitalia, while cacao represents feminine energy, taking an abstract form of a breast. The seeds from the two pods are combined to create a beverage that was thought to increase fertility and nourish the body's energy. Cacao and Pataxte were also mixed with corn in the drink, as corn was regarded as the source of life. Pataxte was used in the ceremonial beverage to add a frothy foam at the top. The foam was thought to contain valuable life force and was consumed at important gatherings and celebrations. Pataxte and Cacao are still used in variations of the ancient Mayan beverage in the Oaxaca Valley, Mexico, in the present day, and the practice of making this drink is a complex process. Pataxte seeds are buried underground to ferment for 1 to 2 years, and when they are unearthed, they develop a crumbly, chalk-like consistency and a white hue. The fermented seeds are combined with cacao to make a foam on top of a drink made from the flower known as rosita de cacao, toasted mamey sapote seeds, toasted masa, cacao, water, and sugar to create a thick beverage. The drink is said to have a delicate, nutty, and rich flavor and is still served at weddings, religious services, and familial gatherings.


Geography/History

Pataxte is native to Central America and has been growing wild since ancient times. Several varieties of Pataxte are found throughout tropical regions, and the pods, also known as the fruits, have been foraged from wild trees as a culinary and ceremonial ingredient. Over time, Pataxte species spread from Central America into Mexico and South America, primarily to Peru, Colombia, Venezuela, Ecuador, and Brazil. Pataxte was mentioned in the Popol Vuh, a famous text documenting indigenous communities' lives in Central America. Historians believe when the Spanish arrived in the Americas, they viewed Pataxte as inferior to cacao and heavily influenced the world's perception by choosing to ship only cacao back to Europe. Pataxte remained a localized fruit in the Americas and suffered from the loss of natural habitats due to urbanization and deforestation. Today, Pataxte is a rare species and is challenging to find. The fruits are sold in fresh markets and are a specialty ingredient in Central and South America. In Mexico, some varieties are grown in the states of Tabasco, Chiapas, and Oaxaca.