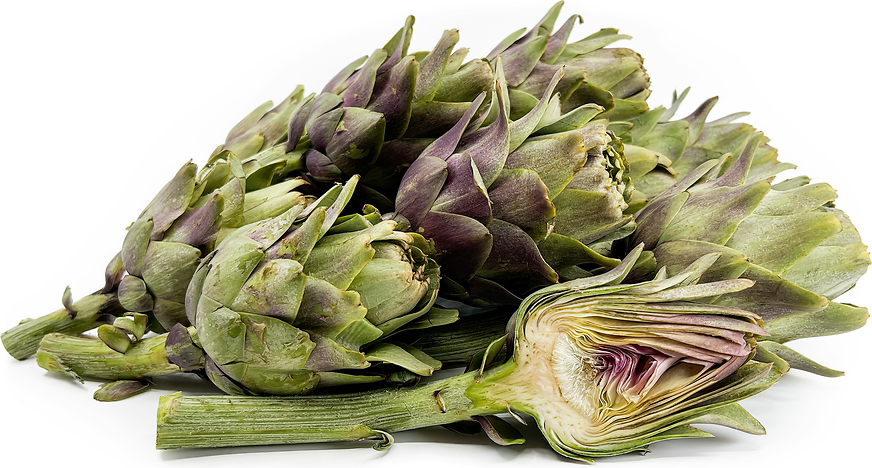 Tinos Island Artichokes
Inventory, lb : 0
Description/Taste

Tinian artichokes are comprised of small and distinct, open heads resembling unfurling flowers and are attached to cylindrical, fleshy stems. The artichoke heads are smaller in size than most commercial cultivars and arise from the center of a thistle-like plant with a rosette of lobed and toothed, silver-green leaves. The heads form at the top of upright, straight stems and are filled with layers of tightly packed bracts, appearing slightly open with looser but still dense layers. The heads showcase green hues with variegated purple accents, and each bract has a fleshy, edible base and a faintly curved, tapered nature, creating a shallow, spoon-like shape. The bracts also bear sharp spines on the tips. As each layer is peeled away, the color of the bracts transforms from green to pale yellow or purple, and each bract grows smaller and smaller towards the interior, revealing a central heart surrounded by immature florets known as the choke. When cooked, Tinian artichokes have a firmer nature, developing a tender, fleshy, and succulent consistency. The long stems are also edible, and it is recommended to peel the stems to remove the tough, fibrous skin. Once peeled, the bright green stems contain an ivory to white central core that can be prepared similarly to the heads. Tinian artichokes are known for their mild, nutty, earthy, tangy, and subtly sweet vegetal taste with mineral-forward nuances.


Seasons/Availability

Tinian artichokes are harvested in the late winter through spring, with a peak season from March to April.


Current Facts

Tinian artichokes, botanically a part of the Cynara genus, is a rare, semi-wild variety belonging to the Asteraceae family. The small, flower-like artichokes are native to Tinos Island in Greece and are one of the most traditional crops of the island, having been a treasured food source and medicinal ingredient since ancient times. Tinian artichokes are also known as Tinos Island artichokes and Tinos artichokes, and among Tinian locals, the variety is nicknamed "the Porsche of artichokes." This luxury moniker is given to the artichokes for their quality flavor, texture, and appearance. Most Tinian artichokes are consumed on Tinos Island, but production has also expanded to ship the artichokes to markets in Athens, further expanding the variety's notoriety throughout Greece. One of the distinguishing characteristics of Tinian artichokes is their ability to grow in harsh environments. Water is a precious commodity on Tinos Island, with growers being heavily restricted in their usage. Tinian artichokes are trained to survive with little water, growing roots deep into the Earth to access underground sources. Growers also purposely cultivate the artichokes without water to concentrate the flavor. Tinian artichokes are harvested by hand, and thick gloves and boots must be worn to protect against the sharp thorns on the plant. Once harvested, Tinian artichokes are sold fresh and are valued as a culinary delicacy.


Nutritional Value

Tinian artichokes are a source of vitamin C to strengthen the immune system while reducing inflammation, vitamin A to assist in optimal organ functioning, and calcium to build strong bones and teeth. The artichokes also provide fiber to regulate the digestive tract, phosphorus to repair tissue, iron to develop the protein hemoglobin for oxygen transport through the bloodstream, and other nutrients, including potassium, vitamin K, manganese, folate, magnesium, and B vitamins. On Tinos Island, Tinian artichokes have been used as a natural medicine to aid in digestion, reduce bloating, and cleanse the liver. They were also generally used as an antibacterial, anticarcinogenic, and antioxidative ingredient.


Applications

Tinian artichokes have a subtly sweet, nutty, earthy, grassy, and mineral-like taste suited for cooked preparations. The thorny outer leaves should be removed before cooking, and the tops of the leaves can be trimmed for a cleaner appearance, also removing tough parts and lingering thorns. Once prepped, Tinian artichokes can be used in any recipe calling for artichokes. Fresh artichokes are tender and popularly steamed, grilled, fried, or baked. One of the most famous preparations in Tinos is known as artichoke pie. This dish is comprised of thin slices of bread layered with cheese, artichoke, herbs, and spices, drizzled in bechamel. Tinian artichokes are also stuffed with tuna or minced meat such as lamb or beef, and the flower-like heads can be cooked, and the bracts peeled one by one, eaten with lemon juice and olive oil as an appetizer. Try incorporating Tinian artichokes into casseroles, adding them to seafood dishes such as octopus or cod, breading and frying the heads, or cooking and serving with nuts and fresh herbs. In addition to the heads, the artichoke stem is also edible and is sometimes sold with a long portion attached to the head for culinary use. The stem is prepared similarly to the head and has a fleshy, tender nature. Beyond savory dishes, Tinian artichokes can also be added to desserts and are served sweetened over yogurt in Greece. They can also be pickled in a mixture of brine, vinegar, or oil and stored for extended use or blended into pastes. Tinian artichokes pair well with herbs such as fennel, dill, parsley, oregano, and chives, nuts including pistachios, cashews, and almonds, cheeses such as goat, parmesan, and feta, fresh citrus, and aromatics such as garlic, onions, and shallots. Whole, unwashed Tinian artichokes should be immediately used for the best quality and flavor and will keep up to one week when wrapped in a damp cloth and stored in a ventilated container in the refrigerator.


Ethnic/Cultural Info

Tinian artichokes are annually celebrated in an artichoke festival in the city of Komi on Tinos Island. The gastronomic event occurs in May or June and has been held for over twelve years to honor the important agricultural product. Artichokes are one of the top crops grown on Tinos Island, and the festival was established by the Municipality of Tinos and the local community of Komi to increase tourism and promote goodwill among the Tinos Island community. During the artichoke festival, over 10,000 Tinian artichokes are provided by local growers, and the artichokes are given to chefs and home cooks throughout the island to prepare their favorite artichoke-centric dish. Each festival is different, and the dishes change by the year, but there are several traditional dishes popularly served, including artichoke pie, stuffed artichokes, fried artichokes, artichokes in omelets, and artichokes a la polita, a dish of artichoke hearts combined with fennel, lemon juice, olive oil, potatoes, carrots, and onions. Tinian artichokes are feasted on throughout the festival, and when visitors are not eating, they listen to live music, participate in dances, and celebrate with family and friends. A traditional drink known as raki is also prepared and served with the artichokes. Raki is a type of digestive made from distilled local grapes, and some distillers even put artichokes with sugar and spices into the mixture for unique flavoring.


Geography/History

In Greek mythology, artichokes were created from disobedience. Legend has it that Zeus was visiting his brother Poseidon one day when he noticed a beautiful woman named Cynara bathing along the shore of the Aegean island Zinari. Zeus was enamored with Cynara's beauty and whisked her away to Mount Olympus, where he made her a goddess and his mistress. Cynara remained on Mount Olympus to be with Zeus, but over time, she began to miss her mother and eventually snuck back to Earth to see her. When Zeus discovered that Cynara disobeyed his command of never leaving Mount Olympus, he hurled her back to Earth and transformed her into an artichoke plant. Artichoke plants are said to embody Cynara's beauty as the dazzling purple flowers matched her green and violet eye color. It is also said that Zeus made the plant's exterior thorny to protect the woman's beautiful heart. This legend is embodied in the artichoke's botanical classification, as the plant's genus name is Cynara. Tinian artichokes are a semi-wild variety native to Tinos, a Greek island in the Aegean Sea within the Cyclades archipelago. The artichokes have been naturally growing on the island since ancient times, and the plants are found across the island with concentrated populations in the Komi Valley. Tinos Island contains a unique microclimate with mineral-rich, sandy-clay-like soil, and warm, sunny weather, creating an ideal environment for artichoke production. Tinian artichokes are primarily grown near the city of Komi, the village of Kabos, and the areas surrounding the settlements. Artichoke farmers drill deep into the ground to access water and train the artichoke plants to grow using very little water, a limited commodity on the island. Today Tinian artichokes are only grown on Tinos Island and are a product unique to the region. It is estimated that over 600,000 artichokes are produced annually on the island, and most of them are either consumed locally or shipped to Athens for sale through fresh markets.