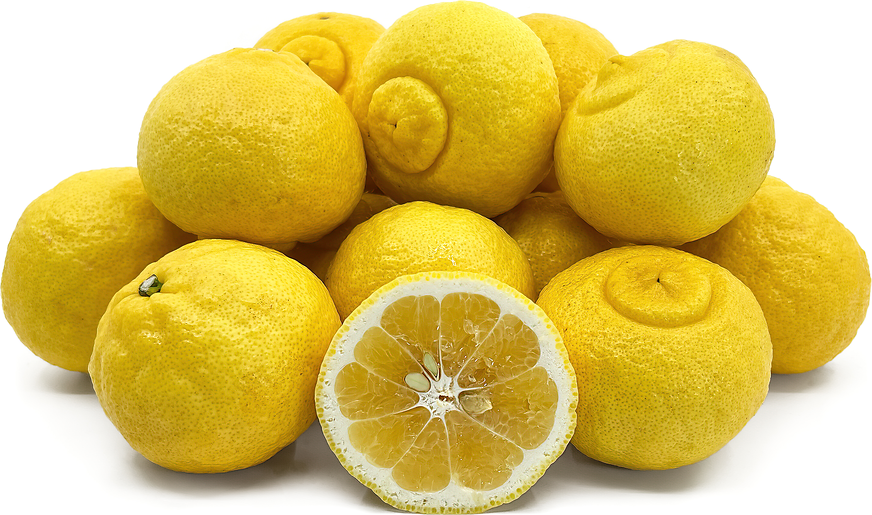 Haruka Citrus
Inventory, lb : 0
Description/Taste

Haruka citrus is a small to medium-sized varietal, averaging 6 to 10 centimeters in diameter, and has a round to ovate shape with a distinct dimple protruding from the non-stem end. The rind is bright yellow and has a smooth and glossy appearance, pocked with many small, prominent oil glands. These pores release fragrant floral, lemon, and grapefruit aromas, especially when the citrus is cut or peeled. Underneath the skin, there is a layer of spongy white pith that is edible, thick, slightly chewy, and dry, bearing a sweet flavor. The pale-yellow flesh is soft, aqueous, and divided into 10 to 11 segments by thin membranes, encasing a few to many inedible, cream-colored seeds. Haruka citrus contains a high sugar content and low acidity, creating a mild, sweet, and tangy, honey-like flavor.


Seasons/Availability

Haruka citrus is available in the late winter through spring.


Current Facts

Haruka, botanically a part of the Citrus genus, is a sweet hybrid variety belonging to the Rutaceae family. The citrus is native to Japan, discovered in the late 20th century, and was selected for cultivation for its mild flesh and edible white pith. Haruka citrus is a specialty cultivar primarily consumed fresh, and citrus enthusiasts value the fruit's low acidity, which creates a lack of sourness, a trait not commonly found in other citrus varieties. Haruka citrus is also a fast-maturing variety and has a unique yellow, lemon-like hue. In Japan, Haruka citrus is one of the more rare and unusual varieties of Japanese citrus and is localized to select specialty markets.


Nutritional Value

Haruka citrus has not been extensively studied for its nutritional properties. Like other citrus, the fruits are a source of vitamin A to maintain healthy organ functioning, skin, and eye health, and vitamin C to strengthen the immune system, boost collagen production, and reduce inflammation. The citrus also contains fiber to regulate the digestive tract, potassium to balance fluid levels within the body, copper to build connective tissues, and other amounts of vitamin B1.


Applications

Haruka citrus has a sweet and tangy, honeyed flavor well suited for both fresh and cooked preparations. The fruits are washed and roughly peeled, removing the yellow rind, but portions of the sweet and edible white pith are left intact as a unique serving feature. Haruka citrus is popularly consumed straight, out of hand, and the flesh can be tossed into salads, mixed into fruit bowls, or infused into sauces, dressings, and marinades. The citrus can also be gently squeezed over soups, sushi, and sashimi, blended into smoothies, or incorporated into cocktails, sparkling fruit juices, and beer. In addition to fresh preparations, Haruka citrus can be used to flavor cakes, custards, and candies, simmered into syrups, jams, and jellies, or candied as a sugary treat. The sweet fruits also complement savory dishes and are served with roasted meats, vegetables, or squeezed over seafood. Beyond the flesh, the rind can be dried for extended use and ground into a spice, often mixed with salt to enhance flavorings. Haruka citrus pairs well with herbs such as rosemary, cilantro, and parsley, mushrooms, carrots, fennel, nuts, meats such as poultry, lamb, and fish, ginger, and raspberries. Whole, unpeeled Haruka citrus will keep for 1 to 3 weeks when stored in the refrigerator's crisper drawer.


Ethnic/Cultural Info

Haruka citrus is extensively cultivated in the Ehime prefecture on the island of Shikoku, Japan. The popularity of the fruit remained centralized to the rural, agricultural areas of Ehime before it became recognized for its sweet flavor among specialty markets across Japan. The Ehime prefecture is known as the "citrus kingdom" and was given this title in honor of its mild, sunny, and dry climate. The prefecture is nestled between the sea and mountains, providing mineral-rich soils, ample sunshine, and a sea breeze to create a stable production region. Ehime is also the top citrus-producing prefecture of Japan and has developed a reputation for quality fruits and diverse varieties. There are citrus-themed souvenirs shops throughout the prefecture selling candies, stuffed animals, and food to promote the region and increase tourism. There is even a faucet where shoppers receive a complimentary glass of fresh orange juice after shopping at the Ehime Egao no Kanko Bussan-kan or Ehime Smile Tourist Product Center. In addition to marketing, citrus is an essential flavoring in Japanese cooking, with over ninety percent of the citrus grown in the country used for fresh applications. Haruka citrus is also used as a flavoring in the popular candy known as Puccho. The soft, gummy candy features bits of the fruits inside the pieces, and the citrus juice is mixed with yogurt to create a chewy, milky nature. Puccho candies flavored with Haruka are one of the brand's newest offerings and are advertised as having a light, floral flavor.


Geography/History

Haruka citrus was discovered in the 1980s as a natural mutation of the hyuganatsu citrus in an orchard in the Fukuoka prefecture, located on Kyushu Island in Japan. The sweet citrus variety was found in the garden of Tokuo Ishii and was created from a hyuganatsu being naturally pollinated by a natsudaidai citrus. In 1996, Haruka citrus was registered as a commercial variety, and since its introduction, the variety has remained a specialty cultivar, primarily grown in the Ehime and Hiroshima prefectures in Southern Japan. Today Haruka citrus is mainly localized to Japan and is also grown on a small scale on the Korean Peninsula. The citrus is also exported to Singapore, Hong Kong, and Taiwan, sold in fresh markets.