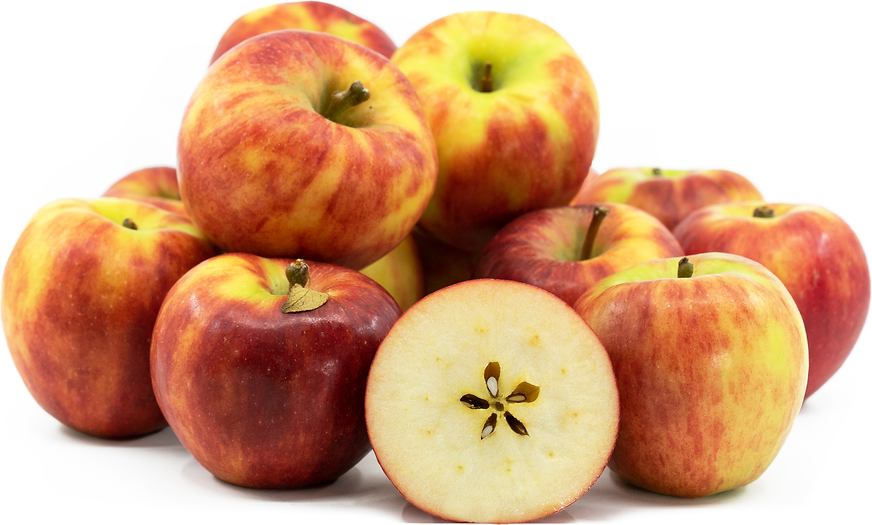 Rubinette® Rosso Apples
Inventory, lb : 0
Description/Taste

Rubinette® Rosso apples are a small to medium-sized varietal, averaging 6.5 to 8 centimeters in diameter, and have a round to conical shape with broad, flat shoulders tapering to a narrow base. The apple's skin is semi-thick, smooth, and taut, showcasing visible pale lenticels across the surface. The skin also has a golden yellow base, covered in patches of bright red and dark red blush and striping. Rubinette® Rosso apples have a more rustic appearance and an overall muted color palette compared to other commercial cultivars. Underneath the surface, the yellow flesh is fine-grained, dense, and aqueous with a crisp, succulent crunch. The flesh also encases a central fibrous core filled with tiny black-brown seeds. Rubinette® Rosso apples emit a fruity, spice-filled aroma when ripe. The apples contain high sugar and acidity, creating a balanced, sweet-tart taste with refreshing, sharp nuances mixed with honeyed, fruity, and rich undertones.


Seasons/Availability

Rubinette® Rosso apples are available in the early fall through early winter. Once harvested, the fruits can be kept in cold storage until April.


Current Facts

Rubinette® Rosso apples, botanically classified as Malus domestica, are a bi-colored variety belonging to the Rosaceae family. The mid-season fruits were discovered as a natural sport of the Rubinette® apple, a famous European cultivar for its bold, sweet, and tart but balanced flavoring. After their discovery, Rubinette® Rosso apples were released to commercial markets in the late 20th century as an improved variety of Rubinette® apples. Historically, Rubinette® apples were highly favored for their taste but were notoriously difficult to cultivate. The variety was also susceptible to diseases such as scab, leaving blemishes on the apple's surface, preventing them from being sold commercially on a large scale. Rubinette Rosso apples are less affected by scab and develop slightly redder blush, two traits that led growers to choose the sport over the original apple. Rubinette® Rosso apples ripen one week before their parent variety, Golden Delicious, and contain a similar sweet and sharp flavor profile to Rubinette® apples. When in season, Rubinette® Rosso apples are a specialty variety favored for fresh eating and baked preparations. The apples are somewhat challenging to find outside of their growing regions, but they have remained a choice variety among apple enthusiasts for their flavor.


Nutritional Value

Rubinette® Rosso apples are a source of vitamin C to strengthen the immune system, calcium to build strong bones and teeth, and fiber to regulate the digestive tract. The apples also provide potassium to balance fluid levels within the body, copper to develop connective tissues, vitamin K to assist in faster wound healing, vitamin A to maintain healthy organ functioning, and other nutrients, including manganese, zinc, phosphorus, magnesium, and vitamin E. The vibrant red hues within the skin indicate the presence of anthocyanins, pigmented compounds with antioxidant-like properties to protect the cells against the damage and oxidative stress caused by free radicals.


Applications

Rubinette® Rosso apples have a rich, sweet-tart taste suited for fresh and cooked preparations. The apples are popularly consumed straight out of hand and are enjoyed for their balanced taste and crisp, fine-grained flesh. Rubinette® Rosso apples are often showcased on charcuterie boards, or they are served with dips and nut butter. The apples are also used as a fresh topping over parfaits and smoothie bowls, sliced and layered into sandwiches, tossed into salads, or shredded into slaws. In addition to raw dishes, Rubinette® Rosso apples are favored by apple enthusiasts for their use in baked goods. The apples can be incorporated into pies, tarts, scones, muffins, and cakes and develop rich flavors when cooked into crumbles. They can also be simmered to make sauces, jams, and jellies or sauteed in browned butter and poured over ice cream as a decadent dessert. Rubinette® Rosso apples pair well with vanilla, maple syrup, brown sugar, dark chocolate, herbs such as mint, basil, and rosemary, spices including cinnamon, cloves, nutmeg, and ginger, and nuts such as almonds, walnuts, and pecans. Whole, unwashed Rubinette® Rosso apples will keep for several weeks when stored in a cool, dry, and dark place, such as the refrigerator's crisper drawer.


Ethnic/Cultural Info

Rubinette® apples were named after the variety's site of origin in Rafz, Switzerland. Rafz is a municipality in the canton of Zurich in northern Switzerland and spans over 10.7 square kilometers. Around half of the land within the municipality is utilized for agriculture, and apples are suited to the region's climate. Rubinette® apples are also known as Rafzubin, and Rubinette® Rosso apples were given a similar alternate name, Rafzubex, in honor of their parent variety. In Germany, where Rubinette® Rosso apples were discovered as a sport, the fruits are popularly used in apple-centric desserts. Apfelküchle is a traditional recipe of dipping apple slices in batter and frying them into a crisp, golden-brown consistency. The fried apple slices are reminiscent of a fritter or apple pancake and are customarily dipped in cinnamon and sugar, powdered sugar, or a sauce made from white wine, lemon juice, sugar, vinegar, and egg yolks. They can also be served with ice cream. Apfelküchle was historically served as a dish on Schmotzigen Donnerstag, translating to "Fat Thursday," which was the Thursday before Ash Wednesday. Ash Wednesday is a religious holiday that marks the beginning of the fasting season before the Easter celebration. In the modern day, the fried apple dish is served as a celebratory dessert and is prepared throughout the year. The recipe has also become a favored dessert in Switzerland, where the cooked apple slices are served hot or cold.


Geography/History

Rubinette® Rosso apples are a natural sport of the Rubinette® variety, also known as Rafzubin. Rubinette® apples were bred by fruit grower Walter Hauenstein in Rafz, a municipality in northern Switzerland. Hauenstein sought to develop a new variety that was an improved version of Golden Delicious, and in 1964, he allowed Golden Delicious apple trees to be open-pollinated by other varieties. For over 18 years, Hauenstein studied the products of various crossings and eventually selected a new variety with potential as a new commercial cultivar in 1982. It is thought the apples that Hauenstein selected were a product of a cross between Golden Delicious with Cox's Orange Pippin apples. Rubinette® apples quickly became renowned for their flavor throughout Europe, but the tree's challenging cultivation requirements limited its ability to become commercially widespread. In 1993, grower Jochen Hubschneider was cultivating Rubinette® apples when he discovered a natural mutation on one of his trees in Weinstadt, Germany. Hubschneider submitted the apples for testing, and after extensive evaluations, it was determined that the natural mutation, also known as a sport, showcased improved characteristics of Rubinette® for commercial markets. The sport was named Rubinette® Rosso, occasionally known as Red Rubinette® and Rafzubex apples. The new variety is registered under International Trademark No. 497401 and became popular in Europe in 1999. Today Rubinette® Rosso apples are cultivated on a small scale in Europe and are sold through fresh markets and select retailers. The variety is also grown through a few farms in the United States as a specialty apple.