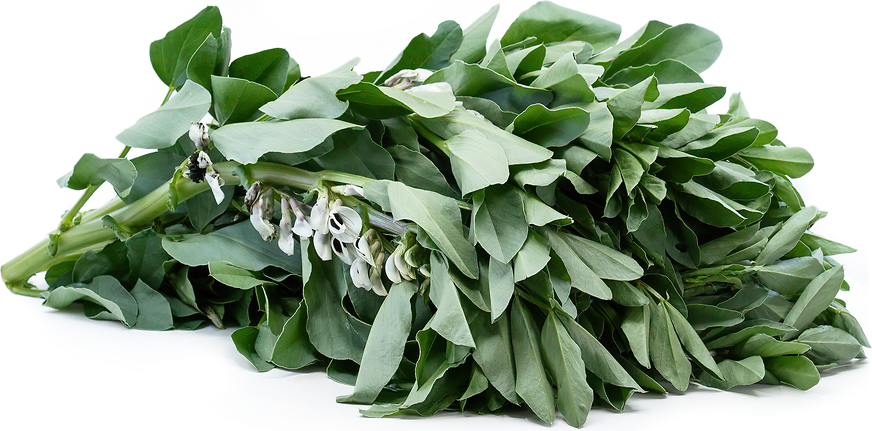 Fava Greens
Inventory, lb : 0
Description/Taste
Fava greens consist of oval to lanceolate, pointed leaves, averaging 5 to 12 centimeters in length, and grow in a pinnate formation on either side of a green, square, and hollow stem. The leaves are broad, flat, and dark green to silver-grey with a smooth, velvety texture. When harvesting, the young leaves and stems are the favored portion of the plant, as the young leaves bear a tender, crisp, and slightly chewy consistency. Mature leaves will develop a tough, thick, bitter, and more fibrous texture. Fava greens have a delicate, grassy aroma and a sweet, earthy, and vegetal flavor with nutty, green, and herbaceous nuances.
Seasons/Availability
Fava greens are available for a limited season in the spring.
Current Facts
Fava greens, botanically classified as Vicia faba, are the silver-green leaves of a bushy plant that can reach two meters in height, belonging to the Fabaceae family. The herbaceous plants are a symbol of spring and are one of the oldest cultivated crops in existence. Fava plants are mostly known for their edible beans, but the flowers and leaves are also a favored seasonal ingredient. Fava greens are traditionally harvested from the tops of the plant to capture the new growth as the younger leaves and stems have a sweeter flavor and more tender consistency. The greens are also known as Broad Bean leaves, Fava tendrils, and Fava leaves, and can be consumed fresh or lightly cooked. Chefs use Fava greens to capture the sweet, vegetal, and slightly grassy flavor similar to the beloved fava beans, but unlike the beans, the greens are easy to prepare and do not require extensive shelling, blanching, and peeling.
Nutritional Value
Fava greens are a good source of copper to maintain an optimal nervous system and folate to produce healthy red blood cells to better transport oxygen. The leaves also contain phosphorus to promote strong bones and teeth and manganese to maintain enzymes that are vital to an active metabolism.
Applications
Fava greens have an herbaceous flavor profile reminiscent of fava beans and are showcased when used fresh or lightly cooked. Young, tender leaves are best suited for fresh applications as they have a sweeter, milder flavor, and the leaves can be tossed into salads, layered onto sandwiches, or blended into a pesto. Fava greens can also be lightly heated, similar to how spinach is prepared and can be sauteed or wilted to develop a mild and delicate side dish. The cooked leaves can be incorporated into pasta, stirred into soups and stews, used as a topping over pizza, or piled on bruschetta and toast with cheeses and citrus. Fava tendrils pair well with meats such as salmon, poultry, and turkey, cheeses such as parmesan, pecorino, mozzarella, and manchego, mushrooms, peas, asparagus, citruses such as oranges, lemons, and grapefruit, nuts such as pine nuts, walnuts, and pecans, and herbs including mint, parsley, basil, thyme, and dill. The leaves should be used immediately for the best quality and flavor and will keep for 1 to 2 days when stored in a plastic bag in the refrigerator.
Ethnic/Cultural Info
Fava greens have been utilized in culinary dishes throughout Southern Italy since ancient times. In Sicily, acres of fava plants are sown as cattle feed and are also used for soil improvement and culinary preparations. While the fava bean is the most used portion of the plant, the greens often accompany the beans in soups, salads, and pasta. Vignarola, a popular Italian stew, contains fava beans, peas, artichokes, and asparagus. Fava greens are also sometimes added to the soup for extra flavoring as the recipe widely varies among Italian chefs. The fava plant is also closely associated with the Festa di San Giuseppe or the Festival of St. Joseph. The annual celebration was established during the Middle Ages and is held on March 19th to commemorate when St. Joseph provided rain to save the Sicilians from a devastating drought. Legend has it that the fava plant was one of the only plants to survive the drought, and the beans have become a symbol of good fortune. Some Italians even carry a dried fava bean in their pocket or wallet as a reminder that their needs will be provided for them. During the Festival of St. Joseph, altars are adorned with flowers, fruits, and vegetables, and fava beans and greens are used to decorate the altar to serve as a visual offering. Throughout the nine days of prayer leading up to the festival day, fava beans are also given out at Catholic churches with prayer cards as a physical reminder of what St. Joseph did for the Sicilians.
Geography/History
The fava plant is one of the oldest cultivated crops, with archeological remains found in Israel dating back to the Neolithic period, 6800 to 6500 BCE. The plants were spread across the Eastern Mediterranean and North Africa in ancient times, and the beans became a staple crop grown for animal feed and as a source of protein for human populations. Along with the beans, Fava greens have also been utilized as a culinary ingredient, but they are often overshadowed by the famous beans. In the 18th and 19th centuries, Fava plants were introduced to the New World through Italian and Portuguese immigrants. The settling families would widely plant fava beans in their home garden, but the bean did not become widespread in culinary consumer markets in the United States until the late 20th century. Today Fava greens are cultivated in temperate regions with cool seasons and are sold fresh through local markets and specialty grocers worldwide. The greens are also grown by home gardeners and are harvested for homemade culinary preparations.
Recipe Ideas
Recipes that include Fava Greens. One

is easiest, three is harder.
the other 2...