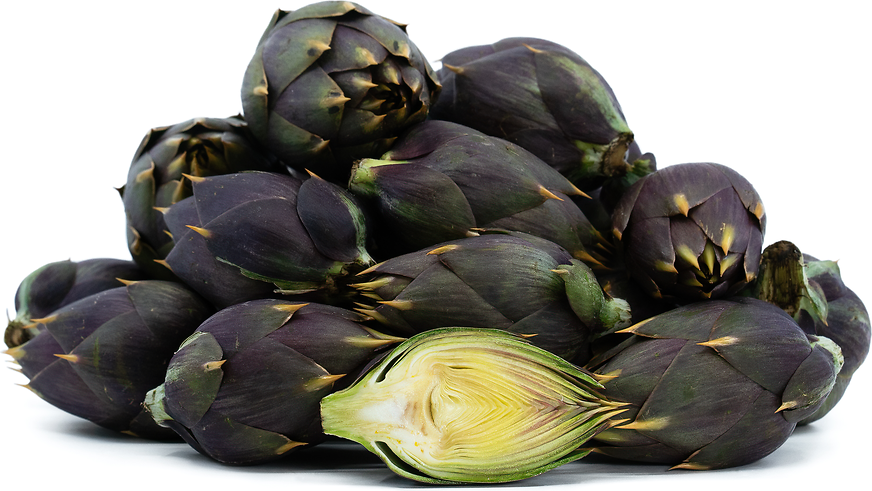 Baby Purple (Fiesole) Artichokes
Inventory, lb : 0
Description/Taste
Baby Purple artichokes are small, averaging 5 to 7 centimeters in diameter, depending on the variety and growing conditions, and generally have a round to elongated, tapered, and pointed appearance. Many consumers compare the variety's shape to the appearance of a pointed flower head, such as a tulip. The heads are comprised of overlapping layers of fleshy leaves that form around a central base. The leaves are traditionally known as bracts and have a broad, triangular shape, gently hugging the curved nature of the head. The bracts are smooth, pliable, and thin, bearing sharp spines at the top. Baby Purple artichokes are known for their dark purple, maroon, to wine-like coloring and showcase variegated hues of purple and green. This coloring will vary depending on the growing environment and climate. As the outer bracts are removed, the coloring will also lighten, transitioning into purple, pale green, to yellow hues. In the center of the head is a fleshy heart, also referenced as a core. This heart is edible and is a prized delicacy within the vegetable. One of the distinct characteristics of Baby Purple artichokes is the absence of central chokes, an inedible portion just above the heart. Baby Purple artichokes are chokeless and are entirely edible. Baby Purple artichokes should be fresh, tightly closed, and springy. When cooked, Baby Purple artichokes will develop a tender, soft consistency and have a rich, sweet, nutty, grassy, and subtly earthy, fruity flavor.
Seasons/Availability
Baby Purple artichokes are available in the late winter through spring.
Current Facts
Baby Purple artichokes, botanically classified as Cynara scolymus, is a general descriptor used for small artichoke varieties belonging to the Asteraceae family. The name Baby Purple artichoke is a misnomer, as the artichoke heads are not harvested prematurely. The heads are gathered from portions of the herbaceous plant where the artichokes are shaded by leaves, receiving less sunlight, causing them to remain small in size. Baby Purple artichokes are mature heads with a flavoring just as developed as the larger heads at the top of the plant. One of the distinct characteristics of Baby Purple artichokes is that they do not contain chokes that must be removed before consumption. Baby Purple artichokes cook faster than larger heads and are entirely edible, providing robust nutty, earthy, and grassy nuances. Many varieties are sold under the Baby Purple artichoke moniker, and some of the most popular varieties come from Italy and France. Notable varieties include Violetto di Sant'Erasmo, Livorno, Castellammare, Sicilian Baby Purple, Violetto di Toscana, and Violetto di Romagna in Italy, and Violet de Provence in France. Often in Italian markets, the artichokes may be labeled as Carciofo Violetto or Violet artichokes.
Nutritional Value
Baby Purple artichokes, like other purple artichokes, are a source of fiber to regulate the digestive tract, vitamin C to strengthen the immune system, folate to develop genetic material such as DNA and RNA, and potassium to balance fluid levels within the body. The artichokes also provide vitamin K to assist the body in faster wound healing, magnesium to control optimal nerve functioning, calcium to build strong bones and teeth, and other nutrients, including copper, phosphorus, iron, manganese, and zinc. One of the more notable aspects of purple artichokes is their pigmented coloring, which is created by the presence of anthocyanins in the skin. Anthocyanins contain antioxidant-like properties to protect the cells in the body against the damage caused by oxidative stress and free radicals.
Applications
Baby Purple artichokes have a nutty, subtly sweet, and grassy flavor suited for raw and cooked preparations. Before consumption, the tough outer bracts, also referred to as leaves, should be removed until all that is left are the tender, fleshy bracts. The tougher bracts can be simmered to create a light artichoke-flavored broth and should later be discarded. The tops of the bracts and stems should also be trimmed. Once prepped, Baby Purple artichokes can be sliced in half and sauteed in olive oil and white wine, grilled and served with bright, herbal sauces, or baked and sprinkled with toppings such as parmesan. Baby Purple artichokes can also be cooked and mashed on toast, mixed into pasta, rice dishes, and other hearty grains, or tossed into salads with vinaigrettes. Try battering and frying Baby Purple artichokes, cooking with roasted meats, or serving the heads with bagna cauda. It is important to note that most Baby Purple artichokes will retain their coloring through the cooking process, and the heads will become tender and more flavorful as they absorb accompanying flavors. Baby Purple artichokes pair well with anchovies, bacon, herbs such as basil, mint, and cilantro, butter, cheeses, especially goat, parmesan, and feta, cream, garlic, lemon, hollandaise, mushrooms, and truffles. Whole, unwashed Baby Purple artichokes will keep for 1 to 2 weeks when stored in a plastic bag in the refrigerator.
Ethnic/Cultural Info
Fiesole artichokes are a type of Baby Purple artichoke famous throughout California. Perennial artichoke breeder and Baroda Farm owner Steve Jordan developed the variety in 2004 on his farm in Lompoc, Central California. Jordan is known throughout California as the "Artichoke Evangelist" and is regarded for creating new varieties with improved appearance, texture, and flavor. Jordan also partnered with the Italian government and French and Italian seed breeders to utilize types such as Violet de Provence and Violetto di Toscana to develop cultivars like Fiesole artichokes. The name Fiesole is derived from a small town in Tuscany in the hills above the city of Florence. Fiesole artichokes were notably a part of a promotional campaign known as "The Year of Purple," a marketing plan created by Freida's Branded Produce to highlight purple-hued vegetables in 2013. The petite artichokes were favored for their ease of preparation and were promoted with other purple artichoke varieties Jordan had created, known as Sangria and Fiore de Viola artichokes. Outside of culinary uses, Fiesole artichokes have found a unique niche market in flower arrangements. The pigmented, tapered heads are traditionally used in various floral arrangements for the Lompoc Valley Flower Festival, an annual event celebrated since the early 1950s. In 2015, Steve Jordan was honored as the Grand Marshal in the festival's parade.
Geography/History
Baby Purple artichokes are descendants of varieties native to the Mediterranean and have been cultivated for centuries as a delicacy. There are many types of Baby Purple artichokes, primarily grown in Italy and Spain, and the small artichokes are harvested at peak maturity and sold in local markets as a culinary ingredient. Over time, new types of Baby Purple artichokes were created to showcase improved flavor, texture, and coloring, and varieties were introduced to regions outside the Mediterranean, including California. Fiesole artichokes were one of the most notable Baby Purple artichokes developed in California in the early 21st century. Artichoke breeder Steve Jordan of Baroda Farms in Central California established an artichoke breeding program using a laboratory to study artichokes and culturing plant tissues. The 4,200-square-foot facility was home to a team of scientists focusing on propagating artichokes to create plants with improved growth characteristics, and Fiesole artichokes were released from this program in 2004. Today Baby Purple artichokes are grown worldwide and are seasonally sold through fresh markets, distributors, and select retailers.
Recipe Ideas
Recipes that include Baby Purple (Fiesole) Artichokes. One

is easiest, three is harder.