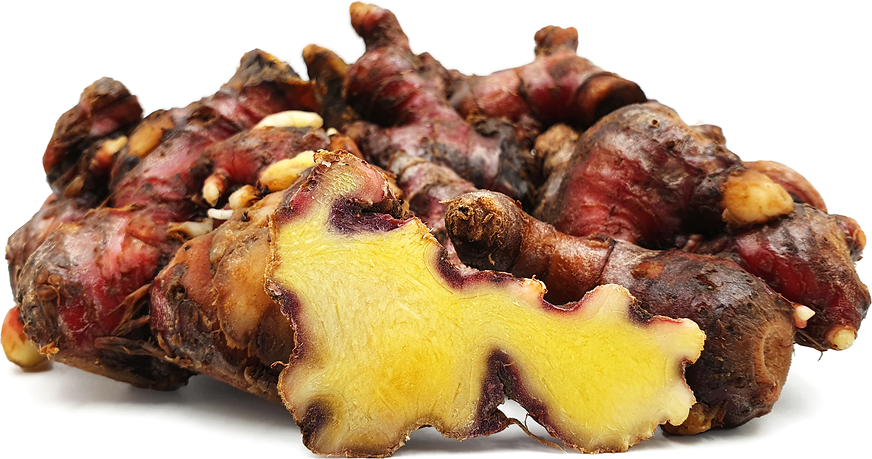 Red Ginger
Inventory, lb : 0
Description/Taste

Red ginger is a small, multi-branched rhizome, averaging 1 to 3 centimeters in diameter, found in many different shapes and sizes. The rhizomes generally have a knobby, irregular appearance, and the skin is semi-thin, tough, and variegated, showcasing dark red, brown, and golden hues. The skin is also covered in bumps, scrapes, callouses, and rings, creating a ridged feel along the surface. Underneath the skin, the flesh is tinged with dark red-purple tones just below the surface and transitions into a saturated golden yellow center. The flesh is also firm, dense, and fibrous with a chewy, crisp consistency. Red ginger is highly fragrant with a sharp, woody, and spicy scent. When fresh, Red ginger contains a pungent, subtly sweet, warm, peppery, earthy, and bitter taste. The variety is known for having a stronger aroma and flavor than common ginger. Along with the rhizomes, Red ginger produces slender stems with narrow, green, and pointed, lanceolate-shaped leaves extending 5 to 25 centimeters in length.


Seasons/Availability

Red ginger is available year-round.


Current Facts

Red ginger, botanically classified as Zingiber officinale var. rubrum, is a tropical plant that produces pungent rhizomes belonging to the Zingiberaceae family. The leafy plants grow on slender stalks reaching 50 to 100 centimeters in height and develop underground rhizomes that extend horizontally through the soil. Red ginger is native to Southeast Asia and is primarily harvested as a medicinal ingredient approximately 8 to 9 months after planting. The red-skinned rhizomes are smaller than common ginger but offer a stronger flavor and aroma, incorporated into teas and tonics in natural medicines. Red ginger is also used in some culinary preparations as a spice and flavoring. In Indonesia, Red ginger is known as Jahe Merah, and in Malaysia, it is known as Halia Bara and Halia Merah. The aromatic rhizomes are grown throughout Southeast Asia on a small-scale, sold fresh, dried, and powdered, and are typically found through local vendors, health food stores, and in-home gardens.


Nutritional Value

Red ginger is utilized in natural medicines as an anti-inflammatory, antioxidant, analgesic, and antiemetic. The rhizomes are high in flavonoids, which help the body fight against free radicals, boost the immune system, and reduce inflammation. Red ginger is also a common remedy for sore throats, boiled and consumed as a hot beverage. In addition to flavonoids, Red ginger provides zingerone, shogaol, and gingerol, compounds that give the rhizomes their zesty, spice-like taste and contain properties to fight against infections. In Southeast Asia, Red ginger is consumed in tonics and beverages to relieve indigestion, fevers, and infections, and the rhizomes are believed to soothe sore muscles and assist in muscle recovery.


Applications

Red ginger has a spicy, peppery, and earthy flavor well suited as a flavoring in raw or cooked culinary preparations. When raw, the rhizome can be peeled and finely minced, added to green salads, aromatic side dishes, sauces, and dips, or they can be blended into dressings and marinades. Red ginger can also be pressed to extract the juice and mixed into fruit juices, tea, and other warm beverages. It is important to note that Red ginger has a more robust flavor and aroma than common ginger, so it should be added in small amounts until the desired taste is acquired. In addition to raw uses, Red ginger can be cooked into noodles, tofu, or rice dishes, tossed into soups, curries, roasts, and stews, or used to flavor meat and vegetable dishes. The rhizomes are also favored for their ability to mask and neutralize fishy odors, used in seafood dishes to balance flavorings. Beyond raw and cooked preparations, Red ginger is sometimes pickled as a zesty, tangy condiment, or it is dried and ground into a powder, sprinkled over dishes as a spice for complex flavoring. Red ginger pairs well with spices such as cinnamon, cloves, curry powder, and cardamom, aromatics including lemongrass, pandan leaves, shallots, chives, scallions, and chile peppers, palm sugar, citrus, coconut milk, and meats such as poultry, beef, pork, and fish. Whole, unpeeled Red ginger rhizomes will keep for several weeks when stored in a paper or plastic bag in the refrigerator's crisper drawer. The rhizomes can also be grated and frozen for extended use.


Ethnic/Cultural Info

Red ginger is traditionally consumed in Southeast Asia as a medicinal ingredient. The rhizomes are favored during the rainy season to help ward off cold, flu, and other sicknesses, and ginger is believed to warm the body, stimulating the immune system, mind, and spirit. In Indonesia, several traditional drinks incorporate Red ginger, and each drink may be made with additional ingredients, depending on preference. Wedang jahe is one of the most popular beverages utilizing Red ginger and is generally comprised of ginger root, palm sugar, cloves, lemongrass, pandan leaf, cardamom, and peppercorns. The ingredients are boiled together, strained, and consumed as a soothing drink. Red ginger is also used in bandrek, a mixture of ginger, cinnamon, and palm sugar. Other ingredients are sometimes added into bandrek, such as coconut milk, sweetened condensed milk, and spices, and the drink is customarily served at night to relax the body. In Central Java, sekoteng is a hot beverage made with condensed milk and ginger root syrup, drunk before bed to encourage better sleep. The milky drink is sold through local night vendors and is topped with various items such as peanuts, sago pearls, coconut, or diced bread, creating a smooth, slightly chewy, and pleasant texture.


Geography/History

Red ginger is native to tropical and subtropical regions of Southeast Asia and has been growing wild since ancient times. The plants are primarily grown for their aromatic rhizomes, and the medicinal nature of the ginger has led to it being spread by migrating peoples and merchants throughout Asia. Red ginger was also carried to Africa and planted for medicinal and culinary use. Today Red ginger is mainly grown in Southeast Asia, specifically Malaysia and Indonesia, and is also cultivated on a small scale in China, India, and Africa. Red ginger rhizomes are not common in local markets and can be found through local vendors at wet markets, health food stores, and select retailers. It can also be found in powdered or capsule form through online health purveyors.