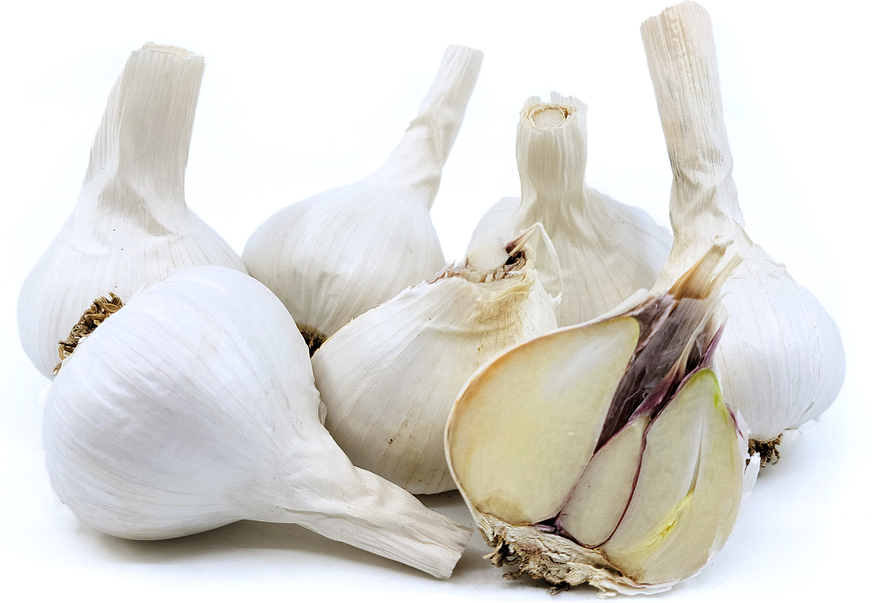 Rosso Garlic
Inventory, lb : 0
Description/Taste

Rosso garlic is a small to medium-sized varietal, averaging 5 to 7 centimeters in diameter, and has a uniform bulbous shape, tapering from a wide bottom to a narrow cylindrical neck. The compact bulbs are tightly closed, wrapped in a thin sheath of brittle, parchment-like white layers. If the protective layers are removed, the bulb will reveal anywhere from 8 to 14 cloves individually covered in a purple, burgundy, to red-brown casing, situated around a central hard stalk. This covering sometimes showcases dark red striping and is semi-tough, clinging snugly to the clove. The white cloves are smooth, fleshy, crisp, aqueous, and dense, emitting a robust aroma when unwrapped. Rosso garlic has a rich but mellow, earthy flavor combined with sweet, musky, spicy, and savory nuances, creating a prominent but not overpowering taste. It is important to note that Rosso garlic may become more pungent the longer it is kept in storage, and the variety is known for its lack of bitterness, a typical aftertaste among other garlic cultivars.


Seasons/Availability

Rosso garlic is harvested in the early to mid-summer. The dried bulbs keep well and can be stored well into the late spring.


Current Facts

Rosso garlic, botanically classified as Allium sativum, is an Italian heirloom belonging to the Amaryllidaceae family. The name Rosso translates from Italian to mean "red" and is a descriptor used to describe hardneck garlic that is a part of the creole subgroup. Creole garlic was introduced to Italy from Spain through Spanish Conquistadors, and the plants flourished in Italy's warm, sunny climate. This garlic type is also known for its easy-to-grow nature, heat tolerance, and extended storage capabilities. In Italy, Rosso garlic is sometimes labeled as Aglio Rosso and is a general descriptor used for the Creole-type garlic in local markets. Its name is also used interchangeably with Aglio Rosso di Sulmona, or Red Sulmona garlic, the most famous Rosso garlic produced in a specific geographic region of Eastern Italy. Rosso garlic is sold fresh in the spring and dried in the fall and winter. The flowering stalks are also pulled by hand and sold fresh, mixed into sauces, or blended into pastes as a specialty crop. Italian chefs favor Rosso garlic for its subtly sweet, aromatic, and rich flavoring without any lingering bitterness. Despite its popularity, the variety is considered rare as it has suffered from soil diseases, lack of production, and fraud. Rosso garlic is a specialty garlic variety grown in limited quantities in Europe and the United States.


Nutritional Value

Rosso garlic is a good source of manganese to develop connective tissues, vitamin B6 to maintain a healthy nervous system, and vitamin C to strengthen the immune system while reducing inflammation. The cloves also provide thiamin, a vitamin that assists the body in breaking down food into energy, as well as minerals including copper, selenium, phosphorus, and calcium. In addition to vitamins and minerals, Rosso garlic contains high amounts of allicin, an oily compound found within the cloves that gives the garlic its robust aroma and helps to regulate blood pressure. In Italy, Rosso garlic is used as a natural cold and flu remedy, steeped in hot water with bay leaves and lemon slices, and consumed as a soothing beverage.


Applications

Rosso garlic has a mellow, rich, and complex flavoring suited for fresh and cooked preparations. The garlic is considered a staple base flavoring in Italian cooking and is a favored choice for raw culinary dishes as the cloves are slightly sweet and void of bitterness. Rosso garlic can be thinly sliced into salads, minced into bruschetta, combined into sauces, vinaigrettes, and dips, or rubbed onto toasted bread for added flavor. The garlic can also be cooked into scrambled eggs, added to soups and stews, or cooked with roasted meat and vegetables. In Italy, Rosso garlic is often incorporated into spaghetti algio e olio, a pasta dish of olive oil, garlic, cheese, and parsley and olio e pepperoncino, spaghetti with pepper, garlic, and olive oil. Rosso garlic can be sliced, minced, pureed, chopped, or pressed into culinary dishes, and slicing the cloves helps to coax out the variety's rich flavor. The garlic can also be used in any recipe calling for garlic and complements flavors found in various cuisines worldwide outside of Italian. In the spring, Rosso garlic's flowering stalks are harvested and are chopped into salads, cooked with meat and herbs, sauteed into omelets, minced into dips and butter, or preserved in olive oil. Rosso garlic pairs well with herbs such as rosemary, oregano, thyme, and parsley, crushed red pepper, cheeses including parmesan, mozzarella, and pecorino, meats such as poultry, beef, and pork, and seafood such as shrimp, scallops, clams, and fish. Whole, unpeeled Rosso garlic will keep up to one year when stored in a cool and dry place away from direct sunlight. The cloves can also be sliced and stored in a sealed container in the refrigerator for up to one week.


Ethnic/Cultural Info

Aglio Rosso di Sulmona is the most famous Rosso garlic grown in the Abruzzo region of Eastern Italy. The garlic is named after the small city of Sulmona and is a traditional crop grown for its culinary and medicinal uses. Aglio Rosso di Sulmona, also known as Red Sulmona garlic, is harvested in the mid-summer, and the bulbs are left to dry in the warm sun for 10 to 15 days without the need for further treatment through the use of chemicals. After drying, the bulbs are separated into different piles according to size, and the stalks are hand braided to create a singular grouping. It is customary for Sulmona garlic braids to include 52 bulbs, a practice allowing one garlic bulb for each week of the year. The braiding of the 52 bulbs is also meant to highlight the variety's extended storage capabilities, a valued factor in Italian home cooking. Throughout history, Aglio Rosso di Sulmona has been a treasured Italian heirloom garlic, and several growers outside of the region have tried to grow similar-looking garlic and falsely label it as Aglio Rosso. Aglio Rosso di Sulmona eventually received a Protection of Geographical Indication, or PGI, a label protecting the authentic garlic in Abruzzo from being mistaken with fraudulent garlic.


Geography/History

Rosso garlic is native to Italy and was derived from ancient creole garlic brought from Spain to Italy through Spanish Conquistadores. The red-clove garlic was planted throughout Central and Southern Italy and flourished in areas of the Abruzzo region. The first written records of garlic in Abruzzo date back to the mid-19th century and were documented by historian Panfilo Serafini. Throughout history, Rosso garlic production has suffered due to trade regulations, disease, and other cultivation complications, and as of 1929, it was reported that less than 15 hectares of the garlic were being grown in Sulmona in the Abruzzo region. Rosso garlic was listed on Slow Food's Ark of Taste in the 1980s, and efforts by select Italian growers are being made to preserve the variety. Today Rosso garlic is grown in several towns throughout Abruzzo, Italy, and is also cultivated on a small scale as specialty garlic in other regions of Europe and the United States. Dried Rosso garlic is exported from Italy to countries in Europe, Japan, and Australia. The dried garlic is also sold locally through farmer's markets and farm stands.