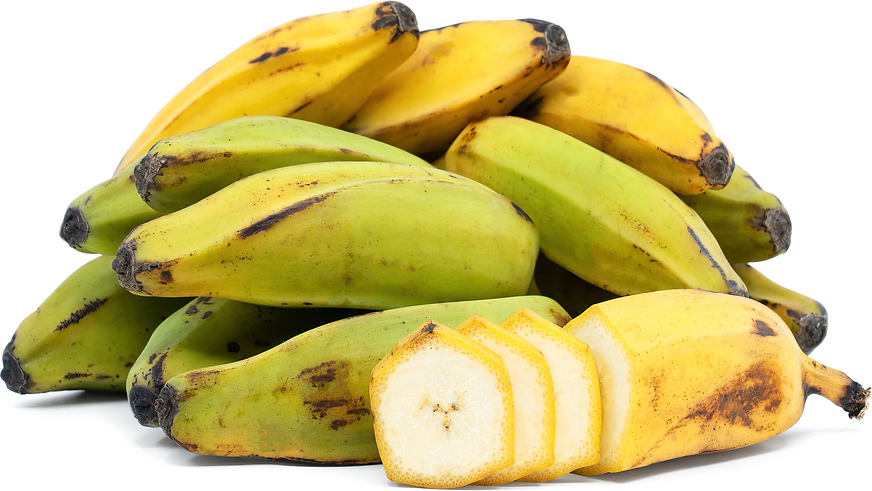 Burro Bananas
Inventory, 10 lbs : 1.52
This item was last sold on : 11/24/23
Description/Taste
Burro bananas are a small to medium-sized varietal, averaging 15 to 20 centimeters in length, and have a cylindrical shape with slight tapering toward the non-stem end. The variety is characteristically short, stubby, and thick, showcasing distinct angular ridges that extend the length of the fruit. These defined ridges help to distinguish Burro bananas from other small banana varieties, and the peel is semi-thick, pliable, and smooth. When young, the peel exhibits a green to dark green hue, but as it ripens, it transitions into shades of golden yellow. Ripe Burro bananas are also covered in brown netting or black-brown spots, patches, and markings when ripe, but this coloring is superficial and does not affect the quality of the flesh. Underneath the surface, the ivory to cream-colored flesh is somewhat starchy, dense, firm, and potato-like when young and unripe, softening into a creamy, crisp, and chewy consistency when mature. Burro bananas have an unusual texture as it is soft and smooth on the outside and slightly crisp on the inside. The flesh also encases a few tiny black edible seeds in the center of the fruit. These seeds are unnoticeable and are about the size of a quinoa grain. Young Burro bananas have a vegetal, tart, and tangy taste when cooked with nuances of citrus and apples. As the bananas mature, they become soft, mild, and have a subtly sweet and fruity flavor with lemon-like undertones.
Seasons/Availability
Burro bananas are available year-round.
Current Facts
Burro bananas, botanically classified as Musa paradisiaca, are a dual-purpose species belonging to the Musaceae family. The fruits grow in bunches on hardy, cold-tolerant plants reaching 4 to 6 meters in height and are primarily found throughout the Americas, where the species is planted ornamentally and commercially. Burro bananas are also known as Chunky bananas, a name given for their blocky, square, and thick nature, and as Largo, Hog, Bluggoe, Horse, and Orinoco bananas. Growers favor Burro bananas for their resistance to disease, vigorous growth, wind-resistant foliage, and compact size. In some regions, Burro banana plants also produce fruits year-round, providing a steady supply of fruits for commercial markets. Burro bananas are a versatile species with the ability to be consumed fresh or utilized in cooked preparations, and the mild nature of the flesh allows it to be incorporated into sweet or savory recipes.
Nutritional Value
Burro bananas are a source of potassium to balance fluid levels within the body, calcium to build strong bones and teeth, and fiber to regulate the digestive tract. The variety also contributes magnesium to control optimal organ functioning, vitamin C to strengthen the immune system while reducing inflammation, copper to develop connective tissues, and other nutrients, including iron, zinc, and phosphorus. One of the unique characteristics of Burro bananas is their alkaline nature. There are only a few banana varieties in existence that are considered alkaline, and Burro bananas are distinct as they are not hybridized or genetically modified. The efficacy of alkaline foods is heavily debated, and most claims have not been scientifically proven, but some consumers believe alkaline foods help to balance acidic foods in the body. Keeping the body balanced is thought to prevent disease and reduce metabolic waste build-up.
Applications
Burro bananas can be consumed in their unripe and ripe stages, suited for fresh and cooked preparations. When young and green, Burro bananas are typically cooked as they have a starchy consistency and are tossed into curries or sliced thin and fried into chips. Green Burro bananas can be used in any recipe calling for plantains. Ripe Burro bananas can be consumed raw, like common dessert bananas, and they are often sliced and used as a fresh topping over cereal, porridge, and pancakes. Burro bananas can also be added to fruit salads, dipped whole in chocolate, sliced over toast, or blended into shakes and smoothies. Try blending and freezing Burro bananas into ice cream as a refreshing treat. Burro bananas complement both savory and sweet recipes. In Mexico, Burro bananas are battered and fried into fritters, sliced and roasted as a side dish, or folded into cakes, pudding, and bread batters. In the Caribbean, Burro bananas are also sliced and roasted into French fries or caramelized as a sweet side dish. In addition to the flesh, Burro banana peels are sometimes washed, lightly boiled, and cooked as a meat substitute. Burro bananas pair well with meats such as poultry, pork, and beef, legumes, and fruits including coconut, pineapple, berries, and passion fruit. Whole, unpeeled Burro bananas should be ripened at room temperature. Once ripe, Burro bananas may be refrigerated for a few days, but it is recommended to consume them immediately after ripening for the best quality and flavor.
Ethnic/Cultural Info
Burro bananas are named after the domesticated hoofed mammal commonly found in Mexico. "Burro" is the Spanish name for "donkey," and the bananas received this animal moniker from their similarity in stature to donkeys. Burro bananas are smaller, shorter, and thicker than Cavendish bananas, the most commercially produced variety. These differences are similar to comparing donkeys to horses. Burro bananas were also given their name for their use as livestock feed. Historically, the fruits were fed to livestock in the Caribbean and Mexico to nourish the animals, including chickens, donkeys, and pigs. In South America, Burro bananas are known as Orinoco bananas, named after Venezuela's Orinoco River Valley. The Orinoco River is the fourth largest river in the world and one of the longest rivers in South America, behind the Amazon River. This region is famous for producing cold-hardy banana varieties, and the plants thrive along the banks of the river, where they are grown extensively for commercial production.
Geography/History
Burro bananas are descendants of banana species introduced to the New World from Southeast Asia through Spanish explorers in the 16th century. The first banana plants were thought to have been planted in the Caribbean, and over time, bananas were carried to Mexico. Burro bananas are hypothesized by scientists to have been first cultivated in Mexico and were spread into South America through Venezuela and Brazil. The species was also planted in Florida in 1610 and were planted throughout the Gulf and in Southern California as a specialty cultivar. Today Burro bananas are commercially produced and grown in home gardens throughout the Americas. The bananas are cultivated year-round and are sold through fresh markets, distributors, and select grocers.
Recipe Ideas
Recipes that include Burro Bananas. One

is easiest, three is harder.
Podcast