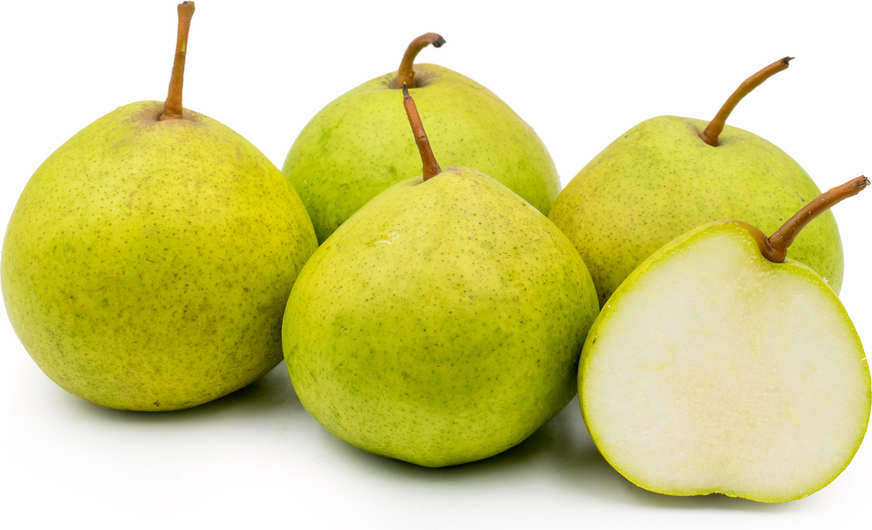 Belle De Bruxelles Pears
Inventory, lb : 0
Description/Taste
Belle de Bruxelles pears are a medium to large varietal, averaging 6 to 7 centimeters in diameter, and have a squat, rounded appearance with a broad base, tapering slightly towards the stem. The brown, slender stem reaches around 2 to 3 centimeters in length, and the skin is thick, showcasing yellow-green hues and the occasional red-brown blush. The skin is also smooth and lightly textured with tiny grey russet dots. Underneath the surface, the white flesh is tender, aqueous, and seedless with a succulent texture. The flesh is often described as somewhat coarse and gritty at the center of the fruit, becoming smoother and buttery just below the skin. Belle de Bruxelles pears have a faint aroma and contain a blend of sweet and sour, floral, and musky flavors.
Seasons/Availability
Belle de Bruxelles pears are available in the fall.
Current Facts
Belle de Bruxelles pears, botanically classified Pyrus communis, are a heritage variety belonging to the Rosaceae family. The large pears grew on deciduous trees native to Europe and were planted throughout France, Belgium, and Germany in the 18th and 19th centuries. Belle de Bruxelles translates from French to mean "Beauty of Brussels," but despite its Belgium city moniker, the variety's origins are mostly unknown. Belle de Bruxelles pears have acquired many names throughout history, including Belle d'Aout, Grosse-Bergamotte de'te, Hampden's Bergamot, Bergamotte de Bruxelles, and Fanfareau. The variety is favored among home gardeners for the tree's productive nature and the fruit's attractive appearance, but Belle de Bruxelles pears have a short shelf life once harvested, preventing them from being commercially grown. In the modern-day, Belle de Bruxelles pears are a rare variety grown mostly through pear enthusiasts in Europe, consumed fresh, out of hand.
Nutritional Value
Belle de Bruxelles pears are an excellent source of copper to help develop vital connective tissues and vitamin C to strengthen the immune system while reducing inflammation. The pears also provide fiber to regulate the digestive tract, folate to produce healthy red blood cells, potassium to balance fluid levels within the body, vitamin K to promote faster wound healing, and contain antioxidants to guard the cells against free radical damage along with magnesium, calcium, iron, phosphorus, vitamin A, and vitamin B6.
Applications
Belle de Bruxelles pears have a sweet, subtly tangy flavor well suited for fresh and cooked preparations. The pears can be consumed straight, out of hand, or they can be chopped into salads, mixed into fruit bowls, or eaten as an edible topping over yogurt. Belle de Bruxelles pears can also be pureed into beverages and cocktails, sliced and served on cheese boards, or layered into sandwiches. In addition to fresh preparations, Belle de Bruxelles pears are sometimes used for cooking practices such as stewing or poaching. A famous French pear recipe involves poaching pears and covering them in a rich chocolate sauce. The pears can also be folded into crepes drizzled with a plum brandy sauce, baked into tarts, cakes, and other pastries, or used as a pear substitute in roasted meat side dishes. Belle de Bruxelles pears pair well with nuts such as almonds, walnuts, and pecans, honey, brown sugar, maple syrup, vanilla, chocolate, and meats including poultry, pheasant, and duck. Whole, unwashed Belle de Bruxelles pears have a short shelf life and will only keep for a few days at room temperature or up to one week when stored in the refrigerator's crisper drawer.
Ethnic/Cultural Info
Belle de Bruxelles pears were widely cultivated in the region of Normandy in Northern France during the 18th and 19th centuries. Pears are considered a local specialty of Normandy as the region's cooler climate provided optimum growing conditions for orchard fruits, especially pears and apples. Experts believe ancient pear varieties were being cultivated in France sometime before the Middle Ages, and the fruits were used in both beverages and culinary dishes. One of Normandy's most popular pear-centric dishes was the tarte aux poires Normande, or the Normandy pear tarte. This flaky, sweet dessert is comprised of thinly sliced pears layered with sugar, vanilla, eggs, and butter in a lined pastry crust and was traditionally served with ice cream, cream, or custard. While it is unknown if Belle de Bruxelles pears were extensively used in pear cider making or baked goods, the variety was known under the name of Fanfareau among home gardeners. Several records, including writings from an author known as Prevost, mention a French nurseryman named Jourdain, a gardener who had been attempting to spread the variety. Jourdain was giving away Belle de Bruxelles graftings under the name of Fanfareau to other local growers to encourage the preservation of the old variety.
Geography/History
Belle de Bruxelles pears are native to Europe and are a heritage variety that has been known since at least the 18th century. The origins of the variety are unknown, with some experts tracing the fruits to Germany, while others believe it is native to France. Regardless of its exact origins, Belle de Bruxelles pears were cultivated in Germany sometime around 1789 and were well-known in Normandy, France, by the early 1800s. Belle de Bruxelles pears were mostly planted throughout the 19th century across Europe and were common in private orchards, but the fruits never became a popular cultivar due to their short shelf life. Over time, the variety was replaced with modern pear cultivars that showcased improved flavors and storage capabilities. Today Belle de Bruxelles pears are a rare variety predominantly localized to Europe, specifically regions of France, England, Belgium, and Germany.
Podcasts