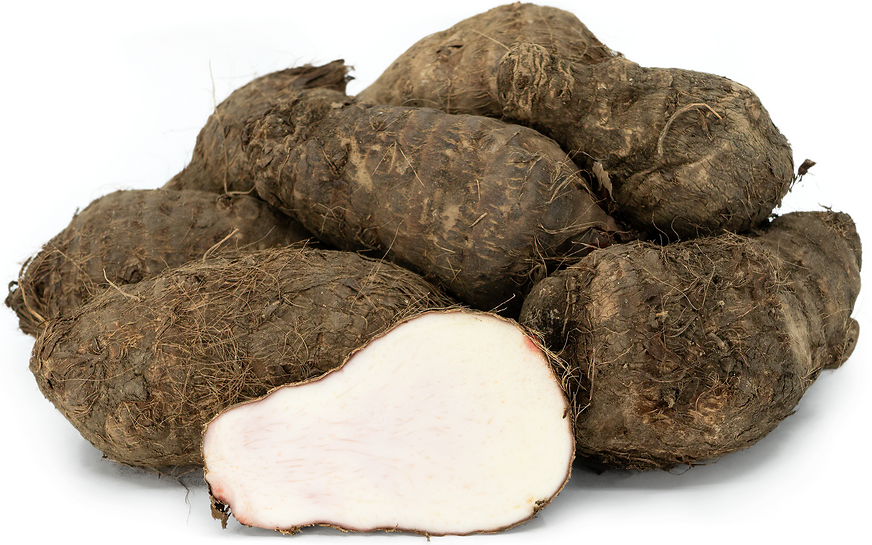 Lila Malanga Root
Inventory, lb : 0
Description/Taste

Malanga Lila are swollen roots or corms that grow underground in varying sizes and have a blunt, rounded end that slightly tapers forming an elongated, conical shape. The thick, mottled skin is dark brown, hairy, and bumpy with ring-like patterns across the surface. Underneath the skin, the flesh is crisp, juicy, and dense, similar to the consistency of a water chestnut, and has a white-purple hue with violet and grey undertones. When cooked, Malanga Lila develops a soft and creamy texture with an earthy and nutty flavor.


Seasons/Availability

Malanga Lila is available year-round.


Current Facts

Malanga Lila, botanically classified as Xanthosoma violaceum, are the edible corms of a large-leafed plant that can reach up to two meters in height and belongs to the Araceae family. Also known as Yautia Lila and Malanga Colorada, Malanga Lila is closely related to taro and is often mistaken for it in markets as both the root's names are used interchangeably even though they are botanically different. Malanga Lila is widely used in Cuba and Puerto Rico, favored for its earthy flavor, and is incorporated into a variety of culinary applications as a starchy base or thickener. It is also commonly used as a potato substitute in recipes.


Nutritional Value

Malanga Lila is a good source of vitamin C, potassium, phosphorus, and magnesium and also contains some iron and calcium.


Applications

Malanga Lila must be cooked before consumption to eliminate the naturally occurring chemical compound known as calcium oxalate, which can cause irritation if not removed. The hairy skin should also be removed before cooking. Malanga Lila is popularly boiled, and it is important to note that the purple hues in the flesh will turn into a grey, putty-like tone once cooked. When boiled, the corm develops a soft, crumbly texture and can be mashed with olive oil, butter, or cream to create a creamy side dish similar to mashed potatoes. The corm can also be thinly sliced and baked into chips, boiled into soups or stews as a natural thickener, sliced, baked, and tossed into salads, or shredded and formed into pancakes or fritters. Malanga Lila pairs well with garlic, chiles, black beans, celery, carrots, ginger, basil, thyme, nutmeg, walnuts, cheeses such as goat and parmesan, and meats such as sausage, poultry, beef, or fish. The root will keep up to one week when stored at room temperature in a humid environment as malanga can quickly dry out.


Ethnic/Cultural Info

Malanga Lila is highly favored in Puerto Rico and Cuba where it is often labeled as "Lila" in the markets. The violet-hued root is a filling, high caloric element in dishes with a flavorful earthy and nutty taste. In Puerto Rico, Malanga Lila is widely used in complex, traditional dishes and is popular in soups such as mondongo which uses vegetables, starches, and fish such as tripe, or it is used in alcapurrias, which are croquettes stuffed with chickpeas, olives, chiles, meat, and starches. In addition to its hunger sustainment, Malanga Lila is also one of the most hypoallergenic foods as it has smaller starch grains, which makes it easier to digest. The root is dried and ground into a flour and used as a hypoallergenic substitute for wheat flour.


Geography/History

Malanga Lila is native to Central and South America, growing wild since ancient times, and grows well in tropical to subtropical climates. In the mid-1800s, Spanish explorers discovered the root in Central America and brought it on voyages to West and Central Africa and to Cuba, Haiti, and the Dominican Republic, spreading the root to tropical climates across the world. Today Malanga Lila is still found growing wild and is cultivated on a small scale for sale at specialty grocers and farmers markets in the Caribbean, Central and South America, Asia, Southeast Asia, the South Pacific, and Africa.