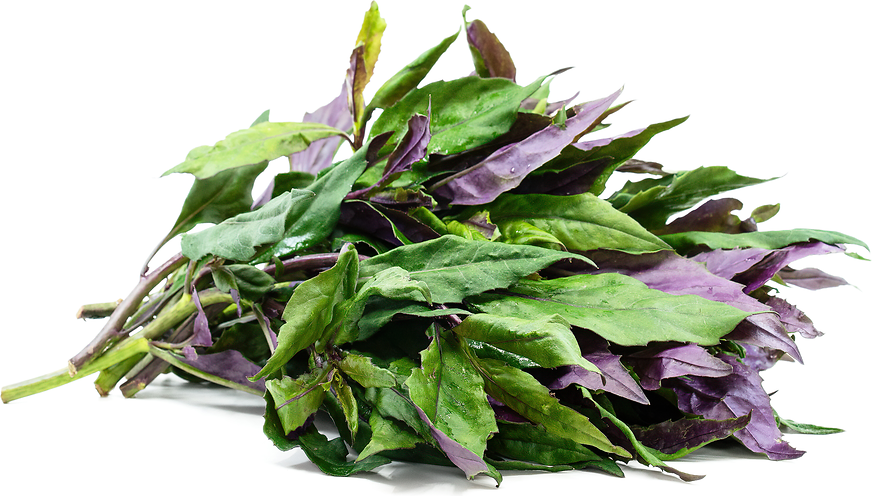 Kinjiso Leaves
Inventory, lb : 0
Description/Taste

Kinjiso leaves are small to medium in size, averaging 7 to 10 centimeters in length and 2 to 4 centimeters in diameter, and have a lanceolate shape tapering to a distinct point on the non-stem end. The leaves bear jagged edges that are soft to the touch, prominent veining, and showcase an emerald green hue on the top of the leaf and a royal purple tone on the underside. Some types of Kinjiso may be covered in soft, short hairs, and the leaves have a pliable, smooth, somewhat rubbery, semi-thick, and glossy nature. The pale green stems display ribbing and can be found in purple, red, or green shades. When raw, Kinjiso has a crisp, chewy, and succulent consistency. Once cooked, the leaves become soft, slimy, and slightly mucilaginous. Kinjiso has an earthy, grassy, subtly nutty, and somewhat bitter taste.


Seasons/Availability

Wild Kinjiso is available in the summer through early winter in Japan. Greenhouse-grown plants are available year-round.


Current Facts

Kinjiso, botanically classified as Gynura bicolor, is a tropical to subtropical species belonging to the Asteraceae family. The leafy plants are native to Asia, typically reaching around 40 to 50 centimeters in height, and have a vining or bushy nature, depending on if they are pruned or left wild. Kinjiso is a Japanese name for the species, and this descriptor is primarily used for crops grown in the Ishikawa Prefecture. The species is also known as Kinjisou, Suizenji, Shikibuso, Hadama, and Padama in other regions of Japan, Hong Feng Cai in China, and Okinawa spinach in English. Kinjiso is a traditional summer crop, and there are two main varieties, a solid green type and a bi-colored cultivar with green and royal purple leaves. In Japan, Kinjiso is most closely associated with the bi-colored type, and growers favor the plants for their fast-growing nature, disease and drought resistance, and ability to thrive in warm temperatures. In the modern day, Kinjiso is valued as a culinary and medicinal herb, but it is not widely grown and is only available in limited quantities.


Nutritional Value

Kinjiso is a source of calcium to build strong bones and teeth, iron to develop the protein hemoglobin for oxygen transport through the bloodstream, and vitamin C to boost the immune system. The leaves also provide magnesium to control optimal nerve functioning, zinc to repair damaged tissues, vitamin E to reduce inflammation, and other nutrients, including phosphorus and vitamins K, B2, and A. Bi-colored Kinjiso contains anthocyanins, colored pigments that give the leaves their purple hue. Anthocyanins provide antioxidant-like benefits to protect the cells against the damage caused by free radicals.


Applications

Kinjiso has an earthy, herbal, and subtly bitter taste suited for fresh and cooked preparations. The greens should be washed, and only the leaves are used for culinary purposes. Washed Kinjiso can be shredded raw into salads or added to various side dishes. Beyond raw preparations, the greens are popularly cooked, developing a slimy, gelatinous, slightly sticky consistency. Cooked Kinjiso also releases pigment from the leaves when heated, sometimes coloring rice and broths with a purple, red-pink hue. Try using Kinjiso in tempura, simmering in soups or porridges, or stir-frying with garlic and pork. The greens can also be steamed and added to rice or noodles, blanched and dipped in ponzu sauce, lightly cooked in a dashi broth, or pickled as a tangy condiment or topping. Kinjiso pairs well with herbs such as cilantro, scallions, lemongrass, and basil, sesame oil, mirin, soy sauce, sake, and aromatics such as garlic, ginger, chile peppers, onions, and shallots. Unwashed Kinjiso should be wrapped in paper towels or damp newspaper and stored in a sealed container for up to one week in the refrigerator. Consuming the greens immediately after harvest is recommended for the best quality and flavor.


Ethnic/Cultural Info

Kinjiso is one of fifteen traditional vegetables of Kanazawa, Japan. The colorful greens are known as Kaga-Yasai, meaning "Kaga Vegetables," a descriptor used by the city to denote special crops that have been cultivated in the region since the late 19th century. Kaga-Yasai vegetables are an official brand of the Ishikawa Prefecture and are recognized for their history and distinct flavor, texture, and appearance, created from the region's terroir. Historically, vegetables, including Kinjiso, were seasonally grown in Kanazawa during the Edo period, but as consumer demand increased and growers were forced to cultivate items for mass production, many traditional vegetables faded from the markets. In 1997, a movement in Kanazawa led by government officials and growers led to a resurgence in cultivating traditional vegetables of the region. The brand Kaga-Yasai was established, and fifteen items were selected to embody the Kanazawa region. Presently, Kinjiso is famously cultivated in fields just north of Kanazawa in the town of Tarawara. This region is also known as a satoyama area, meaning "village mountains," and is comprised of farmlands, grasslands, and forests. Satoyama is a site where humans coexist with nature, and growers rely on knowledge acquired through familial generations in these areas to continue cultivating traditional vegetables.


Geography/History

Kinjiso is native to Asia and has been growing wild since ancient times. Much of the history of the species is unknown, but experts hypothesize that it was prevalent in China, Taiwan, India, Nepal, and Myanmar. In the Edo period, spanning from 1603 to 1868 CE, Kinjiso was transported on ships from China to Japan and was introduced to Okinawa and Kumamoto. In 1775, the species was said to have been planted in the Ishikawa Prefecture, where it earned its Kinjiso name. Initially, Kinjiso was reserved for medicinal use in Ishikawa, but by the 1930s, consumers and local restaurants began requesting the greens for culinary purposes, increasing production. Today Kinjiso thrives in warm, tropical to subtropical climates and is traditionally grown in moist soils at the base of mountains. When cultivated outdoors, Kinjiso is primarily harvested in the summer in Japan, while other regions of Southeast Asia may be able to grow it year-round. Greenhouse-grown Kinjiso is also produced year-round. The greens are typically sold in specialty markets and select grocers. The Kinjiso in the photograph above was sourced through Isetan Shinjuku in Tokyo, Japan.