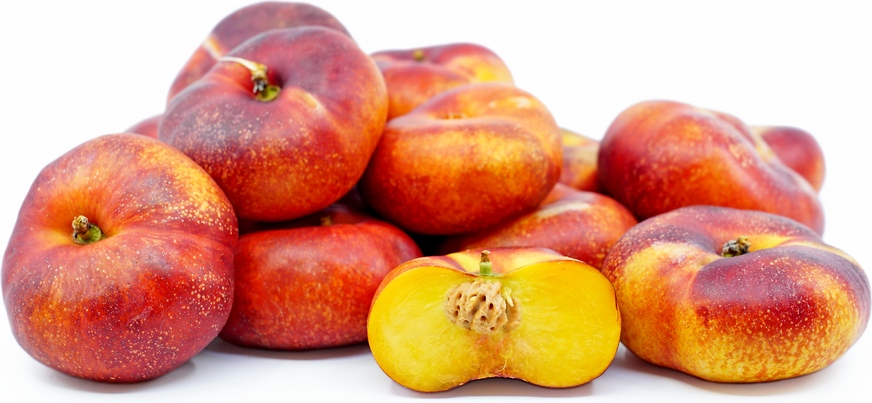 Donut Nectarines
Inventory, lb : 0
Description/Taste
Donut nectarines are small to medium fruits, averaging 5 to 6 centimeters in diameter, and have a flattened, oblate shape with curved edges and a sunken center surrounding the stem. The fruit's skin is smooth, taut, fuzz-less, thin, and delicate, easily punctured, bruised, or damaged. The skin also has a golden yellow base and is covered in variegated patches of bright and dark red hues. Underneath the surface, the golden yellow to white flesh is dense, aqueous, succulent, and firm with a tender quality. There is also a central light brown, round pit encased in the center of the flesh that can be a clingstone or freestone type, depending on the variety. Donut nectarines contain low acidity and a high sugar content, creating a honey-sweet, subacid flavor with fresh, fruity, and syrup-like nuances.
Seasons/Availability
Donut nectarines are available in the summer through early fall.
Current Facts
Donut nectarines, botanically classified as Prunus persica var. nucipersica, are unusually shaped varieties belonging to the Rosaceae family. The name 'Donut' is a trade name utilized for marketing purposes, chosen for the fruit's resemblance to the well-loved baked good, the doughnut. There are many types of Donut nectarines, also known under the general descriptor Flat nectarines, in local markets. Donut nectarines are not genetically modified and were naturally created from a mutation of flat peach cultivars native to China. The flat fruits are not a new type of nectarine, having been cultivated for centuries in Asia, but in the 19th and 20th centuries, the fruits were selectively bred to showcase improved growth characteristics, flavor, and hardiness and renamed, allowing Donut nectarines to expand in popularity as a specialty fruit worldwide. Donut nectarines are comprised of both white and yellow-fleshed cultivars, and depending on the variety, there are early, mid, and late-season fruits. The fruits are primarily sold for their novel shape and are valued for their easy-to-hold nature, sweet taste, and juicy consistency. Experts believe 15 to 20 kinds of Flat nectarines are grown in home gardens and select orchards in the United States, with many other varieties grown in Asia and Europe. Popular varieties of Flat nectarines include Honey Halo, October Snow, Snack Time, Sugar Pie, Nectafire, and Nectapie.
Nutritional Value
Donut nectarines are an excellent source of vitamin C to strengthen the immune system and vitamin A to maintain healthy organ functioning. The fruits also contain some fiber to regulate the digestive tract, potassium to balance fluid levels within the body, folate to develop red blood cells, and other amounts of nutrients, including zinc, magnesium, copper, phosphorus, calcium, B vitamins, and vitamins E and K.
Applications
Donut nectarines have a mild, sweet flavor well suited for fresh preparations. The fruits can be consumed straight, out of hand, discarding the central pit, or they can be incorporated into any recipe calling for regular nectarines. Donut nectarines can also be mixed into fruit bowls, tossed into green salads, sliced as a topping over crepes, waffles, yogurt, and ice cream, or blended into smoothies. In addition to fresh preparations, Donut nectarines can be simmered into jam, jellies, compotes, and chutneys, or poached, grilled, or baked into savory-sweet desserts. The flat fruits can also be used as a filling in cakes, tarts, pies, cobblers, and crisps. Donut nectarines pair well with other stone fruits such as apricots, cherries, and peaches, citrus, berries, spices, including cinnamon, cloves, and nutmeg, honey, vanilla, cream, and custards. Savory flavor pairings include herbs such as basil, cilantro, and mint, nuts such as hazelnut, almonds, and pistachio, aged cheeses such as manchego, mild cheeses such as ricotta and burrata, and meats including sausages, pork belly, and grilled fish. Donut nectarines have a short shelf-life and should be consumed within 3 to 5 days of harvest. The fruits can be stored at room temperature for immediate consumption, or they can be kept in the refrigerator's crisper drawer.
Ethnic/Cultural Info
Flat nectarines are variants of flat peaches native to China. Flat peaches are known as Peento or Pan Tao in Chinese vernacular and are believed to be from the Xinjiang Province. The flat fruits have been cultivated in China for thousands of years and are closely intertwined with myths of immortality. Many Xinjiang residents believe flat peaches were the chosen fruits of the Queen Mother of the West, also known as Xiwangmu, and that the fruits would give whoever ate them immortality. In the modern-day, flat peaches are a specialty fruit, viewed as a symbol of good health, luck, and happiness. The fruits are generally more expensive than regular peaches due to specific cultivation practices and are often given as gifts to friends and families. In Xinjiang, the fruits are watered with runoff from the Tianshan Mountain and are believed by the growers to have magical properties, making the fruits juicier due to the pure water source. Flat peaches and nectarines are also grown in Gansu, Hebei, Shandong, and Shaanxi provinces and are marketed as a luxury fruit given as a birthday gift to promote long life.
Geography/History
Donut nectarines are natural mutations of flat peach varieties native to China and have been cultivated since 200 BCE. The smooth-skinned, flat fruits were extensively produced throughout China and were favored for their sweet, subacid flavor. Flat nectarines were introduced along with flat peaches to Western Asia and Europe through the Silk Road trade routes sometime during the 15th century, and the fruits may have also been carried and planted in Europe through missionaries and explorers returning home from China. In the early 19th century, flat peaches were brought to the United States and advertised in nurseries as specialty home garden varieties. William Prince, the owner of one of the first commercial nurseries in New York, was known to have cultivated over twenty Chinese flat peach trees. Several other nurseries in the Southern United States also imported flat peaches from Asia and Australia, but the variety remained unfavorable due to its challenging cultivation requirements. In 1983, Catherine Bailey and L. Fredric Hough of Rutgers University developed an improved flat peach cultivar and gave exclusive rights to Stark Brother's nursery, sparking the demand for flat fruits. With flat peaches quickly increasing in popularity in the late 20th century, Flat nectarines also became offered as another uniquely shaped fruit. In 1986, Frieda's Specialty Produce renamed Flat nectarines as Donut nectarines in honor of their flattened, doughnut-like shape. The marketing name became one of the most recognizable descriptors for Flat nectarines and peaches, and in 2000, when Stark Bro's license for the flat peach was expired, many other farms throughout the United States, especially in California, began growing the flat fruits. Today Donut nectarines are cultivated worldwide in Asia, Europe, the United States, and Australia. When in season, the fruits can be found through farmer's markets, specialty distributors, and select grocers.
Recipe Ideas
Recipes that include Donut Nectarines. One

is easiest, three is harder.