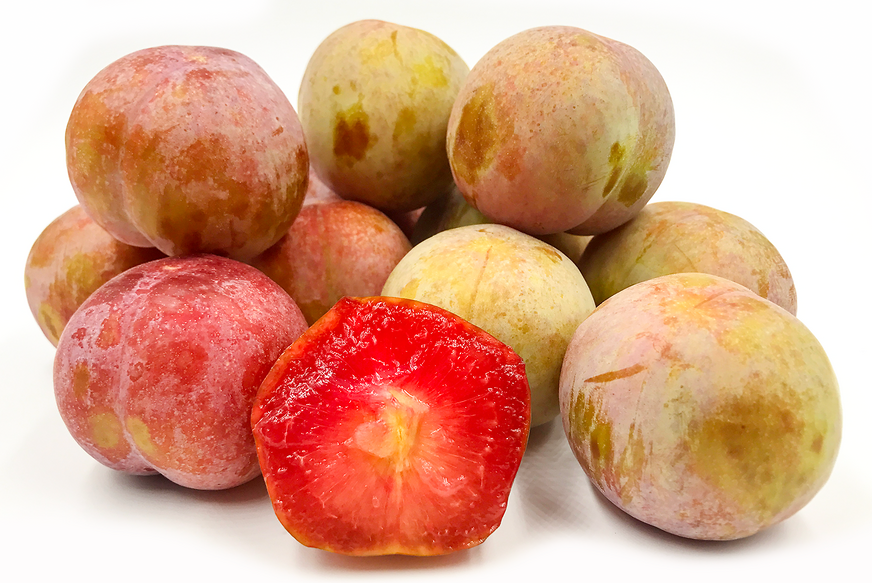 Sumomo Plums
Inventory, lb : 0
Podcasts
| | |
| --- | --- |
| Food Buzz: History of Plums | Your browser does not support the audio element. |
| Food Fable: Plums | Your browser does not support the audio element. |
Description/Taste
Sumomo plums vary in size, shape, color, texture, and flavor, depending on the variety. The most common types of plums generally labeled as Sumomo in Japan are round to cordate-shaped fruits with curved shoulders, a plump appearance, and should feel heavy for their size. The plum's skin is smooth, taut, and semi-thin, ranging in color from red, maroon, purple-red to dark purple, almost black. Some varieties have green, gold, and amber skin tones, and a grey-blue bloom may encompass the surface, easily removed before consumption. Underneath the skin, the flesh is dense, aqueous, and firm with a tender and succulent consistency. There is also a central pit tightly adhered within the flesh, and the flesh ranges in color from bright red, yellow, orange to variegated hues of multiple colors, unique to each cultivar. Sumomo plums are aromatic, and there are varieties with a sweet, sugary, and syrupy flavor, while other cultivars have a sweet-tart, tangy taste with fruity undertones.
Seasons/Availability
Sumomo plums are available in the summer through early fall.
Current Facts
Sumomo plums, botanically classified as Prunus salicina, are sweet-tart stone fruits belonging to the Rosaceae family. The name Sumomo translates from Japanese to mean "plum" and is a general descriptor used to encompass many different plum varieties grown in Japan. One of the most popular varieties is known as Oishiwase, and other Sumomo plum cultivars include Soldam, Taiyo, Shiro, and Kiyo. It is important to note that there is another type of plum in Japan, known as ume plums, that are distinct in flavor, texture, and appearance from Sumomo plums. Outside of Japan, Sumomo plums are known as Japanese plums, Chinese plums, or Asian plums, and the fruits are grown worldwide, highly favored for their sweet and tangy flavor, juicy, semi-firm flesh, and aromatic nature. Sumomo plums are primarily used fresh and have a versatile, fruity flavor that can be incorporated into both raw and cooked culinary preparations. They are also commonly used in breeding research, as the tree can be artificially pollinated and easily tested to create new plum varieties.
Nutritional Value
Sumomo plums are a good source of vitamin C to strengthen the immune system, calcium to build bones and teeth, fiber to regulate the digestive tract, and potassium to balance fluid levels in the body. The fruits are also a source of vitamin E to protect the cells against free radicals, vitamin K to faster wound healing, vitamin A to maintain healthy organ functioning, and contain lower amounts of copper, iron, manganese, phosphorus, and magnesium. In darker, pigmented varieties, the fruits are rich in antioxidants that reduce inflammation and protect the body against external environmental aggressors.
Applications
Sumomo plums are a versatile culinary ingredient well suited for fresh, cooked, and preserved preparations. The fruits can be eaten straight, out of hand, and the thin skin can be left intact or peeled before consumption, contingent on preference. Sumomo plums widely range in flavor due to the many different varieties available in markets, but sweet-tart fruits generally complement both sweet and savory dishes. The plums can be sliced into green salads, used as a fresh topping over pancakes, waffles, crepes, and ice cream, or blended into smoothies, fruit juices, and shakes. The fruits can also be sliced and infused into water with herbs or used to flavor brandy, vodka, and wine. Some distillers infuse plum blossoms into liquors for a delicate, floral, and fruity flavor. In addition to fresh preparations, Sumomo plums are frequently incorporated into desserts, including cakes, tarts, pies, clafoutis, and crumbles, simmered into jams, jellies, and compotes, or cooked as a natural sweetener in sauces such as barbeque and teriyaki. The fruits can also be stewed and roasted, poached in syrup, grilled and served with soft cheeses as a savory appetizer, stir-fried, or cooked into a fritter. Sumomo plums pair well with spices such a cinnamon, star anise, nutmeg, and ginger, herbs such as rosemary, basil, and mint, chocolate, vanilla, and other fruits, including peaches, nectarines, citrus, cherries, and figs. Whole, unwashed Sumomo plums should be left at room temperature to ripen. Once ripe, the fruits can be stored for one week when wrapped in plastic and kept in the refrigerator. Plums can also be frozen for 6 to 12 months or dried into fruit leather for extended use.
Ethnic/Cultural Info
Sumomo plums are annually celebrated in the Sumomo Matsuri Festival in Fuchu City, Japan. The festival is held in July at the Ookunitama Shrine and dates back to the Heian era, or 1028 CE. Legend has it that Minamoto Noriyoshi, a famous warrior, visited the Ookunitama Shrine with his son and prayed for victory in an upcoming battle, placing a Sumomo plum as an offering to the gods. After his victory, Noriyoshi returned to the shrine and offered more Sumomo plums, giving thanks for the answered prayer. In the modern-day, the Sumomo Matsuri Festival continues to celebrate Sumomo plums, and over 70,000 visitors enter the shrine to pray and participate in festivities. Outside of the shrine, over 120 vendors feature Sumomo plums in savory and sweet preparations and also offer the fruits fresh and whole. It is believed that consuming Sumomo plums will help ward off evil spirits and disease, especially when eaten at the shrine. In addition to the plums, the festival is famous for selling fans depicting images of crows, which are believed to keep pests away from fields and crops. These fans are only sold during the festival and are symbols of good luck for a plentiful fall harvest.
Geography/History
Sumomo plums, also known as Chinese or Japanese plums, are native to China are believed to be one of the earliest cultivated fruits in history, favored since antiquity for their sweet, subtly tangy flavor and firm but tender flesh. The fruits were introduced to Japan in the Early Ages, where they have been cultivated for over 1,000 years, and quickly became one of the most commercially produced stone fruits in the country. The sweet-tart fruits continued to expand in popularity in Eastern Asia, and in the 16th century, Sumomo plums were spread worldwide through trade routes, explorers, and missionaries, primarily grown for fresh market use. Sumomo plums were also brought from Japan to the United States in the 19th century through famed breeder Luther Burbank and were planted in the San Joaquin Valley of California for research and breeding. Over time, Japanese plums were extensively cultivated, creating a hybridization of thousands of plum subspecies and varieties, descendants of the wild fruits. Burbank used several Japanese plums to create hybrid varieties that are still grown for commercial markets in the present day. Today Sumomo plums are mainly produced in the Nagano, Yamanashi, Wakayama, Aomori, and Yamagata Prefectures of Japan and are sold domestically through local markets, grocers, and farms. The fruits are also cultivated worldwide, known under the name Japanese plums, Chinese plums, or specific varietal names. Today Sumomo plums, when in season, can be found through farmer's markets, specialty distributors, grocers, and supermarkets in temperate regions.
Recipe Ideas
Recipes that include Sumomo Plums. One

is easiest, three is harder.