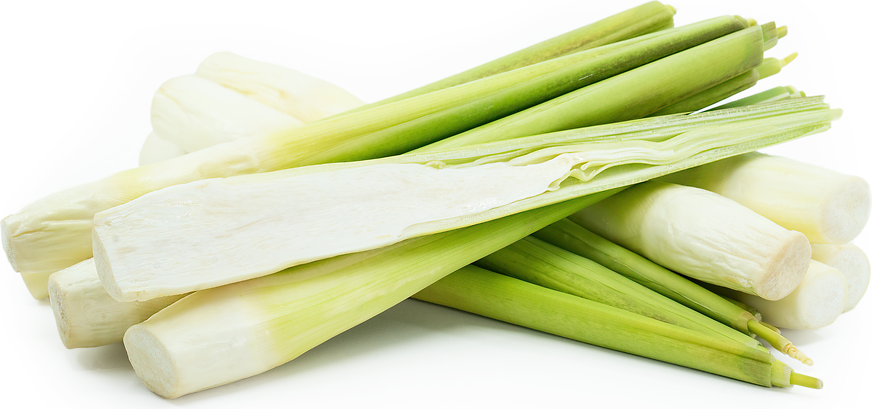 Wild Rice Shoots
Inventory, lb : 0
Description/Taste
Wild Rice shoots are harvested for commercial purposes when the stems are 3 to 4 centimeters in diameter and 20 to 30 centimeters in length. The stems in the wild can grow to be much longer, but they are trimmed and cut for commercial markets to make the shoots more consumer friendly. The swollen stems are covered in layers of husk-like leaves that showcase variegated hues of white, pale yellow, and green, and these layers have a textured, semi-rough, and fibrous nature. The outer leaf layers are stripped from the stem before consumption, revealing a white, pale-yellow, to ivory shoot. Fresh shoots have a thick, crisp, tender, fleshy, and succulent consistency reminiscent of bamboo shoots. When the shoots are sliced, the flesh is generally white, solid, and dense. Older shoots will develop black spots and become tougher in nature, indicating that the quality and flavor have declined. Raw Wild Rice shoots release a green, subtly sweet, corn-like scent and have a mild, refreshing, light, sweet, and earthy taste. When cooked, the shoots develop a more pronounced, sweeter flavor and retain their crisp texture.
Seasons/Availability
Wild Rice shoots are available for a short season in the fall through early winter. It is said the shoots are only in season for around one month. Fresh shoots are consumed within this period or frozen for use later in the year.
Current Facts
Wild Rice shoots, botanically classified as Zizania latifolia, are the stems of a perennial plant belonging to the Poaceae family. The species is native to Asia and can extend 1.2 to 2.4 meters in height, and several portions of the plants are edible, including their stems, leaves, and seeds. Historically, Wild Rice shoots were cultivated as a grain crop, and the seeds were the primary element sourced from the plant. Over time, it was discovered that a smut fungus, Ustilago esculenta, was infecting the plants, causing the base of the stems to swell. The cells inside the stem expand and overproduce, creating edible fleshy, crisp, and tender shoots. After this discovery, the plants were grown exclusively for these swollen stems, and farmers allowed the fungus to infect the plants. It is important to note that this fungus is harmless to humans, and the stems are consumed before spores of the fungus appear. Wild Rice shoots are known by several regional names throughout Asia, including Makomotake, Makomo, and Hanagatatsumi in Japan, Jiao Bai in China, and Coba, Manchurian Wild Rice, and Water Bamboo shoots. The swollen stems are only harvested for a short season spanning from late September through early November, leading them to become seasonal specialty items. Wild Rice shoots are edible raw and cooked and are prepared as a vegetable in culinary applications.
Nutritional Value
Wild Rice shoots are a source of vitamin C to strengthen the immune system, iron to develop the protein hemoglobin for oxygen transport through the bloodstream, calcium to build strong bones and teeth, and vitamin A to maintain healthy organ functioning. In Traditional Chinese Medicine, Wild Rice shoots are a yin food consumed to remove heat and act as a natural diuretic to detox the body. The shoots are also used to support liver functions, relieve thirst in the body, and moisten the digestive tract. Beyond vitamins and minerals, if the stems are left to develop spores, the flesh turns black and becomes known as makozumi. The black flesh is made into a dye-like substance traditionally used in Japan to darken eyebrows, color fabrics, or blacken teeth, a cosmetic practice to show beauty and maturity in the Heian period.
Applications
Wild Rice shoots have a mild and subtly sweet taste suited for fresh or lightly cooked preparations. The stems should be stripped of leaves and tough layers and washed. Once prepped, the stems can be eaten raw as a crunchy snack, shredded into rice dishes, chopped into salads, or sliced and served as an edible garnish. Wild Rice shoots are most popularly cooked, and it is recommended to only heat the stems in quick cooking methods to preserve the shoot's flavor and crisp texture. Throughout Southeast and East Asia, Wild Rice shoots are traditionally added to soups and stir-fries. In China, the shoots are famously stir-fried with pork as a flavorful main dish. The stems are also sauteed with aromatics or steamed and served in a sauce. In Japan, Wild Rice shoots are grilled whole over charcoal, stripped of the outer layers, and served with miso, soy sauce, or bonito flakes. The shoots are also incorporated into miso soup, fried into tempura, or simmered in dashi. Outside of China and Japan, the city of Nam Dinh in Vietnam is famous for a dish using Wild Rice shoots. The regional dish consists of stir-fried Wild Rice shoots cooked with aromatics, beef, and eggs. Wild Rice shoots are also a favored souvenir from Nam Dinh, and visitors travel from all over Asia to purchase the signature stems. Wild Rice shoots pair well with herbs such as chives, dill, scallions, and cilantro, aromatics including garlic, chile peppers, soy sauce, sesame oil, and onions, and spices such as ginger, white pepper, and curry powder. Whole, unwashed Wild Rice shoots should be stored in a plastic bag and kept in the refrigerator's vegetable drawer. Wild Rice shoots can also be blanched and stored in the freezer or pickled for extended use.
Ethnic/Cultural Info
Wild Rice shoots, known as Makomo and Makomotake in Japan, are famously used to weave the shimenawa for the Izumo Grand Shrine in the Shimane Prefecture. The Grand Shrine, known as Izumo-Taisha and Izumo Oyashiro, is one of the oldest Shinto shrines in Japan. A shimenawa is a straw rope symbolically hung above a shrine's entrance to mark the beginning of sacred space and keep the world's impurities from the gods enshrined inside. "Shime" translates to "embrace" or "hold," while "nawa" means "rope," and these ropes are traditionally woven from local plants. The shimenawa in the Grand Shrine is hung in front of Kaguraden Hall and is over 13.5 meters in length, the largest shimenawa in Japan. The rope weighs around 4.5 tons and is constructed from dried Wild Rice leaves woven into the shape from left to right. The massive shimenawa is re-made every 6 to 8 years, and it generally takes over 800 volunteers, 3 hectares of Wild Rice leaves, and over three months to create the rope. It is thought that the act of creating a shimenawa is tied to Wild Rice farming, as farmers would place a shimenawa in their field to welcome a good harvest.
Geography/History
Wild Rice shoots are native to Asia, and wild populations have been found in northern China, Japan, Taiwan, southern Russia, and Korea. The species was also spread to regions of Southeast Asia, where the plants naturalized in Myanmar, northeastern India, Vietnam, Cambodia, Thailand, and Laos. Wild Rice shoots were once cultivated for their seeds and were grown as a grain crop in China sometime before the Tang Dynasty from 618 to 907 CE. Over time, the parasitic fungus appeared in the plants, causing the stems to swell. It was eventually discovered that these stems were edible, leading farmers to switch from cultivating the plants as grain to growing the plants as a vegetable. Wild Rice shoots are mentioned in the ancient text the Book of Rites, a collection of written pieces completed in the Zhou Dynasty, from 1046 to 771 BCE. The plants spread throughout East Asia and into Southeast Asia as commercial and wild vegetables, and the swollen stems became such a favored ingredient that it was commonly mentioned in poetry and other written works. In the 20th century, Wild Rice shoots were introduced to New Zealand and were planted in Dargaville in Northland. The species quickly became an aggressive invasive species, and efforts are being made in New Zealand to control the population. The United States is also taking efforts to prevent the introduction of the species to protect a North American species similar to the Asian cultivar. Today Wild Rice shoots thrive along riverbanks, swamp edges, wetlands, rice paddy fields, and other water-filled locations. The plants are extensively produced for commercial sale in China and Japan. In China, the species is found along the lower Yangtze River and throughout northeastern China. In Japan, the plants are grown in the Mie, Ishikawa, Saga, Shiga, Toyama, Yamagata, and Nagano Prefectures. When in season, Wild Rice shoots are sold through fresh markets, select grocers, and distributors.
Recipe Ideas
Recipes that include Wild Rice Shoots. One

is easiest, three is harder.