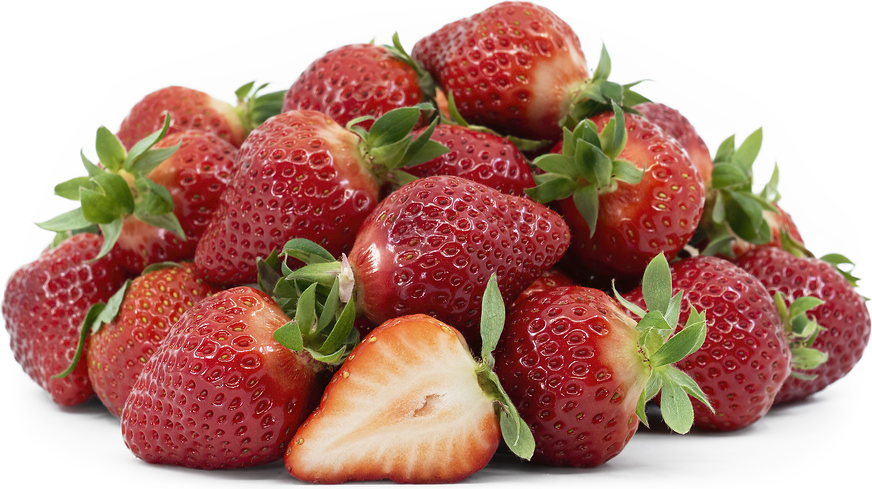 Sakura Momo Strawberries
Inventory, ea : 0
Podcast
| | |
| --- | --- |
| Food Buzz: History of Strawberries | Your browser does not support the audio element. |
Description/Taste
Sakura Momo strawberries are a medium to large varietal with a characteristic conical shape. The fruits are plump and capped with lanceolate green leaves, showcasing broad, rounded shoulders that taper to a distinct point. Sakura Momo strawberries are bright red when mature, and this coloring remains throughout their entire season. The skin is also thin and delicate, easily bruised if handled roughly, and has a smooth appearance, covered in tiny external seeds known as achenes. Underneath the surface, the flesh ranges from pale red to white, depending on cultivation conditions, and has a firm, aqueous nature with a crisp but succulent, tender consistency. Sakura Momo strawberries have a high sugar content and can reach up to 18 Brix. It is said that the top of the fruit near the calyx is generally around 10 Brix, the middle of the fruit is 11 to 12 Brix, and the tip of the fruit is 16 to 18 Brix. This high sugar content gives Sakura Momo strawberries a sweeter flavor than other Japanese strawberries, and the sweetness is mixed with low acidity and fruity, peach-like nuances.
Seasons/Availability
Sakura Momo strawberries are available in the winter through early spring in Japan.
Current Facts
Sakura Momo strawberries are botanically a part of the Fragaria genus and are a rare variety belonging to the Rosaceae family. The cultivar was commercially released in Japan in 2008 and is a modern strawberry only grown by a few farms in the Tokushima Prefecture. The name Sakura Momo translates from Japanese to mean "Cherry Peach" and was named for its sweet, fruity taste, juicy nature, which is reminiscent of a peach, and bright red-cherry-like coloring. Sakura Momo strawberries are also known as Phantom strawberries, as the variety is only produced in limited quantities and sold through a small number of retailers. Each grower only allows 5 to 8 strawberries to develop on one plant to infuse the most nutrients and sugar content into the fruits. The strawberry plants are also situated to face south to be exposed to the most sunlight. Once harvested, Sakura Momo strawberries must pass quality tests in color, aroma, flavor, and surface appearance before they can be sold, creating a minimal supply after inspection.
Nutritional Value
Sakura Momo strawberries are a source of fiber to regulate digestion, vitamin A to maintain organ functioning, and vitamin C to strengthen the immune system while reducing inflammation. The strawberries also provide potassium to balance fluid levels within the body, vitamin E to protect the cells against free radical damage, and other nutrients, including iron, folate, magnesium, zinc, copper, and manganese.
Applications
Sakura Momo strawberries have a sweet, sugary flavor suited for fresh preparations. The variety is primarily eaten fresh, out-of-hand to savor the texture and taste of the rare fruits. When purchased, the strawberries are often presented in stylish, ornate boxes to ensure they are protected, and the variety is commonly consumed as a snack or dessert. Sakura Momo strawberries are also frequently served at high-end dinner parties with champagne and chocolate platters or used as edible decorations on desserts. Beyond fresh eating, some chefs incorporate the exclusive berries in the center of mochi, known as daifuku, and are coated in a layer of sweet bean paste for added flavor. The fruits are also used to flavor ice cream, placed in whipped cream between cake slices and served as a sandwich, or layered into rolled cakes. Sakura Momo strawberries pair well with condensed milk, oranges, blueberries, cream, vanilla, yogurt, and custard. Whole, unwashed Sakura Momo strawberries will keep up to three days when stored in the refrigerator. It is recommended to consume the fruits immediately for the best quality and flavor.
Ethnic/Cultural Info
The creation of Sakura Momo strawberries is more than just another luxury strawberry variety. The variety symbolizes perseverance and hope in the village of Sanagochi. The small village is situated in Southern Japan and lies in a basin surrounded by mountains. The village was once home to mandarin orange orchards, the specialty crop and primary source of income for the community. In 1981, a severe cold weather front hit the basin and nearly wiped out all of the mandarin orange trees. Since the village had to begin rebuilding and find a new source of income, they decided to try growing different varieties of citrus, including sudachi. This endeavor was short-lived due to the increase of orange imports into Japan in 1991, causing the market price of their citrus varieties to plummet. The villagers began to question their identities as citrus growers. As the market changed, many of the villagers were growing older and were tired of cultivating the citrus trees on the mountain slopes, a taxing and exhausting lifestyle. They eventually had a meeting and decided to switch to strawberry cultivation, as the fruits were lightweight and easier to handle. Despite their excitement to grow strawberries, the climate in Sanagochi was challenging due to its short hours of available sunlight. The growers had to selectively thin their plants to only allow a few fruits to grow, leading the village to produce small quantities of premium strawberries. In 1992, around 30 farms in the village planted strawberries, and through a partnership between JA Tokushima City and Osaka Chuo Seika, the village created Momo strawberries, the predecessor to Sakura Momo strawberries. After their success with Momo strawberries, the village was encouraged to create an improved cultivar, later creating Sakura Momo strawberries as their prized variety.
Geography/History
Sakura Momo strawberries are native to Japan and were developed as a part of a joint project between JA Tokushima City and Osaka Chuo Seika, a wholesale market in the village of Sanagochi in the Tokushima Prefecture. The variety's parentage is unknown as it is protected by the breeder, but it was released commercially in 2008 and is said to be a branded, improved variety of Momo Ichigo strawberries. Sakura Momo strawberries are only grown by eight farmers in Sanagochi and were initially only sold through the Osaka Chuo Seika Market, making them very rare and limited in availability. In 2013, Sakura Momo strawberries were released to retailers outside of the Osaka Chuo Seika Market, but the variety is grown in such small quantities that it is still challenging to find. Today, the production of Sakura Momo strawberries has remained localized to the village of Sanagochi in the Tokushima prefecture, and the strawberries are seasonally grown and sold as a rare, luxury fruit in Japan.
Recipe Ideas
Recipes that include Sakura Momo Strawberries. One

is easiest, three is harder.