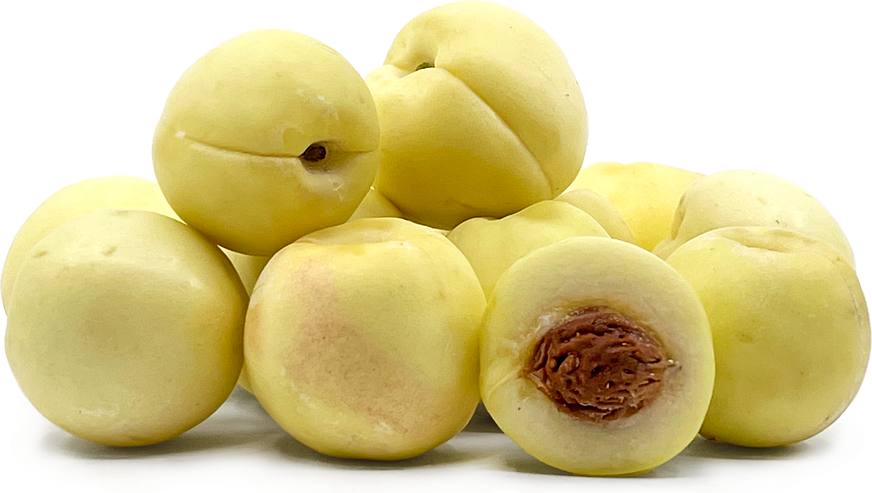 White Uzbek Nectarines
Inventory, lb : 0
Description/Taste

White Uzbek nectarines are small in size, averaging 80 grams to 120 grams in weight, and have a round to oval appearance, sometimes mistaken for apricots due to their petite nature. The fruit's skin is smooth, taut, waxy, and delicate, showcasing pale yellow to white hues. The surface also reveals a prominent suture line extending the length of the fruit on one side, and the skin is sometimes blushed with light pink shades, but this coloring is often unnoticeable. Underneath the surface, the white to cream-colored flesh is semi-dense, aqueous, and tender with a slightly fibrous but succulent consistency. The flesh also encases a large central, dark brown stone. White Uzbek nectarines are aromatic and have a rich, sweet, and acid-less flavor with vanilla, honey, and fruity nuances.


Seasons/Availability

White Uzbek nectarines are available in the summer, typically ripening in July.


Current Facts

White Uzbek nectarines, botanically classified as Prunus persica var. nucipersica, are a rare variety belonging to the Rosaceae family. The pale-colored fruits are a kind of white nectarine bred from local seedlings in Uzbekistan. They are sold as a specialty cultivar valued for their distinct appearance, sweet flavor, and low acidity. Nectarines share an almost identical genetic profile to peaches except for a recessive gene that develops their signature smooth and fuzz-less skin. Pale-skinned varieties, including White Uzbek, are traditionally sweeter than common red and yellow cultivars, smaller in size, and sold through local markets and distributors as a seasonal delicacy. White Uzbek nectarines are only available for a few weeks each year and are a valued fresh-eating fruit.


Nutritional Value

White Uzbek nectarines are a source of vitamin C to strengthen the immune system, fiber to regulate the digestive tract, and potassium to balance fluid levels within the body. The nectarines also provide vitamin E to protect the cells against free radical damage, manganese to develop connective tissue, vitamin K to assist in faster wound healing, beta-carotene, which is converted into vitamin A in the body to maintain healthy organ functioning, and other nutrients, including copper, magnesium, zinc, calcium, and folate.


Applications

White Uzbek nectarines have a honeyed, sweet flavor suited for fresh and cooked preparations. The small fruits are traditionally consumed straight out of hand and are favored for their pale coloring and tender, melting consistency. The nectarines can also be halved and filled with spreads and dried nuts, sliced and tossed into salads, chopped into grain bowls, or sliced and displayed on appetizer platters. In addition to fresh preparations, White Uzbek nectarines can be simmered into jellies, jams, and preserves or cooked into chutney. The fruits can also be grilled and served with ice cream, baked into crisps, cobblers, tarts, and galettes, or incorporated into savory dishes such as beef stir-fries, sauces for roasted vegetables, or glazes for meats. In Uzbekistan, nectarines are sometimes incorporated into plov, a traditional rice-based dish comprised of carrots, garlic, spices, meats, and herbs. Beyond culinary dishes, White Uzbek nectarines can be pickled or canned in syrup for extended use. White Uzbek nectarines pair well with meats such as pork, beef, and poultry, cheeses including blue, mozzarella, and ricotta, spices such as cinnamon, coriander, or cumin, and herbs including cilantro, mint, and parsley. Whole, unwashed White Uzbek nectarines will keep for 1 to 3 days at room temperature, depending on the degree of ripeness. Once mature, the fruits can be stored in the refrigerator for 3 to 5 days.


Ethnic/Cultural Info

Nectarines are a summer fruit served in the tradition of dastarkhan, an artfully arranged tablespace in Uzbekistan. The term dastarkhan roughly translates to mean "table with dishes" or "tablecloth" and describes the process of setting the table for a meal and filling it with plates of food to symbolize abundance. The practice of creating an eating space in Uzbekistan is considered sacred, and within the arrangements, there are staple foods and beverages that are customarily served. Items such as fresh seasonal fruits, bread, tea, spices, and sugar are common on tables, and local fruits, including nectarines, are a reminder of the country's rich agricultural heritage. Uzbekistan is known for producing a wide array of fruits and vegetables, and the fresh items are valued for their vitamin and mineral content. Certain fruits such as nectarines are also pickled for the winter and used as a sweet and tangy ingredient, added to sweet and savory preparations as needed. There are many other customs and traditions associated with dastarkhan, such as pouring small but frequent amounts of tea into a guest's cup, allowing the elders to eat first, and where guests are seated at the tables.


Geography/History

White nectarines are believed by experts to be native to Central Asia and China, where the fruits were discovered growing as a natural mutation of peach trees. Genetic studies have revealed that nectarines evolved from peaches through a recessive allele, becoming a fuzz-free fruit. Once the fruits were discovered and favored for their smooth skin, bud mutations were isolated and planted by growers in Asia as second-generation trees to produce new varieties of fruits. Much of the history of White Uzbek nectarines is unknown, but the pale-skinned fruits were said to have been bred from crosses of local Uzbek varieties. Today White Uzbek nectarines are offered as a specialty fruit in local markets throughout Uzbekistan, especially in Samarkand, the Ferghana Valley, and Tashkent. The fruits are also sometimes sold in markets throughout Central Asia, including in Kazakhstan and Russia.