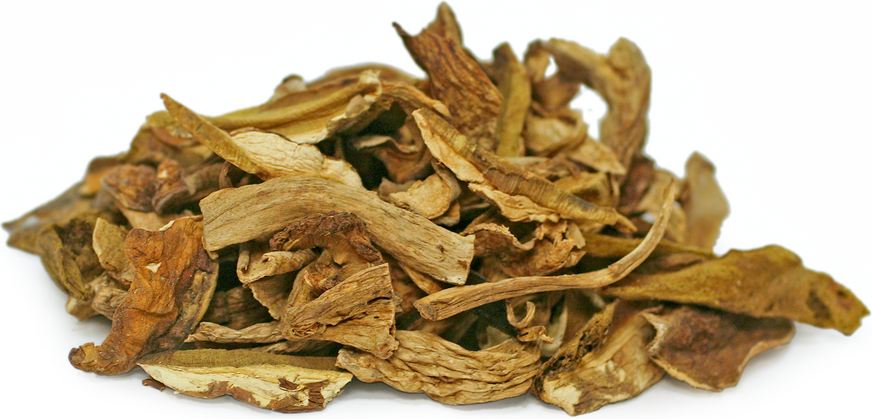 Dried Matsutake Mushroom
Inventory, lb : 0
Podcast
| | |
| --- | --- |
| Food Buzz: History of Mushrooms | Your browser does not support the audio element. |
Description/Taste
Dried Matsutake mushrooms are traditionally dehydrated pieces of fresh Matsutake mushrooms. The fresh mushrooms can sometimes grow quite large and thick in size, and slicing the mushroom into pieces allows for a faster drying time. The dried strips condense and shrivel into slender ribbons of flesh and have a brittle, dry, and delicate nature. Dried Matsutake mushrooms also showcase a light tan to brown hue composed of many textured grooves, striations, and folds. The mushrooms emit a robust aroma that enthusiasts liken to a complex blend of pine-like, woodsy notes mixed with forest floor and cinnamon-infused nuances. The mushrooms can be ground into a powder or rehydrated, and once reconstituted, Matsutake mushrooms will have a chewy, dense, and succulent consistency with a light, sweet, and earthy flavor.
Seasons/Availability
Dried Matsutake mushrooms are available year-round.
Current Facts
Dried Matsutake mushrooms, botanically a part of the Tricholoma genus, are dehydrated versions of the prized, rare mushroom belonging to the Tricholomataceae family. The name Matsutake translates from Japanese to mean "Pine mushroom," a descriptor given in honor of the fungi's unusual aroma and affinity for growing near varieties of pine trees. Several species within the Tricholoma genus are used in commercial packages of Dried Matsutake mushrooms, including Tricholoma matsutake, Japanese or Eastern Matsutake, and Tricholoma magnivelare, American or Western Matsutake, sometimes classified under Tricholoma murrillianum. The western Matsutake species are the most common Dried Matsutake mushrooms, and the dehydrated fungi are sold to chefs and home cooks worldwide. Dried Matsutake mushrooms cannot be cultivated and are only foraged from the wild. The mushrooms have been used in culinary and medicinal preparations for thousands of years in Japan and were so highly favored that they almost went extinct from being overharvested. Since their brink of disappearance, regulations have been set in place to monitor and prevent the overharvesting of the mushroom. Commercial export of western Matsutake mushrooms into Asia has also assisted in slowing overharvesting in Japan. Dried Matsutake mushrooms are valued for their unusual aroma, concentrated flavor, and extended shelf life.
Nutritional Value
Matsutake mushrooms are a source of essential amino acids to improve nutrient absorption and the immune system, vitamin D to protect bones, and potassium to balance fluid levels within the body. The mushrooms also contain antioxidants to guard the cells against free radical damage, fiber to regulate the digestive tract, copper to develop connective tissues, and lower amounts of B vitamins, copper, iron, phosphorus, and zinc.
Applications
Dried Matsutake mushrooms are known for their pine-like, woodsy, and spicy aroma. This scent is retained in the drying process, and chefs utilize the mushrooms in simple preparations to showcase their fragrance. The mushrooms can be reconstituted in a warm liquid such as water, broth, vinegar, or wine for approximately 15 to 20 minutes, and once rehydrated, they are well suited for cooking methods that can trap their aroma, such as baking, steaming, lightly frying, or simmering. Matsutake mushrooms will lose their scent if they are overcooked or paired with other robustly flavored ingredients. The most popular preparation involves consuming the mushrooms in a clear broth-based soup. The mushrooms can be sliced and folded into ramen, cooked in hot pot, or mixed into rice-based dishes. Matsutake mushrooms can also be incorporated into sauces, sauteed into omelets, cooked into pasta, risotto, or made into Matsutake gohan, a dish of kombu dashi, soy sauce, sake, and mirin. In Japan, Matsutake mushrooms are traditionally used in chawanmushi, a dish where the mushrooms are served in a savory egg custard consisting of soy sauce, stock, sake, and sesame oil, and topped with green onions, smoked salmon, or shrimp. In the Pacific Northwest of the United States, Matsutake mushrooms are popularly used as a topping on pizza, marinated and lightly grilled, poached in vinegar, or fried for a crisp, chewy consistency. Dried Matsutake mushrooms can also be ground into a powder and used as a seasoning, sprinkled into sauces, or lightly dusted over roasted meats. Matsutake mushrooms pair well with meats such as poultry, pork, and duck, seafood such as fish, crab, and lobster, aromatics including green onions, onion, garlic, and ginger, bamboo shoots, snow peas, and cooking liquids such as dry sherry, mirin, sake, tamari, and lemon juice. Unwashed Dried Matsutake mushrooms will keep 1 to 2 years when stored in a sealed container away from direct sunlight.
Ethnic/Cultural Info
Matsutake mushrooms are among the most challenging mushrooms to harvest worldwide due to regulations, permits, and theft. In the Pacific Northwest, foragers must have permits in some states to harvest Matsutake mushrooms, and the permits can cost over $200. There are also rules as to where foragers are allowed to camp, and foragers must only harvest in small amounts to preserve the species for future harvests. Despite the mushrooms being heavily regulated, foragers often describe Matsutake hunting like the Wild West. Foragers are incredibly protective of their discovered patches of mushrooms, and they painstakingly cover up any signs of harvesting to hide the area from other hunters. There are also mushroom robbers that wait for commercial foragers to finish their harvest, robbing the foragers at gunpoint for their mushroom bounty. As a result, many mushroom foragers carry weapons to protect their mushrooms from robbers. In Japan, foragers are also protective and secretive of their Matsutake mushroom patches. Matsutake mushrooms can reach over $100 per mushroom, and the rare fungi were once only consumed by the imperial court in Japan until the 17th century. Today they are still used as a status symbol and are given as wedding or business gifts, often placed in wooden or ornately decorated boxes with a pair of sake glasses. Matsutake mushrooms symbolize good fortune, happiness, and fertility. During mushroom hunts in Japan, foragers traditionally prepare sukiyaki, the Japanese version of a hot pot. The dish is cooked in the woods over an open fire, and the soup is a combination of dashi, sake, Matsutake mushrooms, noodles, thinly sliced meat or tofu, and other neutral-flavored vegetables.
Geography/History
Matsutake mushrooms are native to forests worldwide and have been growing wild since ancient times. There are several species of Matsutake around the world, found in the Pacific Northwest of the United States, Europe, Japan, China, and Korea. The fungi favor pine, oak, hemlock, fir, and tanoak trees and are often covered under debris on the forest floor. Matsutake mushrooms are rare to find due to the overharvesting of the species, and the mushrooms are only grown in the wild. Today Canadian and Pacific Northwest hunters are drying Matsutake mushrooms to meet the increasing demand for the variety in Asia. Dried Matsutake mushrooms are sold through online retailers worldwide, and the fresh mushrooms are harvested from areas in North America, Europe, and Asia.
Recipe Ideas
Recipes that include Dried Matsutake Mushroom. One

is easiest, three is harder.