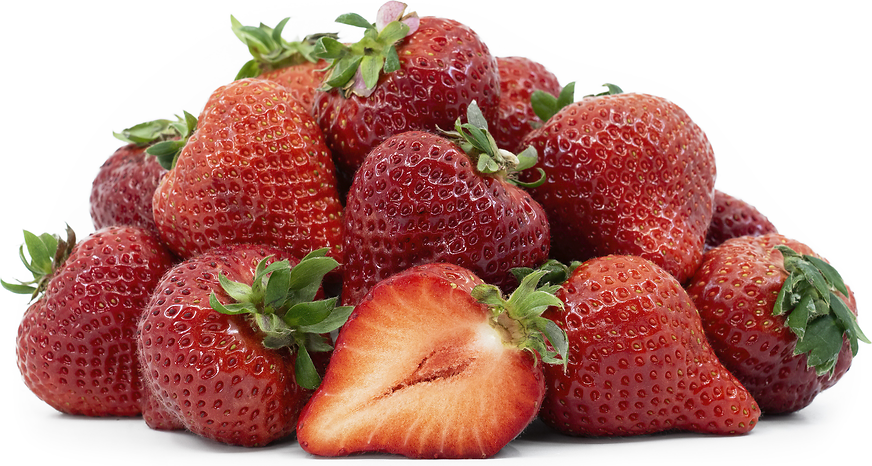 Amaou Strawberries
Inventory, 12 ct : 0
Description/Taste
Amaou strawberries are a medium to large varietal, averaging 6 to 8 centimeters in diameter and weighing 40 to 50 grams, and have a curved, conical appearance with broad shoulders tapering to a pointed or blunt tip. In Japan, the shape of the strawberry is believed to be an indicator of its sweetness. The general belief is that rounder fruits with wider, broad tips will have a higher sugar content than more pointed fruits. The variety's skin is also a characteristically vibrant red, and the darker the red, the sweeter the fruit is estimated to be. Amaou strawberries have thin, smooth, glossy, and delicate skin, being easily punctured, bruised, or misshapen. The strawberries are also capped with lanceolate-shaped leaves that grow in a circular formation, and the surface is covered in tiny brown to yellow seeds. Underneath the skin, the bright to pale red flesh is firm, aqueous, and dense with a tender, succulent consistency. The fruit's core can be solid or hollow, depending on cultivation, and when sliced, the strawberries release an aromatic, fruity, and sweet, berry-like scent. Amaou strawberries must have sugar levels at or above 11% Brix and acidity levels between .5% - .6% or lower. The fruits have a concentrated, sweet taste mixed with subtle acidity and a mild
Seasons/Availability
Amaou strawberries are available in the winter through spring in Japan.
Current Facts
Amaou strawberries, botanically classified as Fragaria ananassa, are a famous Japanese cultivar belonging to the Rosaceae family. The large, saturated red fruits were developed in the late 20th and early 21st centuries as an improved, modern strawberry embodying the desired commercial qualities of increased visual appeal, a large size, tender texture, and sweet flavor. Amaou strawberries are nicknamed the "King of Strawberries" in Japan. Out of 312 varieties of strawberries grown in Japan, Amaou strawberries are one of the four main commercial varieties produced, along with Beni Hope, Tochiotome, and Sagahonoka. The most prized Amaou strawberries are the first harvest of the season, known as "Ichiban Ichigo," meaning "best strawberry." The variety is also offered in successive harvests after the first, becoming smaller and less sweet with each harvest, but these fruits are still in high demand. Amaou strawberries are valued for their large size, once holding the Guinness Book of World Records for the heaviest strawberry in the world. The variety is a premium fruit in terms of cultivation standards as well as price. Only select fruits that meet strict requirements can be sold as Amaou strawberries, and the fruits are primarily a fresh-eating variety, sometimes sold for over $10 per fruit.
Nutritional Value
Amaou strawberries are a source of vitamin A to maintain healthy organ functioning, fiber to regulate the digestive tract, vitamin E to protect the cells against the damage caused by free radicals, and vitamin C to strengthen the immune system while reducing inflammation. The strawberries also provide vitamin K to assist in faster wound healing, potassium to balance fluid levels within the body, calcium to build strong bones and teeth, and other nutrients, including iron, magnesium, zinc, copper, manganese, and phosphorus.
Applications
Amaou strawberries have a sweet, concentrated flavor suited for fresh and cooked preparations. The variety is valued for its large size, juicy nature, and tender flesh, showcased when consumed straight, out-of-hand. In Japan, consumers believe that the sweetest part of the strawberry is the tip of the fruit. Some choose to eat the fruit in sections, beginning with the flesh surrounding the stem, moving to the center, and finally, the tip of the fruit to taste the progression of sweetness. In addition to eating the fruits out of hand, Amaou strawberries can be dipped in condensed milk, similar to how Americans eat strawberries dipped in chocolate, or they can be used to decorate cakes, sprinkled as a topping over parfaits, granola, and smoothie bowls, or sliced into salads. The variety can also be served on cheese platters, added to whipped cream-based desserts, including sweet cream sandwiches, cookies, and cakes, or mixed into mousse, tarts, custards, and crepes. In Japan, Amaou strawberries are sometimes used as a decorative topping on Christmas cakes. This holiday dessert comprises a simple sponge cake adorned with whipped cream and strawberries. The fruits can also be used in ichigo daifuku, a mochi-like confectionary of strawberries and red bean paste. Ichigo daifuku wraps a strawberry in a sweet red bean paste and stuffs it into a soft rice cake to create a chewy, sweet, and tangy dessert. Amaou strawberries are one of the traditional varieties given as gifts for celebrations such as weddings, birthdays, and anniversaries. The strawberries are intricately wrapped in ornate boxes, and once given, the fruits are served whole on decorative platters or consumed directly from the gift box, considered part of the fruit's visual presentation. Amaou strawberries pair well with herbs such as mint, basil, fennel, and rosemary, nuts including pecans, hazelnuts, walnuts, and almonds, maple syrup, vanilla, condensed milk, cream, and chocolate, and fruits such as blueberries, raspberries, mangos, peaches, bananas, and blackberries. Whole, unwashed Amaou strawberries should be immediately consumed for the best quality and flavor. The fruits will also keep for 2 to 3 days when stored in a ventilated container in the refrigerator's crisper drawer.
Ethnic/Cultural Info
The name Amaou is an acronym of Japanese words that highlight the variety's best attributes. The letter A stems from "akai," which means "red" MA stems from "marui," meaning "round," O from "ookii," meaning "big or large," and U from "umai," meaning "tasty." When the letters are placed together, Amaou stands for a "large, red, round, and tasty fruit." Amaou strawberries are notoriously expensive worldwide, even in Japan, and the variety is sold as a premium fruit due to its challenging cultivation. Amaou strawberries must meet specific size, color, sugar, and acidity requirements determined by JA Zennou Fukuren, an agricultural organization in the Fukuoka Prefecture. JA Zennou Fukuren has a contract with the prefectural government to distribute Amaou seedlings to Fukuoka farmers, and the organization also has a set season for the variety, being shipped and sold between November and May. Amaou strawberries are grown in greenhouses, and the plants are strategically spaced far apart to allow for the most sunlight. Some farmers even lift the plant's leaves up with bamboo sticks to ensure the berries receive optimal light. The fruits are also hand-harvested and sorted by size, and only the largest berries with the richest coloring are sold under the Amaou name. Amid this strict cultivation, growers in the Fukuoka Prefecture are facing uncertainty in the industry, as their exclusive contract to grow Amaou strawberries expires in 2025. It is unknown if the contract will be renewed. Many strawberry farmers are also aging and do not have children to continue their business. This is creating a shortage for long-term cultivation, so the prefectural government is in the process of developing robots to provide assistance. These robots are rumored to be able to identify the shape and size of strawberries to meet quality standards and can then pack the berries without damaging them.
Geography/History
Amaou strawberries were developed in the Fukuoka Prefecture, located on Kyushu Island in southwestern Japan. The variety was created at the Fukuoka Agricultural Experiment Station through selective crosses using traditional breeding techniques, and research to create the improved cultivar began in 1999. It took over six years to develop the variety, and by 2005, Amaou strawberries were officially registered as a new cultivar. Each year, the Fukuoka Prefecture is one of the first regions of Japan to release strawberries to commercial markets. Despite the variety's increasing demand worldwide, Amaou strawberries are exclusively grown in the Fukuoka Prefecture and are only cultivated in small quantities. The strawberries are mainly produced in the city of Itojima within Fukuoka, and it is said the region's warm and cloudy climate is the secret behind the variety's concentrated, sweet flavoring. Today Amaou strawberries are grown in Fukuoka and are sold through distributors and grocers throughout Japan. They are also offered directly through farms in Fukuoka as a paid strawberry-picking experience. Outside of Japan, Amaou strawberries are exported from Japan as a premium fruit to Hong Kong, Korea, Taiwan, and Singapore.
Recipe Ideas
Recipes that include Amaou Strawberries. One

is easiest, three is harder.
Podcast