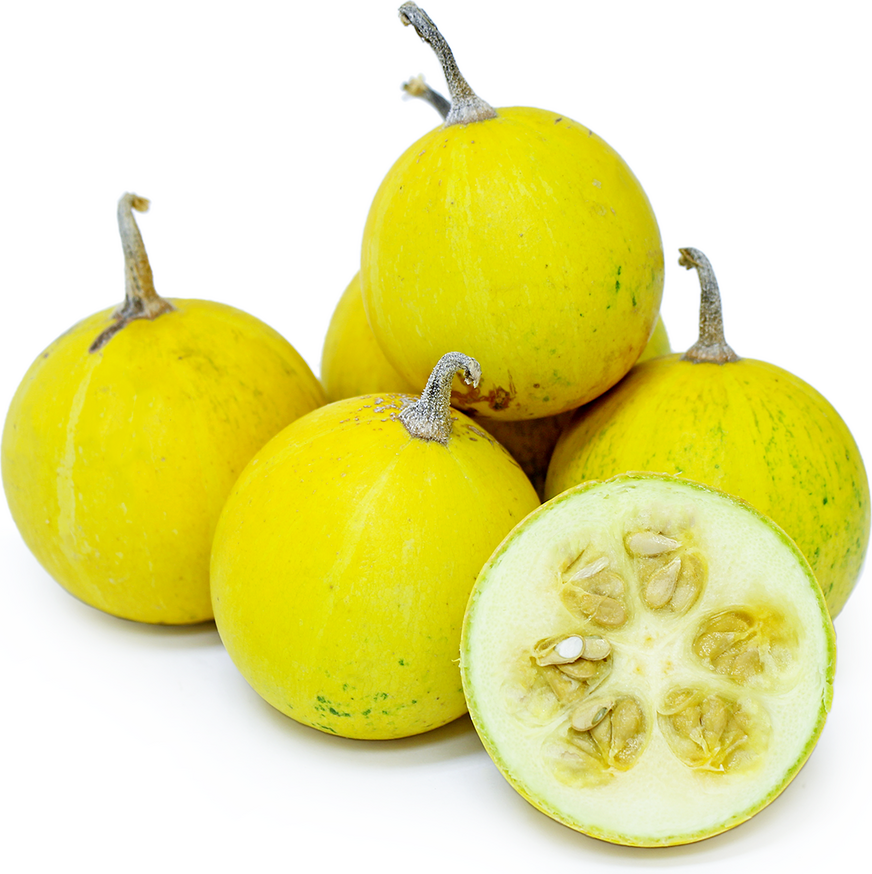 Calabazilla
Inventory, ea : 0
Description/Taste

Calabazilla grows on long trailing vines with with large triangular-shaped leaves. Calabazilla is spherical in shape and between 3 to 4 inches in diameter. The gourd's shell when young resembles a watermelon, with variegated vertical green and white stripes. These tones will fade to a pale canary yellow when ripe. Calabazilla's greatest distinction is its noxious aroma, a direct signifier of its edible nature. Calabazilla's inherently rich high content of cucurbitacins creates the off-putting smell and in turn creates the bitter flesh. The seeds, which are free of cucurbitacins, are the only truly edible element of the fruit.


Seasons/Availability

Calabazilla is forageable during mid-fall into early winter.


Current Facts

Calabazilla, botanical name Cucurbita foetidissima, common name buffalo gourd, is a perennial gourd. Because Calabazilla grows ubiquitously and prolifically wild in the desert, its taproot, which stores the plant's carbohydrates, is being heavily researched as a potential biofuel source. Calabazilla has a built-in threshold for centuries of survival in the wild. It contains cucurbitacin, the most bitter ingredient in the plant world's pantry. They are highly potent natural pesticides and insecticides and they are found in all wild gourds, as well as in their cultivated relatives, cucumbers, squash, and melons, though in much smaller amounts. Cucurbitacins are not only bitter, but toxic. On a foraging note, not only can feasting on wild gourds kill sheep and cattle, but humans can suffer from extreme nausea, stomach cramping and passing out from ingesting Calabazilla.


Applications

The seeds, once roasted have a warm, nutty taste and can compliment many ingredients. They can be used in recipes both sweet and savory calling for similar seeds and nuts such as pumpkin seeds, sunflower seeds and pine nuts. Complimentary ingredients include apricots, dates, brown sugar, dried fruits such as cherries, strawberries and figs, coffee, maple syrup, molasses, roasted nuts such as pistachios and marcona almonds, herbs such as basil, mint and arugula, aged hard cheeses, grains such as farro, bulgar and quinoa, cream, citrus, tomatoes, mushrooms, bacon and spices such as cumin, coriander and curry.


Ethnic/Cultural Info

The green fruits and roots contain soapy substances called saponins. In Africa, the saponins are extracted and used for laundry detergent.


Geography/History

All members of the Cucurbitaceae family are native to Africa. Calabazilla's vitality and perennial resilience is directly related to its desert-like need for water and nutrients. These are trademark characteristics of its nimble survival skills. Because of these characteristics, it has been historically desirable in developing improved squash varieites that can not only live but thrive under high temperature and scarce water conditions. Calabazilla has been naturalized and well adapted in both Old and New World arid desert regions and continues to grow prolifically