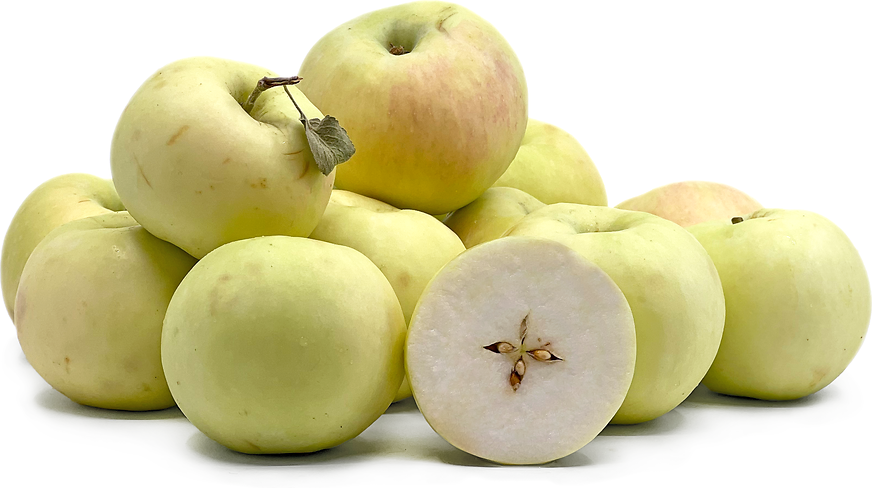 White Filling Apples
Inventory, 1 Lb : 0
Description/Taste

White Filling apples are generally medium to large fruits with a round to conical shape, but the size and shape will vary depending on the age of the tree. Younger White Filling trees produce larger fruits, while more mature trees will develop smaller apples. The fruit's skin is lightly ribbed, smooth, waxy, and thin, being easily bruised and damaged. There is also a distinct vertical seam extending the length of the fruit on one side, brown russet around the stem, and a few faint grey-green lenticels scattered across the surface. When young, the fruits are green, transitioning to a pale yellow-white hue with maturity, developing a light, pastel-like appearance. Underneath the skin, the white to pale green flesh is juicy, fine-grained, aromatic, and crisp, encasing a central fibrous cavity with small, black-brown seeds. White Filling apples exhibit a sour flavor when green, but as the fruit matures and produces natural sugars, it develops a pleasant, sweet, and subtly tangy flavor. It is important to note that the apples should not be allowed to overripen as the flesh can deteriorate into a mealy, flavorless consistency that many consumers refer to as an unpleasant "potato flavor."


Seasons/Availability

White Filling apples are available in the summer through early fall.


Current Facts

White Filling apples, botanically classified as Malus domestica, are an old Russian variety belonging to the Rosaceae family. The sweet, juicy fruits are one of Russia's earliest-ripening varieties and are favored as a fresh eating summer apple. White Filling apples earned their roughly translated English name from the Russian name Belyi Naliv, and the descriptor was given in honor of the fruit's pale skin tone. The early-season fruits grow on trees that can reach 5 meters in height, and one White Filling apple tree can produce over 200 kilograms of fruit per season. White Filling apples are not commercially cultivated due to their short shelf life and delicate, easily bruised skin. The skin can be damaged by sunlight or disease, and any amount of pressure applied to the surface will result in a large brown spot. Despite their inability to be transported, White Filling apples are still favored for their sweet flavor and are popularly cultivated in home gardens throughout Central Asia.


Nutritional Value

White Filling apples are an excellent source of vitamin C, an antioxidant that boosts collagen production, protects against free radical damage, and strengthens the immune system. The fruits also contain lower amounts of fiber to regulate the digestive tract and some potassium, magnesium, calcium, and phosphorus.


Applications

White Filling apples are best suited for fresh applications as the fruit's juice-filled, sweet flesh is showcased when consumed straight, out-of-hand. The apples should be immediately eaten once harvested and can be sliced and mixed into fruit bowls, chopped and tossed into green salads, or quartered and served with dips, nut butter, or caramel. White Filling apples are also frequently pressed into juice and are used to flavor ciders, cocktails, wine, and other beverages. Beyond fresh applications, the variety has a high pectin content that can be cooked into jams, jellies, compotes, and syrups, spread over baked goods, topped over ice cream, or served with teas. White Filling apples can also be blended into baby food or applesauce and occasionally baked into pies, crumbles, or crisps. White Filling apples pair well with other fruits such as blackberries, oranges, plums, and cranberries, spices such as ginger, cloves, cinnamon, and nutmeg, vanilla, brown sugar, and nuts such as walnuts, almonds, hazelnuts, and pecans. Whole, undamaged White Filling apples will keep for 1 to 2 weeks when stored in the crisper drawer of the refrigerator. If the apple contains some damage to the skin, the fruit should be consumed within 2 to 3 days.


Ethnic/Cultural Info

White Filling apples are a favorite home garden variety throughout Russia. The cultivar has been traditionally planted in gardens for generations, and many Russians fondly remember the variety as their favorite summer apple as children. White Filling apples have a sweet, pleasant flavor, and the tree is suitable for colder climates when planted in well-ventilated, sunny spots. The apples also ripen at different times on the tree throughout the summer, providing a steady supply of fruits for fresh eating, compotes, jams, and jellies. In addition to being grown in home gardens, White Filling apples are frequently used by Russian breeders to create new and improved apple varieties. Over 20 new cultivars have been developed from White Filling apples, and there are also many natural variants of the variety present in orchards and home gardens.


Geography/History

White Filling apples are believed to be native to Russia and were cultivated sometime in the 18th century. The variety's exact history is mostly unknown, but author and gardener Krasnoglazov first documented it in 1848 in his famous book "Rules of Fruit Growing." The variety was accepted into the Russian State Register in 1947 and is recommended for home garden cultivation across many regions within Russia. Today White Filling apples are not commercially cultivated and are grown through small farms and home gardens in Russia, other areas of Central Asia, including Kazakhstan, and in Ukraine, Estonia, Lithuania, Latvia, and Belarus.