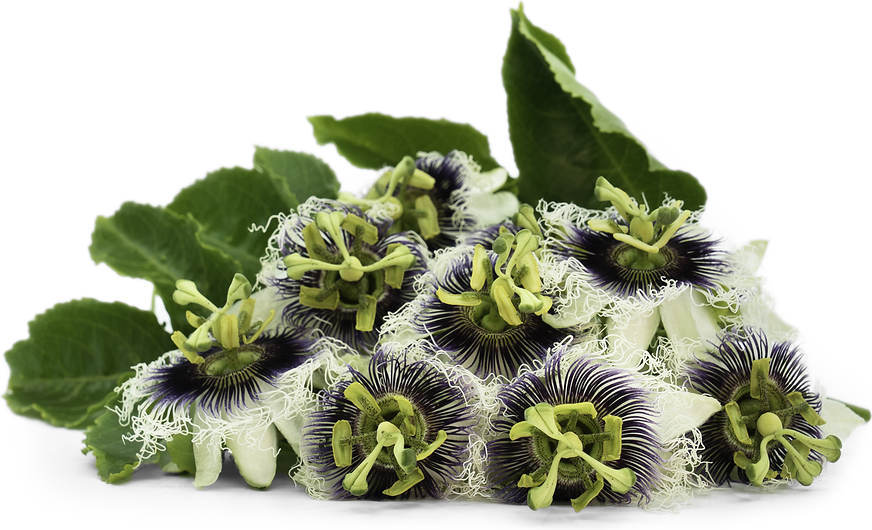 Passionfruit Flowers
Inventory, ea : 0
Description/Taste

Passionfruit flowers are large and showy, measuring between 7 to 12 centimeters in diameter. The ornate blossoms feature long, ovate outer petals surrounding a feathery corona with five prominent yellow-green stamens extending from the center. Attached across the top of the stamen are three long and thin stigmas. Depending on the variety, Passionfruit flowers may display hues of white, blush pink, periwinkle, and deeply rich burgundies and purples. The flowers grow from thin, succulent vines featuring large, deeply lobed leaves and thin tendrils. Passionfruit flowers have a sweet and heady aroma and a mild sweet-tart flavor with floral and slightly bitter undertones.


Seasons/Availability

Passionfruit flowers are available from the mid-summer to early fall.


Current Facts

Passionfruit flowers, also known as Passion flowers, can be found on Passionfruit plants, botanically a part of the Passifloraceae family. There are more than 400 varieties of Passionfruit flowers, most of which are tendril-bearing climbing plants. Some varieties of the flowers may appear in the shape of shrubs and trees, but these cultivars are far less common. The Passiflora genus is divided into three main types: purple, yellow, and granadilla or red. Most Passion flowers self-pollinate and develop into medium to large, egg-shaped fruits with fragrant, tart pulp and thin, black seeds. They can also be easily hand-pollinated to increase fruit production. Passion flowers have been cultivated for centuries both as showy ornamentals and as a food source. The blossoms, foliage, roots, and fruit of the plant have all been used for centuries as a food source and in herbal medicines. The flowers are also fragrant and can be added to perfumes, soaps, and potpourri. The flowers hold religious significance in Christianity as the shape of the flower represents many aspects of the Passion of Christ story.


Nutritional Value

The nutritional value of Passionfruit flowers has not been significantly studied, but it is known that flowers contain a variety of antioxidants that aid the body in reducing inflammation and combating free radicals that can damage cells. The flowers may have a nutritional makeup similar to the fruit, which contains vitamins A and C, potassium, phosphorus, iron, and folate. The flowers are also used in teas and tinctures to help reduce anxiety, insomnia, and stress.


Applications

Passionfruit flowers are best suited as an edible accent, added at the end of preparations to maintain the flower's delicate shape and texture. The entire flower is edible and can be used whole to create a stunning presentation as a decorative garnish on cakes, bread, buffets, and dessert trays. The flowers can be separated and sprinkled over salads, floated over soups and curries, placed into fruit bowls, or used as a garnish for sushi and sashimi. The flowers can also be used to decorate seafood dishes such as calamari, ceviche, and shrimp cocktail or strategically placed on pasta, seafood, sandwiches, appetizers, and other main plates for added aesthetic. In addition to using the flowers in their natural form, the blooms can be frozen into ice cubes to add color and flavor to a beverage, or they can be pressed into cookies and soft cheeses for an elevated appearance. Passionfruit flowers can also be used to accent desserts such as scones, sorbets, crème brulee, cookies, puddings, and tarts, or they can be used as a garnish in craft cocktails. Passionfruit flowers pair well with chocolate, fruits such as coconut, strawberries, lemons, passionfruit, mango, and cherries, herbs including lavender and mint, and soft cheeses like goat and brie. Passionfruit flowers should be used immediately for the best quality and flavor and will keep for 2 to 4 days when stored in a sealed container in the refrigerator.


Ethnic/Cultural Info

In the 16th century, missionaries from the Roman Catholic church were introduced to the Passionflower while spreading the ideas of church in South America. The padres felt the flower's appearance resembled aspects of the story of Jesus Christ's last days, known as the Passion of the Christ. The flower was used to teach the story to the local people in surrounding regions. The five sepals and five petals combined to represent the ten apostles who remained loyal to Jesus in his final days. The thin feathery corona represented the crown of thorns Jesus was made to wear. The five stamens were used to describe the five wounds Jesus suffered, and the three prominent stigmas represented the nails driven through his hands and feet. Other parts of the plant were used to further describe the ordeal, with the tri-lobed leaves representing the spear used to end Jesus's life and the vines representing the leather straps that cut his flesh. The name Passion flower comes from this symbolism, and the flower has remained a beloved symbol in the Catholic church, especially in Mexico and Central and South America, where the connection was first discovered.


Geography/History

The passionfruit vine is a subtropical plant native to southern Brazil, Paraguay, and Northern Argentina. In the late 1800s, they were also found to be growing in the coastal areas of Australia, then soon after made their way to Hawaii via seeds brought over from Australia. It grows vigorously as a vine and is able to stretch its branches across trellises, walls, and the canopies of rainforest trees. Passionfruit thrives in warm to hot climates that experience moderate rainfall and rare frost. Commercial production today is centralized in India, New Zealand, the Caribbean, Brazil, Columbia, Ecuador, Indonesia, Peru, Australia, Israel, Africa, and in the United States in Florida, Hawaii, and California.