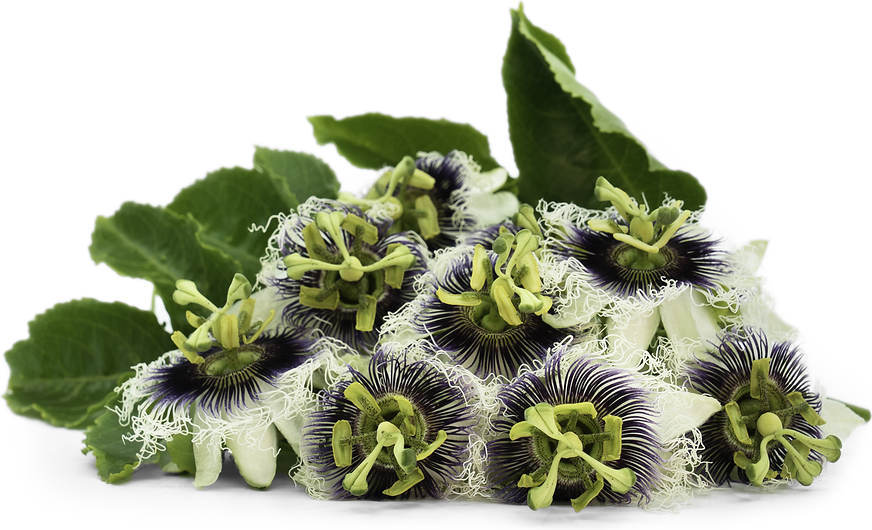 Passionfruit Flowers
Inventory, ea : 0
Description/Taste

The Passionfruit vine is a prolific climber that can become quite bushy, easily overtaking vast areas at a growth rate of 3-4 meters per year. The leaves of the plant are deeply lobed with three "fingers" and may be tinged with red or purple, as are the stems and tendrils. The large ornate flowers are 5-8 centimeters wide with white outer petals that surround a feathery purple corona and five large greenish-yellow stamens at the center. Passionfruit flowers have similar aroma to the fruit themselves, but much less intoxicating, and a flavor even more mild.


Seasons/Availability

Passionfruit flowers are available year-round.


Current Facts

Passionfruit, also known as Granadilla, is of the family Passifloraceae. There are 400 species of Passionfruit found world-wide, but the two main commercial types on the market today are the Purple passionfruit (Passiflora edulis L.) and Yellow passionfruit (P. edulis f. flavicarpa). Their extraordinarily ornate blossoms are used as an herbal medicine as well as a stunning garnish.


Nutritional Value

Passionfruit flowers have been used for centuries by many cultures as a medicinal supplement to treat insomnia, asthma, anxiety and menopause.


Applications

Passionfruit flowers are both edible and medicinal and may be used fresh or dried. Their tropical aroma and visual appeal far outweighs their minimal flavor, which is slightly bitter. As a relaxing tea they impart a mildly fruity flavor that is often complimented by chamomile, lemon balm, valerian root and St. John's Wort. The flowers may also be made into a tincture by combining them with a high proof vodka and letting steep at room temperature for few weeks.


Ethnic/Cultural Info

The vines of the Passionfruit produce large white flowers with intricate purple, green, black and yellow detailing. It is from these flowers that the Passionfruit gets its name as Spanish missionaries felt the appearance of the flower had a resemblance to some of the symbolism found in the Passion of the Christ (the three stigmas as the three nails, the corona as the crown of thorns, the five stamens as the five wounds, the five petals and five sepals as the ten apostles and the purple petals as the purple robe).


Geography/History

The Passionfruit vine is a subtropical plant native to southern Brazil, Paraguay and Northern Argentina. In the late 1800's they were also found to be growing in the coastal areas of Australia then soon after made their way to Hawaii via seeds brought over from Australia. It grows vigorously as a vine and is able to stretch its branches across trellises, walls and the canopies of rainforest trees. Passionfruit thrives in warm to hot climates that experience moderate rainfall and rare frost. Commercial production today comes out of India, New Zealand, the Caribbean, Brazil, Columbia, Ecuador, Indonesia, Peru, Australia, Israel, Africa and in the United States from Florida and California.