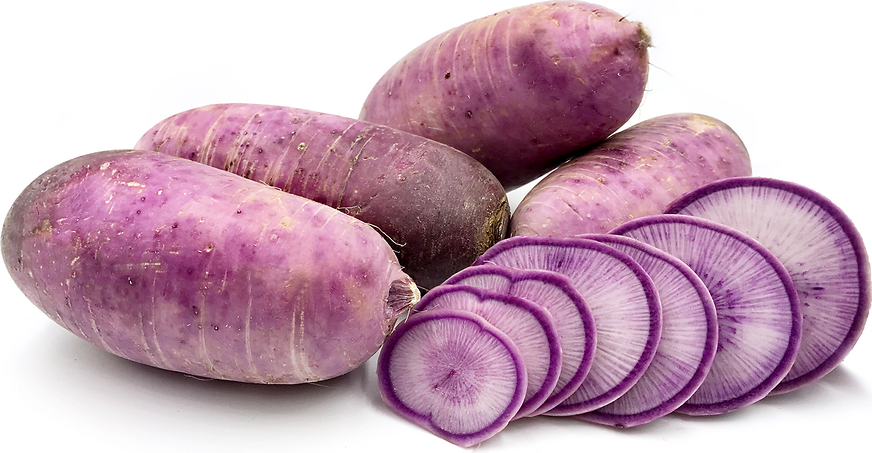 Purple Radishes
Inventory, lb : 0
Description/Taste
Purple radishes widely range in appearance and size, depending on the specific variety, and are generally found in round, oval, to cylindrical shapes with a single tapered taproot. The radish's skin is semi-smooth, textured, and firm, showcasing solid to variegated light purple, dark purple, to violet hues. Underneath the surface, the flesh is dense, crisp, and bi-colored, streaked with purple stripes over a white base. The flesh may also feature a dark purple ring around the edge just below the skin or showcase solid shades of purple or white. Purple radishes retain a crunchy, snap-like core even when grown to larger sizes and rarely become pithy. The roots also bear a mild, subtly sweet, and peppery flavor. The sharpness of the root will vary depending on the specific variety and the climate where the radish is grown. Hotter temperatures will produce pungent, spicier roots, while cooler climates will create mild, slightly peppery radishes. Once cooked, the flesh softens to a consistency similar to a potato and develops a neutral flavor. In addition to the radishes, the plants produce dark green, serrated leaves that are edible and have a vegetal, peppery taste.
Seasons/Availability
Purple radishes are available year-round, with a peak season in the winter through spring.
Current Facts
Purple radishes, botanically classified as Raphanus sativus, are specialty radish varieties belonging to the Brassicaceae family. There are many different types of Purple radishes cultivated worldwide, and the violet-hued varieties are primarily reserved for home gardeners or select boutique growers. One of the most recognized Purple radishes is the Purple Daikon radish. These radishes are widely grown in Asia and are favored for their crisp, striated flesh and neutral taste. Purple Daikon radishes contain a milder flavor than white daikon varieties and are considered a winter or spring vegetable used in Chinese, Japanese, Korean, Indian, and Southeast Asian cuisine. There are two main Purple Daikon radishes known as Bora King and KN-Bravo. Outside of Asia, other Purple radish varieties vary in appearance from small and globular to elongated and cylindrical. Many Purple radishes are hybrid cultivars sold under specific varietal names, including Amethyst, Easter Egg, Purple Ninja, Royal Purple, Sweet Baby, Aji Ichiban Purple, Purple Plum, and Violet de Gournay.
Nutritional Value
Purple radishes are an excellent source of fiber to regulate the digestive tract, vitamin C to strengthen the immune system while reducing inflammation, and vitamin A to maintain healthy organ functioning. The roots are also a source of potassium to balance fluid levels, calcium and phosphorus to strengthen bones and teeth, and contain lower amounts of copper, magnesium, iron, and folate. Beyond vitamins and minerals, the purple flesh provides anthocyanins, colored pigments with antioxidant-like properties to protect the cells against damage caused by free radicals.
Applications
Purple radishes have a mild, sweet, and peppery flavor well suited for raw, cooked, and pickled preparations. The radishes can be eaten with or without the skin, and when raw, the flesh can be thinly sliced and consumed as a crisp element on charcuterie boards. Purple radishes can also be used as a dipping vessel for creamy spreads, chopped and tossed into salads, incorporated into coleslaws, or grated and tossed with a sesame dressing as a side dish. The brilliant, striated flesh adds visual appeal to sandwiches, pickled preparations, omelets, or sliced and layered on toast, or the roots can be blended into smoothies as an extra boost of vitamin C. In Japan, Purple radishes are popularly grated and mixed into sauces for sashimi, tempura, and noodles. Select Purple radishes are also fermented into kimchi in Korea as a colorful variation to the classic dish. In addition to fresh preparations, Purple radishes can be braised, boiled, steamed, grilled, or baked. The roots can also be sliced into chips and fried, chopped and tossed into curries, soups, and stews, sliced and roasted for a caramelized flavor, or stir-fried with vegetables as a main dish. Beyond the roots, Purple radish leaves are edible and can be tossed into salads, sauteed as a side, or simmered into soups. Purple radishes pair well with roasted meats such as beef, pork, duck, and poultry, seafood, mushrooms, carrots, potatoes, cucumbers, cabbage, bok choy, avocado, herbs including dill, mint, parsley, coriander, and thyme, beets, apple, mango, and ginger. Whole, uncut Purple radishes will keep 1 to 2 weeks when wrapped in newspaper or plastic and stored in the refrigerator. Once cooked, the radish pieces will keep 3 to 7 days, and the leaves will keep up to 3 days in the fridge. Purple radishes can also be blanched and frozen for extended use for up to one month.
Ethnic/Cultural Info
In China, radishes are used in Traditional Chinese Medicine, TCM, to stimulate digestion, reduce phlegm, and move qi or vital energy throughout the body. The roots are especially consumed in the winter as most diets consist of heavier foods to warm the body. According to TCM, eating too many heavy foods can create an excess of heat built up in the body, requiring cooler foods to counteract and release the heat. Radishes, especially daikon varieties, are a cooling, nutritious vegetable widely available and used in the winter to dissipate heat in the body. One of China's most popular daikon radish recipes is law bok gow or radish cake. This dish is composed of steamed daikon radish pureed with aromatic mushrooms, herbs, meat, and spices. The steamed mixture is then fried to develop a crisp exterior and served as a side dish. Law bok gow, also known as luo buo gow, lo bark goh, and daikon cake, is a customary dish of Chinese New Year celebrations. The Chinese word for radish sounds similar to the word for fortune or luck, and it is believed consuming radishes during the holiday will bring fortune in the new year. While less common, Purple Daikon radishes are sometimes used as an unusual twist on the standard white varieties in radish cakes.
Geography/History
Radishes are believed by experts to be native to the Mediterranean and coastal regions along the Black Sea and have been cultivated for thousands of years for improved flavor, texture, and appearance. The roots were spread across Europe and were introduced to Asia through trade routes in ancient times. Experts estimate that daikon radishes were present in China and Japan before the 4th century. The elongated roots became widely cultivated throughout Asia and were grown as a long-storing vegetable, utilized in everyday meals, and as a nutrition source during seasons of famine. Over time, new varieties of radishes were created throughout Asia and Europe, including Purple radish cultivars. Today Purple radishes are grown worldwide as specialty radishes. The fresh roots are available through local markets, distributors, and select grocers.
Recipe Ideas
Recipes that include Purple Radishes. One

is easiest, three is harder.