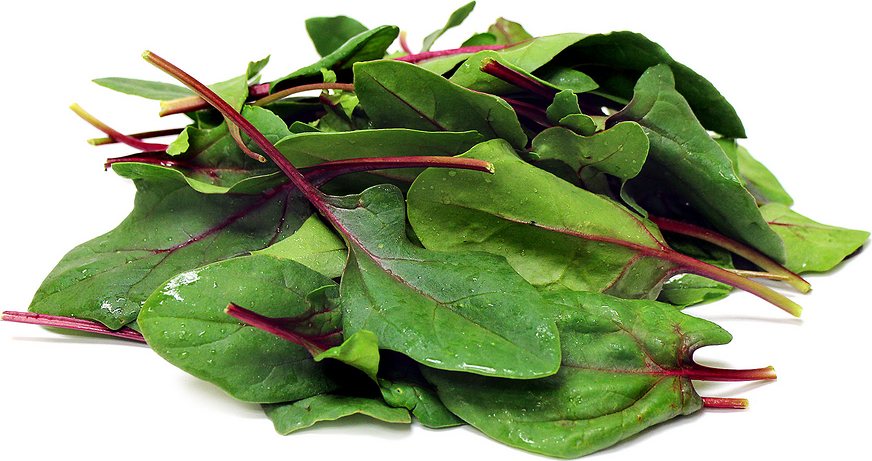 Bordeaux Spinach
Inventory, 2 lb : 0
Description/Taste
Bordeaux spinach can be harvested at multiple stages of maturity, from small baby leaves to large, tapered greens, and each leaf has a somewhat narrow appearance. As a baby green, the leaves have an oval, spade-like shape with a few veins and a slender stem. Mature Bordeaux leaves develop an arrowhead shape with distinct lobes, and the elongated stems average 10 to 11 centimeters in length. The lobes are irregular in size and shape, giving the leaves a slightly jagged nature. Bordeaux spinach is dark green, flat, and smooth with maroon to burgundy stems and veining. The central midrib is raised on the underside of the leaf, and the red coloring contrasts against the lighter green underside. When consumed raw, Bordeaux spinach leaves have a crisp, succulent, and tender consistency with a sweet, earthy, and vegetal flavor.
Seasons/Availability
Bordeaux spinach is available year-round, with a peak season in the spring through fall.
Current Facts
Bordeaux spinach, botanically classified as Spinacia oleracea, is a specialty flat-leaf spinach variety belonging to the Amaranthaceae family. The herbaceous plant is a type of red spinach growing upright in a loose-rosette-like shape reaching 15 to 22 centimeters in height. Bordeaux spinach was named for its burgundy stems and veining, and the variety was selectively bred to be harvested as a baby green with improved flavor. The spinach cultivar is typically ready for harvest in 20 to 40 days, depending on whether it is being picked as a baby or mature green, and can be gathered throughout the season, continuing to produce new leaves. Bordeaux spinach is favored for its fast-growing, hardy nature, cold tolerance, slow-bolting tendencies, sweet taste, and vibrant coloring. The variety is an F1 hybrid, meaning it was cross-bred to showcase specific traits, and the cultivar cannot be grown from saved seeds as the genetic makeup will not be the same. Bordeaux spinach is not a common variety sold in commercial markets but can be found as a baby green in spring and mesclun mixes. The spinach is also grown as a specialty green in home gardens.
Nutritional Value
Bordeaux spinach is a source of calcium to build strong bones and teeth, magnesium to control nerve functioning, vitamin K to assist in faster wound healing, and vitamin C to strengthen the immune system while reducing inflammation. The leafy greens also provide fiber to regulate the digestive tract, vitamin A to maintain healthy organs, iron to develop the protein hemoglobin for oxygen transport through the bloodstream, and other nutrients, including folate, manganese, phosphorus, and zinc. The red coloring in the stems and veins contains anthocyanins, colored pigments with anti-inflammatory properties to protect the cells against the damage caused by free radicals.
Applications
Bordeaux spinach has a mild, sweet, and subtly earthy flavor suited for fresh and cooked preparations. The variety is versatile in culinary dishes as it can be used at any stage of maturity, and its baby-leaf stage is the most popular version for raw recipes. Baby Bordeaux spinach can be added to salads, used as a bed of greens under meats, or placed individually on dishes as an edible garnish or accent. The greens can also be layered onto burgers and sandwiches, chopped into dips and spreads, used as a topping on pizza, or shredded and sprinkled over tacos. In addition to its baby stage, Bordeaux spinach can be incorporated into dishes in its mature stage, offering a slightly chewier texture and stronger minerality. It is important to note that the stems and veins will leech some of their coloring when heated. Bordeaux spinach can be wilted as a simple side dish, stirred into soups, curries, and stews, tossed into pasta, or sauteed into noodle dishes. The mature greens can also be incorporated into frittatas, quiches, omelets, or eggs benedict, tossed into stir-fries, cooked into souffles, or made into a pesto. Bordeaux spinach can be used in any recipe calling for standard spinach. Bordeaux spinach pairs well with cheeses including feta, parmesan, mozzarella, goat, and cheddar, meats such as poultry, turkey, beef, pork, and lamb, aromatics such as ginger, garlic, chiles, and shallots, and herbs including parsley, cilantro, basil, and tarragon. Whole, unwashed Bordeaux spinach will keep up to five days when stored loosely in a plastic bag in the refrigerator's crisper drawer.
Ethnic/Cultural Info
Bordeaux spinach is notably grown as a baby green and included in mesclun mixtures. Mesclun is a term derived from the French words "mesclumo" or "mesclar," meaning "mixture," and is a blend of young leafy greens first created in the south of France. Mesclun mixes were traditionally comprised of oakleaf, mache, chervil, and arugula, but in the present day, they can include various spinach, endive, chicory, dandelion, or radicchio varieties. Mesclun mixes were initially made in Nice, France. Legend has it that farmers would bundle various young greens together to create an easy-to-grab but flavorful mixture for quick sales. These bundles were known for their tender nature and varied combination of peppery, sweet, tangy, and tart greens. Over time, mesclun mixes spread in popularity worldwide and eventually transformed into the prepackaged mixes found in grocers. In modern mesclun mixes, Bordeaux spinach adds vibrant coloring, unusual textures, and sweet flavors to the blends.
Geography/History
Bordeaux spinach is a descendant of heirloom spinach varieties native to ancient Persia, now modern-day Iran. Domesticated spinach was thought to have developed through selective breeding of wild, leafy greens, but much of the history of spinach is unknown. Over time, spinach was spread to neighboring countries around Persia, traveling through India, and was introduced into Nepal and China sometime before 647 CE. Spinach was also brought to Italy around 827 CE through the Arabs, and by the 10th century, the plant was found throughout the Mediterranean. In the 13th through 16th centuries, spinach was extensively cultivated throughout Europe, creating new domesticated varieties, including red-veined spinach. While the exact origins of Bordeaux spinach are unknown, some records point to its creation through a breeder in Denmark. The variety is also known for being a parent cultivar to the USDA-created first true red spinach labeled "USDA Red." Today Bordeaux spinach is a specialty variety primarily found through online seed catalogs worldwide for home garden use. The variety is also included in some prepackaged baby mixes sold through grocers and distributors.
Recipe Ideas
Recipes that include Bordeaux Spinach. One

is easiest, three is harder.