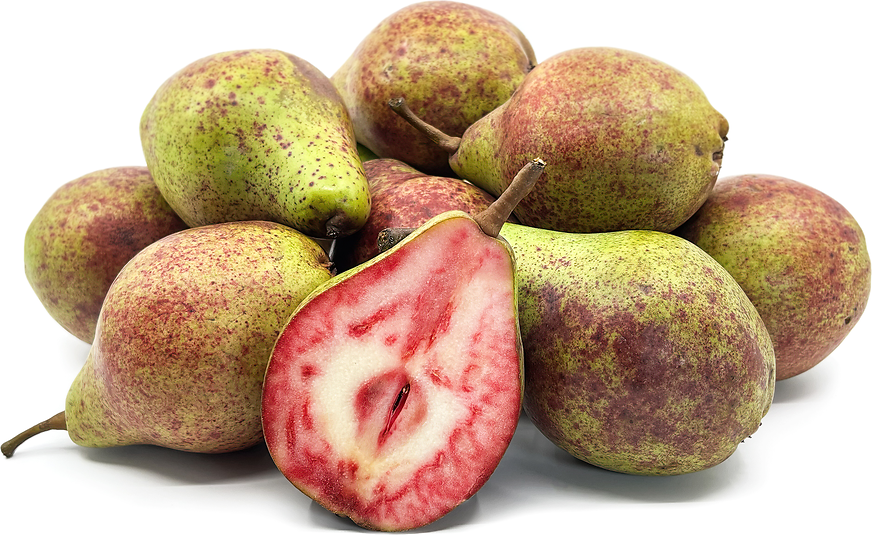 Karmozijn Pears
Inventory, lb : 0
Description/Taste

Karmozijn pears are large in size, averaging 10 to 12 centimeters in length and 6 to 8 centimeters in diameter, and have a plump, pyriform shape with a broad, bulbous base tapering to a short, slender, and pointed neck. The pear's neck is often slanted to one side, and the stems are sturdy, dark brown, and woody. The skin is semi-thick, taut, and firm, with smooth and rough patches. Depending on ripeness, the skin also varies in color from bright green to pale yellow, and is covered in mottled patches of red-speckled blush. Underneath the surface, the flesh is dense, succulent, and textured with a crisp consistency. The flesh is also marbled with bright red, red-pink, dark red, and white hues. Each pear is unique in its flesh marbling, and in the center of the flesh is a central fibrous core filled with black-brown, teardrop-shaped seeds. Karmozijn pears can be eaten raw or cooked and have a sweet and sour taste with a light, tangy acidity. When cooked, the pear's flesh softens, developing a melting texture and a mellow flavor.


Seasons/Availability

Karmozijn pears are available in the fall through late winter.


Current Facts

Karmozijn pears, botanically a part of the Pyrus genus, are a rare European species belonging to the Rosaceae family. The large variety was developed from selective crossbreeding techniques by a grower in The Netherlands and was chosen for commercial production for its unusual flesh coloring, size, texture, and flavor. The name Karmozijn translates from Dutch to mean "crimson," and the cultivar is also known as Karmozijn stoofpeer or "Crimson Stewed pear" and Karmozijn de Sonnaville stoofpeer or "Crimson de Sonnaville pear." Karmozijn pears were named for their mottled, variegated flesh. Chefs and pear enthusiasts primarily regard this variety as a cooking pear due to its dense, firm nature, but the pear can also be consumed raw to showcase its coloring. In the present day, Karmozijn pears are found in The Netherlands and are a specialty variety seasonally sold in the fall and winter.


Nutritional Value

Karmozijn pears have not been studied for their nutritional properties. Like other pear varieties, the fruits are a source of vitamin C to strengthen the immune system, fiber to regulate the digestive tract, potassium to balance fluid levels within the body, and calcium to build strong bones and teeth. The variety may also contain some vitamin E, magnesium, copper, and iron. The pear's red flesh contains anthocyanins, colored pigments with antioxidant-like properties to protect the cells against the damage caused by free radicals.


Applications

Karmozijn pears have a sweet and sour taste suited for raw and cooked preparations. The variety is regarded as a cooking pear, but one of the unique traits of the Karmozijn pear is that it can be consumed raw when thinly sliced. Fresh Karmozijn pears are crisp and firm, allowing them to be sliced for cheese plates, served with dips, or chopped for green salads and fruit medleys. Slices of the flesh can also be used as an edible garnish over appetizers, plated main dishes, and desserts. In addition to raw preparations, Karmozijn pears are famous for their cooking properties and can be prepared quickly, typically being heated for less than twenty minutes. The variety can be stewed, braised, poached, or baked, and the marbled flesh transitions into a delicate, light pink hue. Karmozijn pears can also be simmered into sauces, compotes, and jams, cooked and served over bread pudding or ice cream, or combined with sugar to create crumbles and dessert casseroles. It is important to note that Karmozijn pears are slightly acidic and are not very sweet when raw, so they are best paired with sweet ingredients, such as poached in wine with cinnamon and citrus, or cooked into a jam with added sugar or honey. Karmozijn pears also complement ingredients such as walnuts, almonds, ginger, cinnamon, onion, smoked fish, and salty meats such as bacon or ham. Whole, unopened Karmozijn pears can be stored in a cool, dry, and dark place for several weeks.


Ethnic/Cultural Info

In The Netherlands, Karmozijn pears are popularly stewed and served as an accompaniment to cooked meats such as roast chicken, rabbit, pheasant, or beef. Stewed pears are commonly referred to as stoofpeertjes, and the cooking pears are typically simmered in a mixture of brown sugar, lemon rind, cloves, cinnamon, and black currant liquor. Stoofpeertjes are traditionally served in the winter and can be eaten warm or cold. Beyond a side dish to meats, stoofpeertjes can be served with hangop, a dairy-based Dutch dessert. Hangop translates to mean "to hang up" and was named for yogurt or buttermilk being drained in a cloth, typically hung or draped over the edge of a colander. Once drained, the remaining mixture is sweetened or left as is and is consumed with stewed pears.


Geography/History

Karmozijn pears are native to The Netherlands and were first grown in Altforst, a village in the Dutch province of Gelderland. Much of the variety's history is unknown, but it is said that apple and pear breeder Piet de Sonnaville created the variety by crossing a blood pear and a conference pear. The product of this cross was later bred with another cooking pear known as the lobster pear to create the pigmented, marbled cultivar. Today Karmozijn pears are somewhat rare and are primarily found in specialty markets in The Netherlands. The seasonal variety is celebrated for its use during the winter holiday season and offers festive coloring in culinary gatherings.