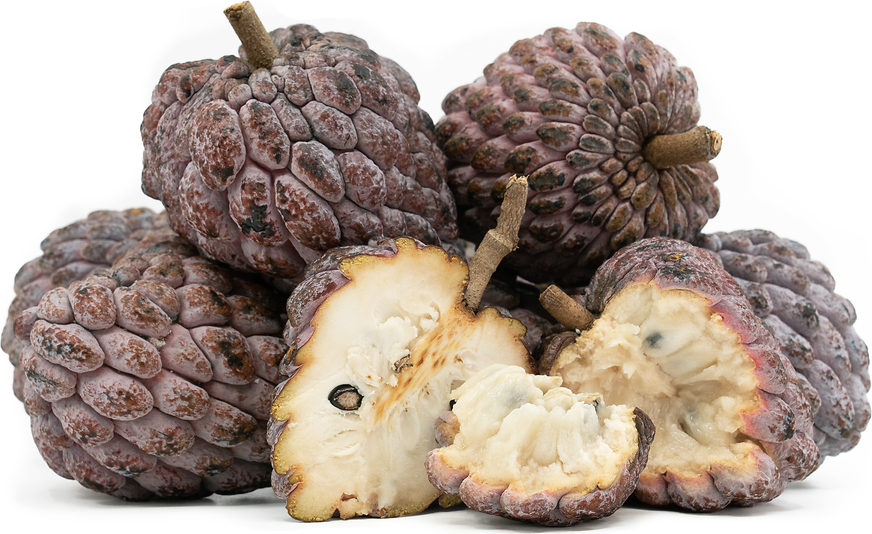 Annona
Inventory, lb : 0
Description/Taste
Annona fruits vary in size, shape, and appearance, depending on the specific variety, and are generally 5 to 20 centimeters in diameter. The fruits showcase an oval to cordate shape, typically with broad, curved shoulders tapering to a blunt tip. The fruits are also attached to a thick, woody, brown stem and range from 200 to 400 grams in weight, depending on growing conditions. Annona is a type of compound fruit, meaning it is made up of many carpels that have been fused together, forming a bumpy, scale-like, segmented nature. When the fruits are young, the small bumps will be closely spaced on the surface, and as it matures, the bumps will spread apart. Annona fruits are generally found in two colors: yellow-green and red-purple. The skin is thin, delicate, and easily punctured, and the surface is often covered in a silver-hued, powdery bloom. Underneath the skin, the ivory to cream-colored flesh is soft, succulent, aqueous, and tender. Annona fruits are known for having a custard-like texture with a creamy, granular consistency. Most varieties are filled with many seeds, with some fruits containing as many as 40, and the seeds are typically black, elliptic to oblong, glossy, and hard, being 1 to 1.5 centimeters in length. It is important to note that the seeds are inedible and potentially toxic if ingested. There are also a few seedless cultivars, but these are challenging to find and may have a less suitable flavor. Annona fruits release a sweet, aromatic fragrance and will be soft to the touch when ripe. The skin is traditionally peeled from the flesh, and the flesh is consumed, contributing mild, sweet, and fruity flavors with musky, tropical nuances.
Seasons/Availability
Annona fruits are available year-round in tropical climates. In subtropical climates, the fruits are generally harvested mid-summer through the fall.
Current Facts
Annona, botanically classified as Annona squamosa, is an aggregate tropical fruit belonging to the Annonaceae family. The cordate-shaped fruits grow on semi-deciduous trees or shrubs reaching 3 to 6 meters in height and are favored for fresh consumption. Annona is a general descriptor for a genus comprised of hundreds of species grown worldwide. The genus includes the cherimoya, or Annona cherimola, custard apple, or Annona reticulata, Sugar apples, or Annona squamosa, and soursop or Annona muricata. Within each of these species, there are many different varieties appearing in varying colors, sizes, shapes, and flavors. Annona squamosa is the most common species typically known as Annona in fresh markets, and the species is also the most widely cultivated worldwide. Annona fruits are also known as Sugar Apples, Sweetsop, and Anon, and the fruits are grown commercially and in home gardens as a tropical, fresh-eating fruit. In the modern day, Annona fruits are readily available in fresh markets throughout their tropical growing environments, and chefs and consumers utilize the fruits for desserts, beverages, and preserves.
Nutritional Value
Annona fruits are a source of vitamin C to strengthen the immune system, calcium to build strong bones and teeth, and fiber to regulate the digestive tract. The fruits also provide iron to develop the protein hemoglobin for oxygen transport through the bloodstream, vitamin E to protect the cells against the damage caused by free radicals, potassium to balance fluid levels within the body, and other nutrients, including vitamin A, magnesium vitamin B6, and amino acids. In the Amazon, Annona fruits are sometimes used in natural medicines to create cough syrups, and elements are also incorporated into remedies to lower fevers and lessen other cold symptoms. In India, crushed fruits are mixed with salt and topically applied to tumors.
Applications
Annona fruits have a sweet, musky, and tropical taste suited for fresh preparations. The fruits can be easily ripped open by hand and the flesh consumed, discarding the seeds, or they can be more neatly sliced open and served in segments. The skin and seeds are not eaten, and the fruits are customarily chilled just before serving to enhance their refreshing, juicy nature. Annona fruits can also be pressed through a sieve to separate the seeds from the flesh. Once separated, the flesh and juice can be incorporated into ice cream and sherbets, mixed into sauces and fillings for desserts, or used to make jams and syrups. The fruits can also be sliced and added to fruit salads or combined into batters for cakes, muffins, pies, and puddings. The most popular use for Annona fruits is beverages. The fruits add a light, sweet, fruity taste to juices, smoothies, shakes, and cocktails. Annona fruits pair well with sugar, salt, vanilla, citrus, pineapples, mangoes, guavas, and lychees. Whole, unopened Annona fruits tend to ripen 3 to 6 days after harvest when stored at room temperature. Once ripe, the fruits should be immediately consumed for the best quality and flavor and will only keep for 1 to 2 days when stored in the fridge.
Ethnic/Cultural Info
In Brazil, Sugar apples are affectionately referred to as the "Fruta do Conde," which translates to "Fruit of the Count." This moniker was given to the fruits as they were originally rumored to have been introduced to Bahia, Brazil, through the Count of Miranda in 1626. The Count of Miranda was a Portuguese title of nobility. Sugar apples are also called Pinha in Brazil, meaning "pinecone." This moniker was given to the fruits for their scaly, bumpy appearance.
Geography/History
The Annona genus is believed to be native to tropical regions of Central and South America, the West Indies, and tropical Africa, though the center of origin is mostly unknown. Experts believe the various species were spread throughout Central and South America in ancient times and later traveled to Southern Mexico as the plants were used for their medicinal elements and the fruits as a food source for native peoples. Spanish and Portuguese explorers encountered Annona fruits in the Americas and spread the genus to Asia, where it was planted in Southern India sometime before 1590. Annona fruits were also being grown in Indonesia by the early 1600s and expanded in cultivation to the Philippines, China, Australia, and Polynesia. In 1955, Annona fruits were carried to the United States, and the seeds were planted on farms in Southern Florida in 1955. Annona fruits thrive in tropical lowlands and subtropical climates. The fruits grow wild in forests, along roadsides, and in pastures and are cultivated in commercial and home gardens. Today Annona fruits are grown in tropical to subtropical regions worldwide and are sold in select fresh markets. In the United States, the fruits are found in South Florida and Southern California.
Recipe Ideas
Recipes that include Annona. One

is easiest, three is harder.