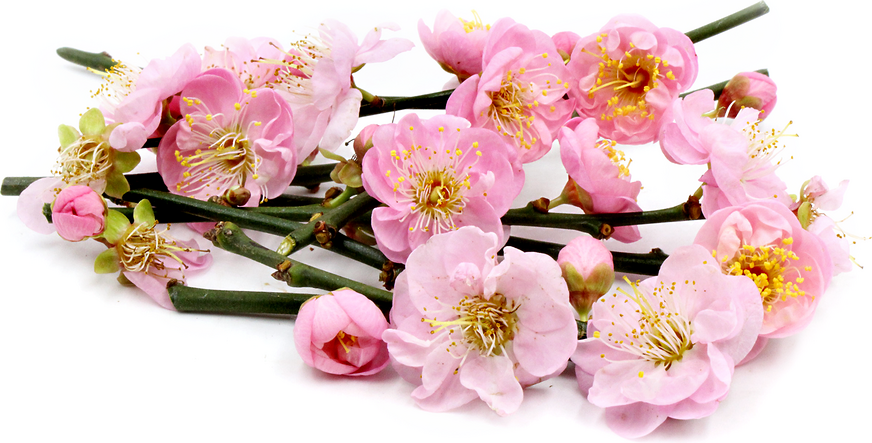 Plum Blossoms
Inventory, bunch : 0
Description/Taste

Plum blossoms emerge well before the leaves on Japanese apricot trees. The tree branches, barren from the loss of leaves in the fall, are covered in white, pink or red blooms. Plum blossoms range from 2 to almost 4 centimeters in diameter. The shape of the Plum blossoms will distinguish them from cherry blossoms. They have very round petals, and depending on the cultivar, can have anywhere from a single row of five petals to many rows of multiple petals. Some Prunus mume cultivars have a weeping habit. Plum blossoms are very fragrant with a scent described as spicy, sweet and flowery. The blossoms are entirely edible.


Seasons/Availability

Plum blossoms are in bloom during the late winter and early spring months.


Current Facts

Plum blossoms, also known as Japanese apricot, are botanically classified as Prunus mume. In Japan and China, the popularity of the Plum blossom rivals that of the cherry blossom. Plum blossoms serve as symbols and are celebrated in festivals. In the United States, however, these trees are not as commonly known. The presence of Prunus mume in the United States is thanks in part to the work of two men, botanist Dr. J.C. Raulston of North Carolina State University and W. B. Clarke of San Jose, California. The largest collection of Prunus mume in the United States may be in Raleigh, North Carolina, where up to 50 cultivars may be growing.


Nutritional Value

Plum blossoms have little nutritional value, though they may contain traces of the nutritional value of the fruits.


Applications

Plum blossoms can be used as a garnish or accent on baked goods or iced cakes. Plum blossoms can be used to adorn Korean sweet jeon or hwajeon, which are pan-fried sweet rice cakes, made with glutinous sweet rice flour. Add a few blossoms to a green salad for a punch of color. The blooms of the Japanese apricot can also be used to make a cordial or liquor. Use fresh blossoms immediately and store any others between layers of damp towels and wrapped in plastic in the refrigerator for a day or two.


Ethnic/Cultural Info

Plum blossoms are important symbols of endurance and new life in the Chinese culture. The Plum blossom is referred to as a "friend of winter," representing the ability to overcome the bleak and sometimes dreadful hardships of winter. According to a Chinese saying, the rich scent of the Plum blossom "comes from the bitterness and coldness" of the winter months. Plum blossoms are one of the "four nobles," plants revered for their noble characteristics, such as purity (orchid) and humility (chrysanthemum). They are also included amongst what Chinese literature calls the "Three Friends in the Cold" (Sui Han San You), which includes bamboo and pine.


Geography/History

Plum blossoms have been bringing color to grey winter landscapes in their native China and Korea for over 1500 years. The tree has been valued as an ornamental in Japan for almost as long. In Japan there are an estimated 300 named cultivars. Prunus mume was named by German botanist Philipp Franz von Siebold in 1828, who also brought the tree from Japan to Holland in 1841. The tree was brought to the United States around the turn of the 20th century. In the 1920s, Californian nursery founder and owner, Walter Bosworth Clarke specialized in ornamental trees and shrubs. He is responsible for introducing several Plum blossom cultivars to the United States. He also personally named varieties, like the Peggy Clarke or the Rosemary Clark, for his daughters. A collection of his trees can be seen at the University of California at Davis. Today, Plum blossoms and their parent trees, the Japanese apricot, are available through select nurseries and growers. Plum blossoms are more likely to be found at farmer's markets and from specialty growers.