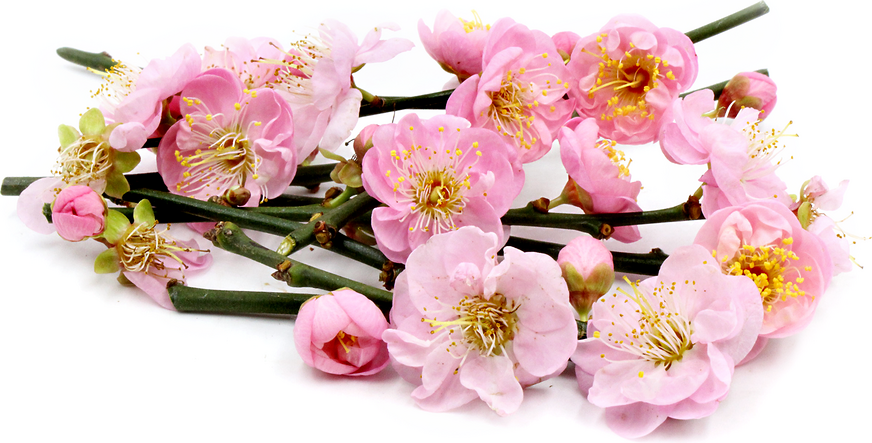 Plum Blossoms
Inventory, bunch : 0
Description/Taste

Plum blossoms are small to medium in size, ranging in diameter from 3 to 5 centimeters. The flowers bloom individually along thick woody branches and are comprised of layers of 5 rounded petals surrounding a yellow center with long, delicate stamens reaching upward. Plum blossoms can range in color from white or very pale pink to deep pink. The showy flowers have a heady, floral aroma and a sweet, floral, and nutty flavor with slightly bitter undertones.


Seasons/Availability

Plum blossoms are available in the late winter through early spring.


Current Facts

Plum blossoms bloom along the spindly branches of the deciduous Prunus mume tree, eventually transforming into small to medium-sized stone fruits after pollination. The bright, papery flowers are often referred to as winter flowers because they bloom much earlier than other fruit-bearing trees, sometimes as early as December. The flowers bloom on trees that appear completely dormant, opening before the leaves have begun to bud and signifying the arrival of spring in many Asian cultures. Plums have been cultivated for thousands of years, and centuries of breed selection and hybridizing have led to over 2,000 different varieties of fruiting trees. Plum blossoms can range in color from pale pink to deep fuchsia and may display single or multiple layers of small, round petals. In Japan, plums are also known as Japanese apricots or Ume, and the flowers carry deep cultural significance, with many holidays and festivals revolving around the arrival of the showy blossoms. In Chinese culture, the blooms are known as Mei Hua and are the official flower of January. Plum blossoms are not only suited for culinary applications. They are also commonly used in potpourri, perfumes, cosmetics, and decorative purposes.


Nutritional Value

Plum blossoms have not been studied for their nutritional properties, but edible flowers are known to contain a variety of antioxidants to boost the immune system, reduce inflammation, and protect the cells against free radical damage. The flowers may also contain trace amounts of the nutrients held in the tree's fruit, including potassium, manganese, and some B vitamins. The blossoms are used in Traditional Chinese Medicine to help regulate stomach and spleen functions and to resolve respiratory issues.


Applications

Plum blossoms are not a common culinary ingredient and are primarily used as an elegant garnish. The flowers and stems are often placed whole atop tiered cakes for weddings, birthdays, and other celebratory events. The flowers, removed from the stems, can also be used whole as a garnish for pies, tarts, ice cream, crème brulee, pot de crème, and other desserts, or they can be used to garnish main dishes, appetizers, tray-passed hor d'oeuvres, and table displays. The petals can be separated and sprinkled over salads, fruit bowls, layered into sandwiches and wraps, or rolled into spring rolls for added color and texture. Plum blossoms can be folded into butter, cream cheese, or ricotta and served with fresh scones or biscuits, infused into vinegar, liqueurs, and simple syrups, or pressed into cookies and served with tea. The flowers can also be frozen into ice cubes and served in refreshing drinks and cocktails. Plums blossoms are commonly dried and added to herbal teas. Their subtle floral flavoring complements green, black, and white teas. Plum blossoms pair well with herbs such as mint, basil, and thyme, cinnamon, flowers such as lavender, elderflower, jasmine, and rose, lemon, oranges, stone fruits like peaches, plums, and apricots, and pomme fruits like quince, and pear. The flowers should be used immediately for the best quality and flavor.


Ethnic/Cultural Info

Plum blossoms hold deep cultural significance in China. The beautiful flowers emerge during winter, and this act of defiance in the face of harsh weather has led to the flowers holding many symbolic meanings. In the traditional Chinese calendar, the plum blossom is the flower of January, and its five petals represent wealth, happiness, success, peace, and longevity. In Feng Shui, the flowers represent prosperity and fruitfulness. The five round petals represent the five elements and provide balanced energy, and when displayed with their gnarled branches, the delicate blooms symbolize perseverance and hope. In Chinese décor, it is common to find plum blossoms printed on wall hangings, dishes, fabric, and other show pieces in the home. The esteemed flowers are used in offerings at Buddhist temples throughout Asia. The flowers can also be found decorating Lunar New Year celebrations and are a common gift during their blooming season to give a boost to someone's qi or life force.


Geography/History

Plum blossoms are native to Asia, particularly the mountainous regions of Southwestern China near the Yangtze River, where they have grown since ancient times. The trees were first cultivated in China and were later spread to Japan, Korea, Vietnam, and Taiwan. Evidence of early European varieties of the fruit has also been found in the Caucasus mountains and near the Caspian Sea. Dried plums have been found in ancient Egyptian tombs and excavation sites. Over time, European plums were spread throughout the Mediterranean and parts of Europe. In 1841, German botanist Philipp Franz Von Siebold brought the trees from Japan to Holland. In the early 20th century, the trees were introduced to the United States of America, taking hold in California and part of the south. California nursery founder and owner Walter Bosworth Clarke, who specialized in ornamental trees and shrubs during this time, is responsible for introducing and producing many Plum blossom cultivars in the United States. A collection of his trees can still be found at the University of California Davis. Today, Plum blossoms and their parent trees, the Japanese apricot, are available through select nurseries and growers. Plum blossoms can be found at farmer's markets and from specialty growers during the late winter and early spring seasons.